Sponsored post:
This is a paid post from an APW Sponsor. All APW Sponsors are screened to make sure I think they are a great fit for the site and its philosophy. This allows you to shop for some wedding vendors on APW, and put your money towards small businesses that share your values.
I'm super excited to announce this new project, so please bear with me with the squealing and hand waving and such. As more and more invitations have moved towards letterpress, I've been increasingly frustrated that it's next to impossible to get really good (custom) invitation design without offering up your first born child as collateral. I'm a sucker for good design, and I'm a sucker for supporting independent artists, and as wonderfully seductive as letterpress can be, it's time consuming, it's labor intensive, and involves pricey equipment, so it's never going to be really affordable.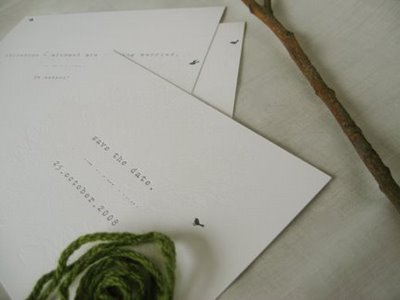 So, I've been emailing some invitation designers who's work I admire to see if they liked the idea of affordable invitation design as much as I did. And you know what? My all time favorite designer, the fabulous Cevd who blogs over at Pretty.Pretty.Paper (you remember her hip wedding) was as into the idea as I was. Squee! Squee! Sqeal!!
So, she's launched a lower cost custom invitation line over on etsy. She will bring her cutting visual sense to designing an invitation for you, and print it, along with reply cards and envelopes with low cost digital printing for $350. That, my friends, is a pretty amazing cost for a full-on custom design by a artist (and probably not enough money for her time, so get her while the going is good!) On top of that she's also offering screen printing as a mid-cost option, and they are pretty…
So go check her out. I know not everyone can afford this option, but if you are looking for cool custom indie invites… run, don't walk. (Do you see why I'm excited??)
Disclosure: I used pictures from her higher cost line, so admire the design, but ignore the printing method