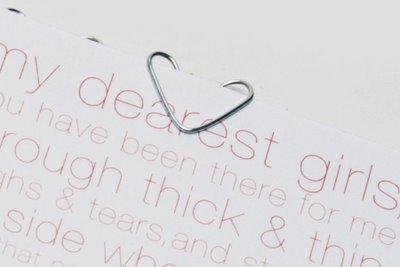 I got an email from reader Jennie sharing her unique take on a bridal party. Since I'm always looking for non-traditional bridal party party ideas, I thought I would share it with you, along with pictures of the beautiful letters she sent to her ladies (go, go, graphic designer brides).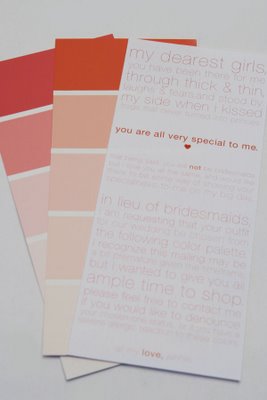 From Jennie:
I am a graphic designer getting married in July. We are working with a small budget, so it is going to be a relatively intimate DIY wedding with about 70 people. We are going to have a late evening ceremony at old mansion near our Milwaukee Lakefront followed by a fun cocktail party reception afterwards. I have so many great girlfriends – old friends, new friends – all of whom mean a great deal to me. However, I was not particularly interested in having bridesmaids as it is a small, non-traditional wedding. (Also, I would of had to have about 15!) I still wanted to include all these girls somehow, but without the normal bridesmaids duties. So I came up with a color palette and sent out a mailing with paint swatches asking each girl to choose her outfit for the wedding from the color palette included. My hope is that in pictures and at the wedding, this magnificent group of women are recognized as special people in my life, but without the traditional title of "bridesmaid".
Thank you for sharing your process Jennie, and I'm sure I'm not the only one who can't wait to see the pictures!