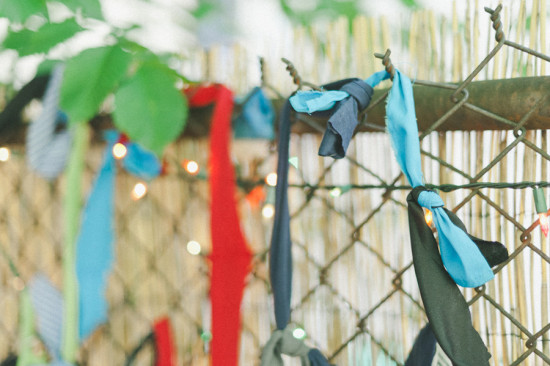 I recently cleaned out my closet and had a few bags of clothes that were too tattered and worn to donate. Instead of tossing them, this fabric garland tutorial is a great way to use the fabric from the clothes and create a fun, easy decoration for a casual wedding.
My vision for this finished garland would be to decorate a small backyard. It could really be used anywhere that there is somewhere to hang it on, like on a fence, on bushes, or on some low hanging branches. For this post, I used it to add a little color to a basic fence in Amber's backyard. Try your favorite local restaurant or bar that has an outdoor space and ask about renting it out. The backyards of my most loved eateries are clean and simply decorated, which make for the perfect spot for a small, lovely wedding.
Here, I used my old clothes, but you could also buy specific colors of fabric to get the exact look you want. The instructions, really, couldn't be simpler. Gather a pile of old clothes. Both knits and wovens will work, but I'd stay away from thick sweaters. Cut the fabric in 1" – 2" strips that are the same length as the garment. It's OK if seams end up on your strips. Tie the ends of the strips together, alternating colors and patterns. Once the garland is the length you prefer, start draping it one end of the wall you are decorating. Let varying lengths of garland hang down at different spots – you're going for a random, yet concise, look here. Add more garland until you love it.
Photos by Monica of Hart & Sol East, Crafting and Graphic Design by Michelle Edgemont, with Crafting Assistance by Amber Marlow (all APW advertisers)