Sponsored post:
This is a paid post from an APW Sponsor. All APW Sponsors are screened to make sure I think they are a great fit for the site and its philosophy. This allows you to shop for some wedding vendors on APW, and put your money towards small businesses that share your values.
In my travels as an APW sponsor and now as Managing Editor, I've had a surprising number of opportunities to spend some quality time with our sponsors, both online (hey Twitter!) and off. It's given me a great opportunity to give you guys really authentic overviews of who they are (you learn a lot about a person over a glass of wine or three), and allowed me to familiarize myself with their work over time. As a result, I pride myself on knowing your vendor community very well (okay, fine, I've gotten a little cocky about it. Let's not split hairs). But every once in a while I'll click over to check out what a longtime sponsor has been up to lately and find myself completely floored with their recent work and wondering where the heck they've been hiding. Which is exactly what happened when I rediscovered Whitney Huynh Photography this month, who, it turns out, is so talented it's almost frustrating, and in case you're wondering has been hiding out in plain site in Atlanta this whole time. (Now available with free nationwide travel! Amazing.)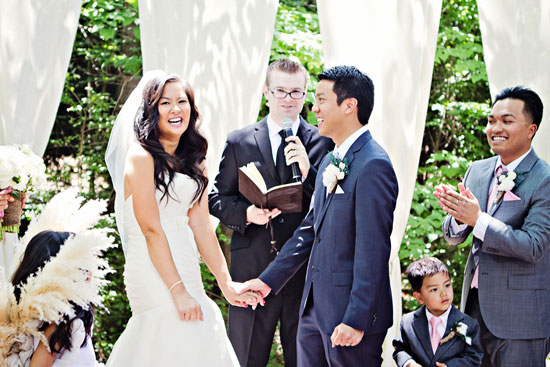 So naturally when I ended up back on Whitney's Huynh's site, I couldn't stop myself from gawking at her portfolio. Guys, the photos. It's like looking at the physical embodiment of a Jason Mraz song (the sappy ones, not the ones where he sometimes raps). Whitney's images are romantic and whimsical while also being completely full of life. (That's right, none of those "it's romantic because my eyes look dead" photos. You know which ones I'm talking about.)
But what I came to love after talking to Whitney, is that all of those photos are also completely representative of the people in them. And that's where the magic lies, right? When you can look at a photo and say, "Hey, I look awesome. But also, I look like me." And of course, the rest of the magic is in Whitney Huynh herself. In fact, I appreciated what she had to say about her business so much that I'm just going to give it to you straight from her. Because I'm assuming if it made me fall a little bit in love with her, it might just do the same for you.
As I'm sitting here writing this to you, I can't help but feel giddy with excitement to still be here on A Practical Wedding. I have been here a while now, and have never stopped loving each and every one of you I meet. While I could sit here and tell you all just how much I love photography and how blessed it makes me feel to capture some of the happiest days in your lives, I think that is all pretty obvious. Instead, I'd like to take you on a first date. You know… life story and all that stuff. After all, if I become your wedding photographer, I will be with you more than just about anyone else that day! That sort of intimacy deserves a little more than just a few emails and a handshake the morning of your wedding. That sort of thing deserves us, you and me, developing a connection.
So I'll go first. I'd like to tell you that I am a wife, an obsessed doggy mom, Jesus lover, abolitionist, salted caramel ice cream addict, amateur chef, and world traveler. I grew up in a very small town in rural Nebraska with one stoplight ya'll, and the last time I was home, they had taken it down. My daddy was a farmer, and I had the most wonderful childhood running through and playing on the wide-open Nebraska land. I always dreamed of living in the city though, and my dream came true when I married my best friend and we moved to Atlanta, GA. I love a good dark beer, walks with my dog along the Atlanta Beltline, and documentaries on Netflix.
I became a photographer because I fell in love with showing people their inner beauty through my lens. I can't tell you how many times I've had someone tell me, "But I'm not very photogenic." Wrong. You are all beautiful and I love the tears and huge smiles on a clients face when they see their images for the first time and say, "Do I really look like that? I look beautiful." Yes…you do really look like that. Let me show you.
This year we are going to be treating our business a little differently. Working as a photographer for Not for Sale Georgia, my eyes have been opened to some global issues I cannot ignore. Everyone who books a wedding with us in 2013 will have donation to Not for Sale given in your name. Not For Sale is a campaign of students, artists, entrepreneurs, people of faith, athletes, law enforcement officers, politicians, skilled professionals, and all justice seekers united to fight the global slave trade and end human trafficking.
I believe my photography is different than most because while we love a gorgeous posed image, we enjoy having fun a lot more. Forget just standing around in a park. We will take you to the Brave's stadium for some wiffle ball, to the airport to throw around paper airplanes, or to the lake spot you used to camp at together to make s'mores by a roaring fire. We will have water balloon fights, play in an empty swimming pool, and eat Krispy Kreme Donuts, because that is what you did on your first date. We will capture you in your element, telling the story of not only your romance, but the awesome friendship behind it.
Which, I mean, I don't think I have to tell you that this all gives me a serious case of the warm and fuzzies. And the best part? Whitney really wants to photograph you guys, which means she's offering an awesome travel discount for APW readers. For $3,700 you get all-day coverage, a website of images, all your photos on a USB, a 10×10 Album, and a surprise free gift! Local coverage with Whitney Huynh photography is $3200 for APWers (a $300 discount off her regular prices. Plus you still get a present! Sign me up).
So guys, I don't think I have to tell you that Whitney Huynh Photography is the real deal. Just look at her work and listen to her love for you guys and you'll put two and two together. Finally, Whitney also wanted to let you guys know that she's planning a two month backpacking trip throughout Europe in April and May and would love to meet up and photograph some friends across the pond! Also, she's a vendor for the Not Wedding 2013 this year in Atlanta on February 25, and she is giving away one ticket for free to an engaged bride. So if all that isn't reason enough to contact Whitney right now, then I don't know what is.
---
This post includes Sponsors, who are a key part of supporting APW. Check out Directory page for Whitney Huynh.