Newly Engaged?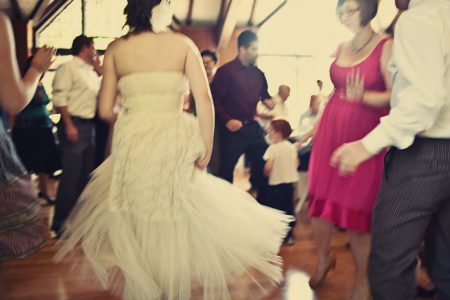 So you're new here! Time to get started:
Buy The Book: If you're new here and you want the APW philosophy laid out for you, may we humbly suggest that you buy Meg's book, A Practical Wedding: Creative Solutions for Planning a Beautiful, Affordable, and Meaningful Celebration? Meg spent a long time summing up the most helpful tips she knew and all the best stuff she's learned writing this blog in a compact 60,000 words. Plus, you can pass it to your Mama and say, "Mom, look. Aisle runners are a totally made up thing," and she'll have to believe you because it's in a book with historical source material and everything. Seriously, it's super helpful in a way the blog just can't be. (We don't have chapters! You can't write notes in our margin! We're sorry!)
Search For Venues: Yes. We know. Finding a wedding venue can make people want to tear their hair out. That's why we started the APW Venue Directory made up venues that readers loved. (And yes, if you loved your venue, you should pay it forward and submit it.) Start poking around, even if you don't have a venue in your area, we're pretty sure it will give you ideas. (Firehouses! Carousels! Community centers!)
Search For Vendors: The wedding industry can feel a lot like this, no? That's why we've worked hard for the last four years to assemble a collection of vendors who are deeply sane and not looking to rip you off. You can browse through the APW Vendor Directory, where every single vendor has signed our sanity pledge. (And if they violate it, let us know right away. We're serious about that sucker.)
Browse Wedding Graduates: Ever notice that the story of weddings is always told by someone… else? The photographer tells you about it, or the planner, or the journalist. Well, back in 2008, Meg realized that she wanted her already married blogger friends to write her a little letter about what they'd learned, what they'd tell their pre-wedding selves. The APW Wedding Graduates series was born with East Side Bride's excellent advice, and it has expanded to tons of women writing about what they learned.
Download Our Planning Spreadsheets: Because wedding planning has a lot less to do with inspiration boards, and a lot more to do with figuring out who's going to get the beer to the venue. And yes, you'll want to be organized about that.
Get Familiar With The APW Philosophy: Ever get the feeling that there is something really wrong with the way weddings are marketed and talked about in modern culture? Did you maybe even think "I am not a wedding person" until you decided you wanted to spend your life with someone? Then did things get really scary when you realized there were almost no sane wedding resources? Us too. (Ok, us too, other than the fact that Meg's been obsessed with weddings since she could walk, but she happens to be a very no-nonsense person who, while her main dream as a small person was to be a flower girl in the biggest pouffy pink dress she could find, got engaged and thought everyone was bat-sh*t crazy.) So here is the way we think about weddings at APW, which is very, very different:
Weddings can be laid-back and fun. No really.
Your wedding should be about celebration and joy, not about a bunch of made-up "shoulds."
A wedding is serious vows, followed by a party to kick-off your marriage… and it's your marriage that's important.
Your wedding day is not just your day. It's the day of everyone who loves you. That said, it is your wedding, so plan accordingly.
Your wedding guests are grownups. So stop worrying if they need to be driven to the venue, and start worrying about feeding them on time.
What people are going to remember about your wedding is how happy you were and how much you loved each other, not the centerpieces or the d*mned favors. Also, you don't need favors.
Your wedding doesn't have to be blog-worthy. And if you're feeling like it should be, maybe it's time to lay off the blogs a little.
You feel how you feel during wedding planning and on your wedding day, and you should do your best to honor that (even if it's not what you expected).
How you spend your money is more important than how much you spend. So put your wedding dollars into businesses that reflect your values, and stop judging yourself.
If you realize you don't want your relationship to have a forever home, call off your wedding. It's easier to call off a wedding than a marriage, and when you say yes to what is right for you, there is so much joy to follow.
You can get married at home, you can elope, you can have a picnic wedding, you can have a wedding in a social hall, you can have a church wedding, you can have a hotel wedding, you can have a huge wedding, you can have a tiny wedding, you can have whatever kind of wedding feels right to you and your partner… and do it with integrity and honesty and respect.
If you end up married, to each other, by the end of the day? Then it was was a success (even if you hated your wedding).
And the best part? Married life is what you make it. Being a wife doesn't mean being a martyr or being a mom. You can be self-full, and sassy, and brave. Adventure on, ladies, and reclaim the word wife!
Get To Know Us: You can follow the APW staff on Twitter at @PracticalWed (Meg), @Practical_Maddie, @Practical_Alyssa, @Practical_Emily, and @Practical_Kate. We're a pretty chatty bunch.
Read About Marriage: And when you've had enough of weddings (and yes, that's for sure going to happen), you can read all about marriage at the subsection of the site called Reclaiming Wife. Because that's the whole point, right? Getting to the other side.
Photo: Meg on her wedding day by One Love Photo (please do not re-post without written permission)