On Wednesday, Maddie's mom wrote a (brilliant) post about how you can, you absolutely can, leave a marriage that you know deep down you need to leave, no matter how scary it is. Today's post seemed like the perfect counterpoint to that. It's from longtime APW contributor Manya, whose post "The Wedding I Should Have Called Off" is a must-read. Manya remarried a few years ago, and today she writes about how we grow into the simple BEING of love. This simple being in what we have and what is good is my daily challenge, and Manya, as always, says it better than anyone.
—Meg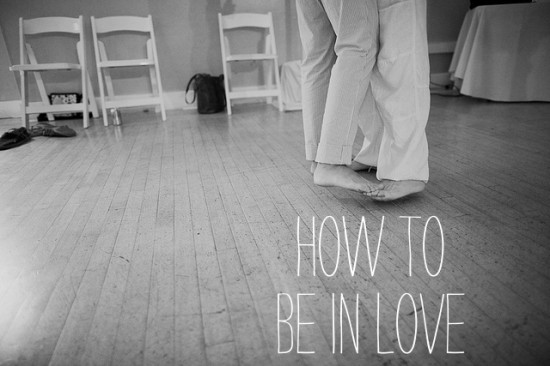 So much of early romance is characterized by emotional crescendos: Falling head over heels in love, becoming exclusive, deciding you have a joint future, getting engaged, planning a wedding, getting married…. These events are transformative and transcendent and defining, and it can begin to feel like the projects are pulling your love into the future—labeling it with clear highway markers of progress. The energy and creativity and intensive emotion around them can feel addictive, and when they are over, you can be left wondering what is next? How will you know your love is growing?
As Brian and I have moved through these projects and moved on to a steadier, less adrenaline/tear-soaked/event-driven brand of joy, I have had to work on my do-er, achieve-er, intensity-junkie, project-oriented personality and learn how to just be in the deep warm joy of everyday love. It is the quintessence of The Good. This is my most personal advice to my most impatient self:
Wake up in the morning with a rain-soaked Nairobi breeze stroking your bare arm like cool fingers. Roll over and feel the extra warmth from his side and wiggle in close. Half awake, he will turn towards you, (he always does), and pull you close to his chest, to the inside of the spoon. Pull his arm tighter around you and breathe in the bedwarm clean scent of him as he tucks your calf between his knees and aligns the bottom of your feet on the surprisingly soft tops of his own. Pull his hand to your chest, his arm tight around you. Hear him whisper into your hair: "You feel so good—I love your body."
Get up…coffee calls…and he'll bring it up on a tray for both of you so that you can lounge a few more minutes. The Kenya AA with creamy whole milk and too much sugar will be smooth on your tongue and warm between your palms. He will joke he likes his coffee like he likes his women: strong, tan, and sweet. Snuggle into your bathrobe and the comfort of being truly known. Sip that warm heaven and talk about what's on your mind…anything…everything.
Get separate bathrooms, when you can. Your mom once said that the two secrets to a long and happy marriage are nearsightedness and separate bathrooms. The latter is a luxury. You won't need the former for a while—he will take your breath away every time he walks into the room dressed for a date and smelling of Prada. He's the most handsome guy in just about every room. He'll come kiss you goodbye and too often you will end up accidentally color-coordinated (the purple shirt, really?!) and take it as more proof. Do this ritual every day and let it center you. Continue reading How To Be In Love