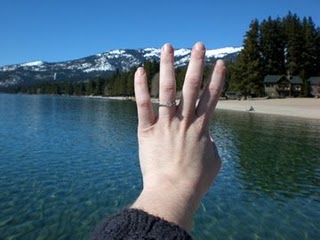 So I sort of figured I had the engagement ring thing all figured out. I'd wanted the simple platinum (or white gold, or silver, who cares) ring with a single solitaire diamond. Easy, right? Ha.
Little did I know that the search for the engagment ring is your first full blown encounter with the Wedding Industrial Complex. The conversation goes a little like this: " You are getting married! Fantastic! There are so many things you must BUY BUY BUY! We don't care if you want these things or not! They are traditional! They are vital to your future happyness! Everyone Else is doing it! You don't want to look POOR do you?"
We started off at your run of the mill jewelers, and I'd tell them what size stone I was looking for and they would look disappointed, then giggle a little (who was I to know what I wanted, after all), then say they had the perfect thing. Then out would come a stone that would feed a family for a year. I have little hands. These rings looked crazy on me. And I didn't like the way the jewelers were looking at us. It creeped me out. They seemed to be implying that David would only be a Real Man if he ponied up three months salary on the ring. I didn't want to be the all American princess Barbie bride. I felt sort of panicked. Suddenly I didn't even want to be engaged anymore.
Continue reading In which the WIC makes it's first grab at my soul. And wallet.