Many of you will spend a lot of time going to weddings this summer, but it seems there is almost no conversation about what it means to be a wedding guest. For us (and for many of you) getting married in front of a community was both why we had a wedding and the most important part of the whole process. Virginia's post nails what I think being a wedding guest should be, how your wedding is not a show, and how guests are not an audience.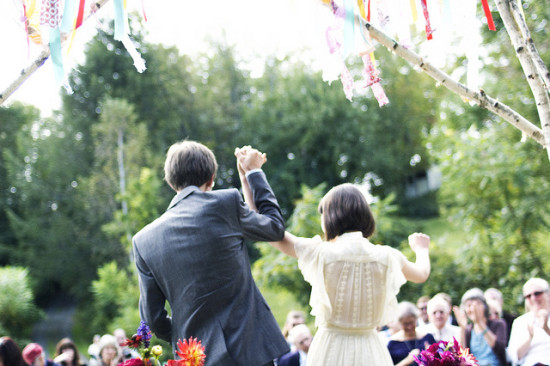 This being the thick of wedding season, I've heard quite a lot of wedding chatter—on wedding boards and blogs, on the train, and at drinks with friends—to the effect of "I like my friend, but I don't like his/her fiancé, so I'm going to go to the wedding to support him/her and just party it up." I would like to respectfully suggest to the world that this attitude is a little lame.
As someone who is both getting hitched and attending hitchings in this particular wedding season, I wanted to submit a post on thoughtful wedding guestmanship. Here on APW, we often talk about being thoughtful and engaged (ha! I punned!) during the process of wedding planning as a means of avoiding the dreaded WIC and the pressure of all the weddings that have come before. But in the same way that the WIC has created a lot of unnecessary pressure on those planning weddings (from having the most adorable guestbook to making sure you have all the feelings), I also think that it has lifted some of the necessary pressure on the community surrounding the couple. When a wedding is primarily a source of entertainment, an Event, or essentially a performance art piece, then a guest becomes an audience member—a passive observer as opposed to an engaged participant.
But when you're invited to someone's wedding, you're not just being invited to a bitchin' dance party—in fact, in some cases, you are not being invited to any dance party at all. You're being invited to share in a moment of commitment. It is an honor and a responsibility, and I think that in the same way that we expect the couple to have done at least a little work on their relationship before they make it to the altar, driftwood chuppah, or beribboned tree, we should do a little prep work ourselves to make sure we're ready to make a commitment as well—a commitment to recognize and support the relationship being affirmed. Continue reading How Planning a Wedding Has Made Me a More Thoughtful Wedding Guest