There is a whole section of APW devoted to talking about the proposal and engagement…situation. Because God knows it's a situation. If you want a proposal (me!) how do you reconcile that with your feminist principals? If you don't want a proposal, how do you talk about it with other people? What does it mean if you're waiting for a proposal? Hey! Women can propose. Hey! Women can buy rings for men. Hey! Women can buy rings for each other. And of course: ducks are wily. But up till now, we've never had a story of a mutual proposal. And I think you'll agree with me that Lea Rackley's is the best.
—Meg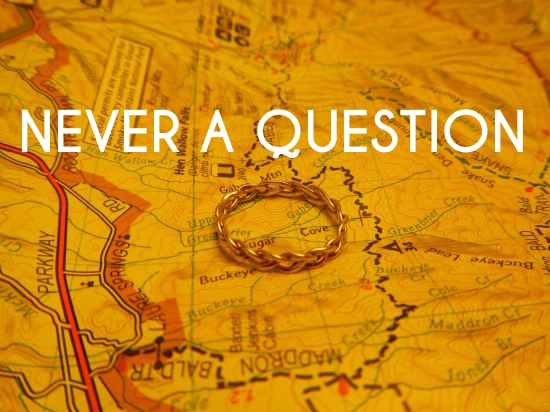 I have an engagement story for you. Everyone loves those, right?
Actually, I want to talk about the love of the story first, because that's where this really begins. You see, as soon as I knew I would one day marry Christian, I also realized that the cultural narrative surrounding proposals doesn't suit us at all. Don't get me wrong—roses and surprises and getting down on one knee are all well and good! But for two people who obsess over the symbolic meaning of everything, and for two people who see themselves as equal partners, meeting everything in life head-on, hand-in-hand, we decided we wanted to enter into our marriage the same way. So we decided to propose to each other, and to plan it together. Two unexpectedly awesome things happened:
1) It was so fun to know all day long that we were getting engaged, because it allowed us to be present and enjoy every minute.
2) I can now appreciate how hard it is to propose to someone! You don't say those words every day, and they felt heavy and real and crazy and cool.
So, without further ado, the story we'll tell our children's children:
We arrive at Sugar Cove after a snow-covered hike through the Smoky Mountains. It's a Thursday, and there's no one here but us. We set up camp by the water and play for awhile on the snowy banks. Today is special, which makes every little thing seem noteworthy. I am blissed out over my berry granola bar snack, and the way Christian looks in his green beanie hat.
We are sore and tired in that exquisite post-hike way that makes our little camp stove dinner taste Michelin Star good. We sip red wine from a plastic pouch and admit to secretly wishing we'd see a bear. We practice our bear calls. Get outta here, you bear! Go back to the Hundred Acre Woods!
It starts to get colder. We make hot chocolate and watch the light recede between the trees.
"Let's get inside our tent and get engaged, Beez!" Christian says, and I love him for being funny and silly and so much fun. We run to our tent, starting to shiver now, and we zip ourselves inside. We put on extra pairs of wool socks and burrow deep into our sleeping bags. I can't stop giggling as we lay there like two bright blue caterpillars.
I decide to go first. Continue reading It Was Never A Question