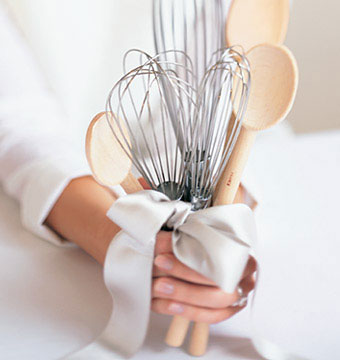 I have a confession to make. Early this year, when we were not engaged, but boy was I ready to be, I used to wander through the high end cooking store near my office and play the registering game. "Hum," I'd think to myself, "this sure is a nice fancy cheese board. I bet married people have cheese boards like this." Of course, what would follow was me looking at the price of said cheese board and thinking "AH! It's not that nice a cheese board!"
Fast forward to now. We've been engaged long enough that registering is something looming on the horizon. Oddly, I'm much less excited about it than you might expect. I really love shopping for presents for other peoples weddings off registries, mind you. Who doesn't? You get to play house, and get a inside look at peoples tastes. "Cool wine glasses," you think. Or "Ohdeargod, who asks for reindeer Christmas china?" And then you get the delight and satisfaction of foisting shiny wrapped things on newlyweds. But I can't seem to muster any of that excitement for our registry. Here are the issues:
I'm almost thirty. I've lived in apartments of one form or another for the last 10 years, so chances are if I can't live without it, I've probably already bought it. We truly needed a registry a year and a half ago when we moved to San Francisco, and seemed to need a million things for our new apartment. But now? We've got those things.
I don't cook. Period. David does cook, and he's very serious about it, so he has some things he's really excited to register for, like pans that will last a lifetime and serious knives. I'm excited that he's excited, but that's the extent of my emotions.
We have a small apartment, and it's tidy. The rules are, if we don't have a place to keep it, it doesn't come in the door, and most spots are already taken. We have no plans to move to a bigger space soon. Our apartment is 1930's immaculate rent controlled perfection, so our thoughts are more of the "do we have a walk in closet big enough to convert to a nursery?" variety.
I'm not a shopper, so the idea of taking hours and hours to set up a online registry filled with flawless etsy finds makes me feel bored.
Continue reading Registry Ennui