Today's post from Mary Via encapsulates what for me, are the most important parts of the wedding tradition. Weddings give our relationships the context of community— they are about standing up in front of our loved ones (literally, or figuratively, in the context of elopements), declaring our intentions, and asking for help. Weddings acknowledge that no partnership is simple and that our marriages require support to thrive. In turn, weddings give our community hope, and that hope helps see us all through. Mary Via's post is about more than religious traditions: it's about the ties that bind.
—Meg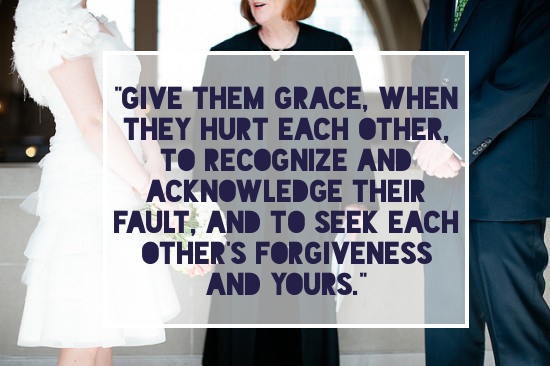 With just over a month to go until my wedding day, I want to say that I am actually very optimistic about my marriage. I really do think we're going to make it. I also suspect that we're going to be happy together. Very happy even. This might seem like a funny thing to say, but you should know that there are several reasons why I might reasonably have come to a gloomier conclusion. Not because there is anything glaringly wrong with my relationship, but because it's been, shall we say, an "off-year" for marriage in our families.
My fiancé and I are all too aware of the ways in which marriage can both atrophy and erupt. This year in particular we've watched our families cope to greater or lesser extents with the darker side of marriage. We've witnessed a sibling's explosive break-up and impending divorce after only a few months of marriage. We've also watched a thirty-year marriage strain under the weight of deep emotional pain, frustration and co-dependency. None of this has been reassuring for us as we prepare to get married ourselves.
What I'm saying is that I feel as though I'm going into marriage pretty clear-eyed. I've seen and considered the bad and the ugly. But there is also something to be said for the good.
Which brings me to, of all things, our marriage ceremony and the traditional Episcopal liturgy we'll be using from the Book of Common Prayer. My favorite part of the service is the prayers that follow the marriage vows. The congregation makes these prayers on behalf of the couple, as if to say, "We just watched these foolish young people make some crazy promises to one another, and although we are tickled pink by how much they love one another, we know they are going to need our prayers." Continue reading Clear-Eyed Optimism