Since intern Madeline married in December and had her reception a handful of weeks ago, she's throwing us little hints and whispers of the tale. First up, their city hall elopement. I couldn't be more in love with it.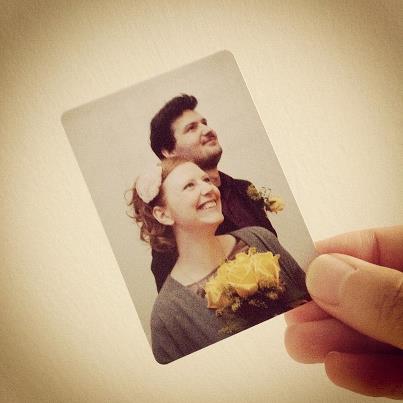 I didn't plan on wearing jeggings on my wedding day—it just happened. I didn't even know they were jeggings. I thought they were leggings with a fly and pockets. According to my good friend Alice, that is the definition of a jegging. But at the time, I was ignorant of this distinction. It was December, and I needed to cover my legs.
I put them on under a dress I bought for $11 from Banana Republic in 2008. Back then, we all thought the capitalist world was about to end. Stores were resorting to extreme sales to stop us all from giving up and dressing in trash bags. I never stopped to thank the banks for creating the discount frenzy that provided the dress I got married in. Let me remedy that: Thank you, banks.
Next up, a battered pair of boots, a comfort purchase after an old break-up. An aging sweater of my grandma's. ("You can see the holes in the sleeves!" my mother said, of the photos.) A white flower pendant I picked up in Tokyo in 2010. And a pink, flowery headpiece from a New York City drugstore. Done and done.
We had applied for the license and overcome the 24-hour "cooling off" period required by state law. Two dear friends were standing by to witness the paperwork. We had exquisite wedding bands by Brandon's friend Satomi—not the customary 2, but 4. (Yes, I couldn't choose, and now I have three wedding bands. So sue me.) We were even allotted a celebrant straight off the set of the Sopranos. ("Congratulations to yous.")
I know people worry about eloping and whether or not it feels "real." Continue reading Madeline: The Jegging Elopement