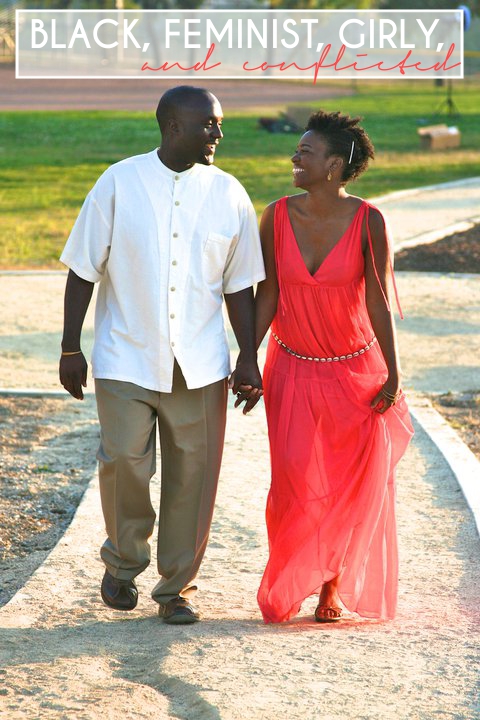 Angela Davis, bell hooks, and several others have written about the distance between mainstream feminism and women of color in the Women's Liberation Movement, as the workplace was often touted as a site of liberation and the private home as one of oppression. For many women of color and working class women, the situation was absolutely reversed, since enslavement labor had been the means through which Black women were abused and exploited. So the home and the act of caring for their families domestically was an area in which they could have some measure of autonomy, of escape, of value for them and their families outside of the capital value that they produced.
I think many of the rituals and changes that women are expected to participate in when they get married reveal the same type of tensions. Things that might seem outdated for popular feminism may actually be points of pride for women who have historically been denied access to a certain mode of femininity. If you are a member of a group of women that has been constantly caricatured as mammies and welfare queens, sexually pathologized, and whose inequity has been attributed to broken, abnormal, and matriarchal family structures, then bearing the title of Mrs. and taking your husband's last name can actually be displays of resistance. If you have grown up seeing constant media reports on the fatherlessness of Black children and the unmarriageability of Black women, then having your father walk you down the aisle and flashing your ring can both be points of pride.
But as a Black feminist Africana Studies scholar who constantly brings the insights of my work into my life, I just don't get off that easy. I realize the way in which tradition and the politics of respectability have sometimes been a form of self-defense and resistance for Black women, but I also realize that patriarchy within our communities still operates in our lives. What women-of-color feminists advocated was an intersectional politics that could look at race, class, and gender as simultaneously operating forms of denying resources and power to marginalized people. We have to question patriarchy in its institutional operations (family being one of those institutions) and its cultural manifestations, for they are indelibly linked.
But I am a critical gender-conscious scholar with some seriously problematic guilty pleasures. I did beauty pageants and music video dancing and do not regret it, I watch the Miss America Pageant and Bridezillas pretty faithfully. I am a complicated person, and sometimes this complication feels downright hypocritical. And my desires for what I would want if I ever got married were shaped long before I started becoming critical of marriage and its accompanying traditions. I grew up in a large extended family where marriage was not necessarily an expectation. I've been to more funerals and baby showers than I can count but not many weddings. I was always taught to be independent and to take care of myself, but at the same time I was nurtured on fairy tales. So I was confident that I'd be a pretty princess with or without a prince, but that if I got a prince I wanted all that big, sparkly, even stupid stuff that comes along with it.
So there's no neat conclusion here. For me, just living is an ongoing process of trying to reconcile my intellectual interests and political beliefs with my personal choices. As a bride, I am exercising my right to question patriarchal and Eurocentric tradition where it matters to me and live with the contradictions where it doesn't. A few of the things I have struggled with:
The Ring: Okay, not much of a struggle. I was ready for marriage before my fiancé was, so it was reasonable to me that he signal his readiness through a creative proposal and sparkly jewelry. My ring is an aquamarine with an Akan adinkra symbol carved into the band. It was created by hand from a jeweler we know from Leimert Park, an African American cultural enclave in Los Angeles. Now, I actually did somewhat resent that I looked claimed while L was bare handed, so I bought him a ring, got down on my knee, and proposed back soon after we got engaged. He loved wearing his ring but recently lost it while roughhousing with his little cousin. (He had not listened to my suggestion that we get it resized.) When he went to the jeweler to try to replace it before I found out, he instead saw the ring he wants for his wedding band so decided that he would rather save the money for that and fess up. This close to our wedding, we need every dime, so I was pissed but let it go. So much for gender equity on that one. Continue reading Being Black, Feminist, Thoroughly Girly, and Conflicted