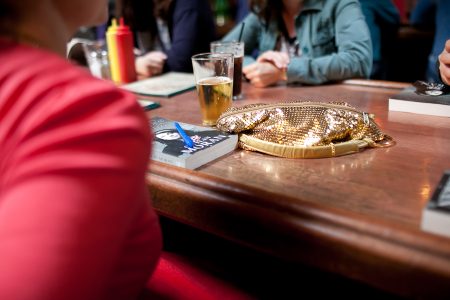 I've never been more glad of an APW book club pick. Why? Not because Caitlin Moran's How To Be A Woman is the funniest book I've read all year (it is), not because I want to pick Ms. Moran's brain for all of it's hilarious wisdom and this book was the closest I can get to it (and I do), but because up until Saturday's book club meeting, I had no idea that we needed to reclaim the word Feminist. Wife, definitely. But Feminist? I thought we were all down with that. And by "we" I mean, readers of APW. Because I consider what we're doing at APW to be just base-level feminism. We're talking about women's lives and women's choices. We're empowering each other to make better choices, and we're making sure that we we all know, on a really deep emotional level, that we have lots of choices. We're talking about how you can be an empowered woman who chooses to save sex till marriage, or an empowered woman in a polyamorous marriage. We're talking about the politics of name changing. We're reclaiming what our weddings can look like and what our marriages are. We're people, with vaginas, who think we deserve options and rights. We wear pants (or not), vote (or not, but I hope we vote), and work (or not) as we're so inclined. We're, you know, Feminists. This is such a base line assumption of who I am and the work we do here, that I never even thought it was an issue.
So I picked How To Be A Woman, a witty romp through modern feminism, as the book club choice and showed up on Saturday ready to go. And then we started to talk about this quote:
We need to reclaim the word "feminism." We need the word 'feminism' back real bad. When statistics come in saying that only 29 percent of American women would describe themselves as feminists—and only 42 precent of British women—I used to think, What do you think feminism IS, ladies? What part of "liberation for women" is not for you? Is it freedom to vote? The right not to be owned by the man you marry? The campaign for equal pay? "Vogue," by Madonna? Jeans? Did all that good shit GET ON YOUR NERVES? Or were you just DRUNK AT THE TIME OF SURVEY?
And someone suggested that everyone who considered themselves a feminist raise their hand. I already knew via Twitter that in New York City,"Someone just asked who here was a feminist. Everyone raised their hand!" So I thought I knew what to expect. Well, most people raised their hands (not quite everyone).
Then someone said, "Actually, how many of you considered yourselves feminists before you read the book?" Which I thought was a silly question. Duh. These are APW readers we're talking about. Feminists. And I swear to god, only about a third of circle raised their hands. This is my face when APW Advertising Manager Emily explained that until this book she didn't consider herself a feminist: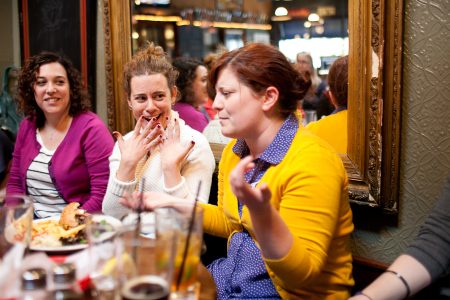 Then I started fanning myself in mild panic. Robin, sitting next to me whispered, "Changing lives! Changing lives! This is good!" And then I managed to ask, "What about the book made you guys change your mind? Was it the jokes?" Everyone told me it was the simple way Caitlin Moran explained it: Vagina + Equal Rights = Feminist. Though I still suspect that the jokes didn't hurt. (Funny ladies unite!)
But to be clear, I think there is a fundamentally important reason that women (And, um, men. Marry feminists, ladies!) consider themselves feminists. It's part of all pulling on the same oar instead of cutting each other apart (something women are far too good at). It's letting ourselves civilly disagree, while still being on the same page about centuries of repression and how we really need to keep working with past generations to turn the ship of womanhood towards fairness for all of us. (Says the woman who was asked if she would be "bored being a housewife" when she left her corporate job to work full time as a writer. Don't tell me sexism no longer exists.) It's the whole point of APW, as summed up by Ms. Moran:
For women, finding a sympathetic, non-judgmental arena is just as important as getting the right to vote. We needed not just the right legislation, but the right atmosphere, too, before we can finally start to found our canons—then, eventually, cities and empires.
And to illustrate my point, let's dive into the major issues discussed at the San Francisco Book Club: Having Kids. Or not having kids. Continue reading Caitlin Moran's How To Be A Woman: The Discussion