So, a few weeks ago when we were discussing, well, marriage, the amazing research of John Gottman came up (hint: go listen to this episode of This American Life if you haven't already). John Gottman has a book The Seven Principals of Making Marriage Work, that clearly we all need to read, so Liz announced that it was time for a REAL APW book club.
Well. Cue me nodding my head, and writing down the name of the book. The thing was, when I got to our local bookstore, I just couldn't do it. Not… in July. Not… heading out for vacation. I kept trying to imagine putting The Seven Principals of Making Marriage Work into a bag to take to the beach, and, um, no dice. So. I decided to shelve that for a more studious time of year, but clearly, the time was now for the APW book club.
So. The first book for the official APW book club? Get excited….. because it's The Commitment by Dan Savage. You're welcome! One of the quotes on the back cover (which is about The Kid, but is true for this book as well) says, "This is a book that reads like light entertainment but actually proves to be a deeply political, sensitive, and wise reordering of the entire notion of family values." Which is kind of what we're all about, no?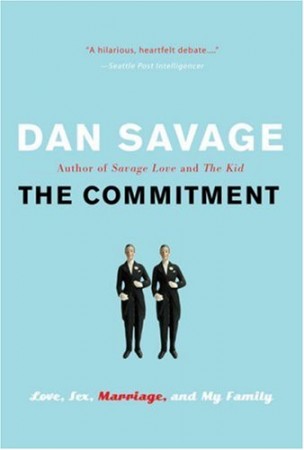 I bought The Commitment back when it first came out, and actually went to a book reading where Dan Savage was verbally insulted by a crazy person, and I have lots of good things to say about this book. Plus, I pulled it off my shelf last week to give it a look over, and am now on page 77, because I couldn't stop re-reading, even in my over stressed brain addled state. This book is TOTALLY going to the beach with me.
What you should know about this book:
It's about Dan Savage and his partner (and their six year old son) deciding if gay marriage was for them (and obviously I'm not going to give the answer away).
It's about totally considering and re-considering what marriage is, and if it's worth it, and why we do it.
Dan Savage will push your buttons. And of course, I f*cking LOVE that about him.
So. Yes. Here is the big reveal: Continue reading The Reveal