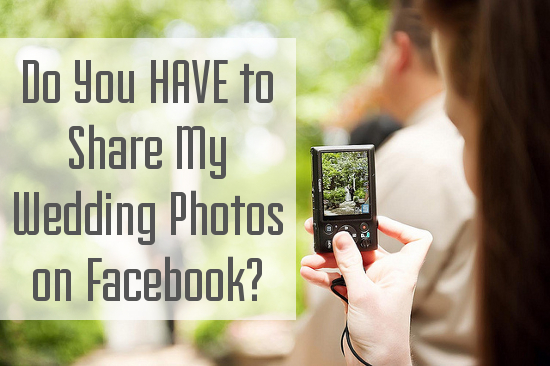 by Meg Keene, APW Executive Editor
A Wedding Invitation Is Not A Media Pass
I knew something was changing when a few years ago, I got this question: A reader's uncle had videotaped her vows on his iPhone, and the day after the wedding had uploaded them to his Facebook page and tagged her in the post. His message was that her vows were so lovely that he felt compelled to share them. Her message was that she felt like her privacy had been violated. She wondered if it would be tremendously rude to ask him to take the video down. "Of course it's not rude," I replied. "What was rude was to record one of the most personal moments of someone's life, and to share it as if it belonged to you."
Fast forward to 2013, and that exchange already feels dated. Mark Zuckerberg thinks that the amount that we share online and through social media will double every year. I don't think that's exactly true, since already we're all shutting down feeds we can't keep up with (for me, that's Facebook—sorry Mark). But it's true that the way people share has changed drastically in the last few years. It's not just the ubiquity of social networking sites, it's the way smart phones have put effortless power in our hands. If we can easily take a video, or snap a picture, we can just as thoughtlessly share those photos or videos. We've forgotten the person who records the moment (and makes it pretty) is not the person the moment belongs to. We've forgotten that privacy has value.
You Don't Need A Reason 
The other week, I was reading an advice column about a woman who didn't want her children's pictures shared on social media. Since I'm in a substantially similar position (I share my kid's pictures in very limited and reasonably private ways), I related. But the advice columnist's response threw me. They told the woman to tell people, "I know I'm paranoid, but I'd rather you didn't share my kids picture online." And thanks for playing, but no. I don't ask people to not share pictures of my kid because I'm afraid of predators; I just think that he should get to choose how he lives on the internet. I don't want to make that choice for him, and I definitely don't want some random person making the call. I disagree with the advice columnist because I don't think asking people not to share your private life online requires an excuse. I just think it requires a please and thank you.
If you're asking people to not share your wedding pictures on social media, you might feel like you need a reason, or feel compelled to make an excuse. You might think, "I'm not comfortable having my pictures shared, but it's not like I'm famous, so what right do I have to ask for that?" But the reason is simply that weddings are private. You invited your uncle, not your uncle and all of his Facebook friends. You're collecting a community of people to witness a very personal commitment. By doing that, you have the right to request and expect privacy. Figuring out how to do that well is the key.
How Do You Want Your Wedding Shared?
As with all things wedding, this is a conversation best had with your partner first, and then clearly articulated to vendors as well as friends and family. Let's walk through questions to ask yourself and others. Continue reading A Private Wedding