Three years later, I still vividly remember the meltdown I had two days before my wedding. It was about table runners. But really it had nothing to do with table runners, and everything to do with the enormity of the commitment I was making. So maybe that's why intern Elisabeth's post today (the last one before her grad post! Eek!) about her own pre-wedding meltdown feels so familiar. Because it doesn't seem to matter whether you're planning a long-distance inter-cultural wedding in another country, or just a lazy wedding on the beach, getting married is BIG, and when you try to sweep that truth under the rug, well, sometimes it comes back to find you when you least expect it.
—Maddie For Maternity Leave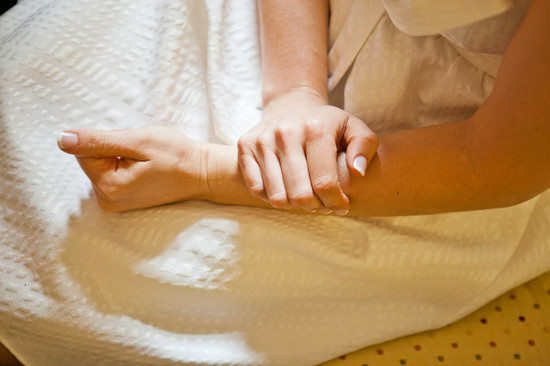 I tend to tell people I handle mild stress really badly—think wailing and gnashing of teeth—but that when there's a real crisis I am calm and competent. I spend days agonizing about what prints to buy from the photographer, but I easily take charge standing on the side of the road near to our decimated car.
For the most part, judging by my extremely poor reaction to it, wedding planning fell firmly into the "mild stress" category. A week before leaving for London, when I had not yet gotten my immigration papers back from the embassy (yeah… the immigration saga is long and unpleasant and not yet over), I was screaming full-throatedly at my little sister over proper vacuuming technique by day, and crying hysterically to Amin over the phone by night. However, I comforted myself, with no small amount of pride, that I would almost certainly pull it together for the wedding.
And I did. As I had predicted, once we arrived in London I was suddenly calm, confident and self-possessed. I, who had dug in my heels over every tiny issue during the lead-up, was making snap decisions like the Queen of England. What do we want to do for a guest book? Bam! Delegate. We don't have time to go to dinner and to get my henna tattoos? Easy: order in. Do I want my hair high on the top or big in the back? What the heck, let's go for the big-bootied hairdo. On the day of the wedding, as I entered the venue for the first time, I was accosted by our day-of coordinator who wanted to know what kind of music I wanted to hear when I walked down the aisle (something my panicked pre-wedding self had been unable to even consider). Within thirty seconds, we had made a decision. It was lucky that I didn't really care about any of these issues at that point—I was laser-focused on the two-pronged goal of "Get married. Be married." All of my friends and family noted repeatedly how calm and in control I seemed, and I must say I was pretty impressed with myself as well. That's right, I was The Decider. The Fortress of Calm. The Bride Who Would Not Be Fazed. I had found the Wedding Zen and it was good.
However, there was a surreal dimension to the whole wedding lead-up, which was that I barely saw Amin the whole week.  We sent a lot of business-like text messages and had awkward conversations in the full hearing of our entire families, but spent literally not a single moment of time alone from the day I set foot in the UK to the moment we got into the car at the end of our wedding. I think I was calm at least partially because Amin and I were given absolutely no time together to process the enormity of what we were doing. On the day we had our civil registration (we did only a religious ceremony on the day of the wedding), we showed up to the borough registrar, hugged awkwardly, and suddenly we were saying our vows to each other. And then we took a couple of photos, had family lunch, went to our respective homes, and, talking on the phone later, had the following conversation: "Dude, we just got married." "I know!" "Woah." "I know, right?"
And that is, perhaps, why my masterful control ultimately slipped. Continue reading Elisabeth: The Great Nail Meltdown of 2012