For those of us who were raised without many married role models, sometimes marriage can feel like a terrifying leap into the unknown. It's not unlike my fear of flying. Until someone explained to me the physics of how planes worked, I simply had no faith in them to not drop out of the sky. So, for the aforementioned reasons, today's anonymous post on marriage anxiety hit me hard. But in a good way. Because sometimes we kids of divorced parents need to be reminded that that we're not doomed to repeat the mistakes of those who came before us. Sometimes we just need to hear that there are, in fact, an infinite number of possible outcomes for our marriages and that there is plenty of time to figure things out. But now I'm going to turn this over to anonymous, because she has it way more figured out than I do yet.
—Maddie for Maternity Leave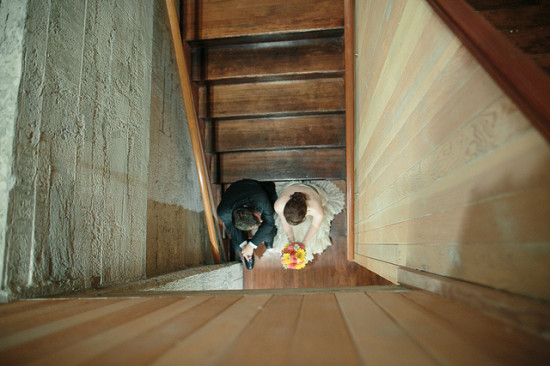 I am an overthinker, and once my partner proposed, I immediately started stressing about our marriage. Not our wedding—our marriage. I freaked out because I'd never seen a happy marriage up close, and I was afraid that one day, our marriage would resemble that of my parents, who divorced after twenty-four years of no physical affection, a lot of arguing, and thinly-disguised disgust and contempt. I worried that after the wedding I would transform into my mother, and he would turn into my father. Because marriage sucks the joy out of everything, right?
So, I did something really smart: I told my mom I wanted therapy as my wedding gift. Off I went, knowing that this was going to help my relationship with my soon-to-be-spouse and with myself. We planned our wedding and it was fantastic. Seriously, a year and a half later I continue to receive compliments on our ceremony and reception, and it was definitely the best party I have thrown so far. Oh, and I married my favorite person.
But I'm writing today to talk about my anxieties that continue to this day about my marriage. In spite of the fact that people gush over our relationship (including but not limited to my mother, our local bartender, and friends of my family), I am still plagued by the fear that if I look away for five seconds or stop actively working on it, I will take my amazing spouse for granted, or he will take me for granted, and as a result, we will slowly grow apart and end up divorced, or worse, unhappily married.
My therapist gently explains to me on a weekly basis that I have an ingrained fear of abandonment, and this is triggering my fear that if I do something wrong*, my partner will leave me, physically or emotionally. However, while my head knows this, my heart has still not received this telegram. It's a long process, apparently. I realized a week or two ago that my thinking is centered around a false dichotomy that marriage falls into one of the following categories: Continue reading The Anxious Wife