Last week was rough. It was rough for different people in different ways. There were members of the APW community way to close to the horror in Boston on Monday. There were lots of you locked down in Boston on Friday. There were those of you close to, or with loved ones in and near West, Texas. There were people, like me, who had lived through different kinds of terror and were finding their PTSD triggers all being hit at once. Then there were the many glued to the news, afraid and/or sad. As I've gotten older, and built my own family, I've found that bad news hits me in a different way. The fear of losing a child or a partner can quickly wrap it's icy cold fingers around my heart. News cycles like last week shake me up in a whole new way. Today's post by Rachel Wilkerson explores the fear that pops up after national tragedies, and the everyday fear that keeps us up at night worrying about our loved ones.
—Meg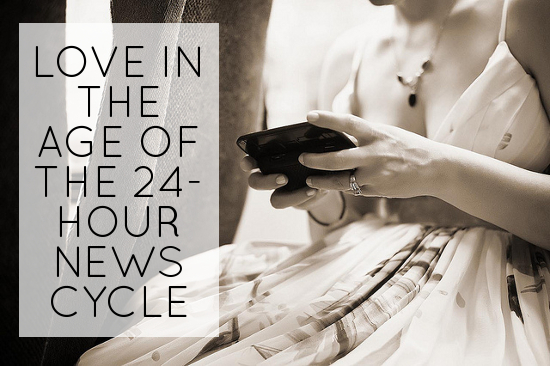 If you'd asked me three years ago to list the things I am afraid of, this would have been my list:
1. Sharks.
2. Having someone break into my apartment to rape and kill me.
That was it. I don't know if it's really all that rational or not, but it's a pretty short list, and I never felt like it was affecting my quality of life.
Now? Now I need a damn outline.
I. Fears about kidnapping, assault, rape, and murder
A. I'm the victim and a stranger is the perpetrator.
B. I'm the victim and MY HUSBAND IS THE PERPETRATOR.
C. I'm the victim and nobody cares because I'm not a pretty white woman.
D. Someone I care about is the victim.
II. Fears about my future children
A. They will be bullied.
B. They will bully someone else.
C. They will be kidnapped, assaulted, raped, and murdered.
D. They will kidnap, assault, rape, or murder someone.
E. Wait, am I even going to be able to have children?!?!
III. Fears about diseases
A. I will get a disease.
i. Every time I have a stomachache or a headache, I'm clearly dying.
ii. I'm worried that this chicken isn't cooked all the way through and also, even though I wore latex gloves when I was touching that chicken and washed my hands (and nails too, duh), I'm still afraid to touch anything in the kitchen for the rest of the night.
iii. I'm really stressed that I'm not getting to the gym enough to lower my stress, which will keep me from dying from being stressed because STRESS KILLS.
B. Someone I love will get a disease.
i. The people I love clearly do not eat enough vegetables to keep them from dying young.
ii. YOU FORGOT TO WEAR SUNSCREEN GOLFING?! ARE YOU TRYING TO MAKE ME A WIDOW AT THIRTY?!?!
C. Don't forget about that recent flesh-eating bacteria case.
IV. Fears that the Mayans were right, we just had the date wrong
A. Natural disasters.
B. The War on Women.
C. Economic collapse.
D. The Hunger Games really happens.
For a long time, I managed to avoid most of these irrational fears by simply not watching the evening news. But then I moved in with Eric. Suddenly I had this additional person who I was now terrified of losing, and said person typically has the TV on. His go-to shows include Law & Order: SVU, Dan Rather Reports, and the endless stream of war, aliens, and apocalypse programming on H2. It got into my head, big time. It basically turned me into my mother, who, on any given night can be found in the kitchen close to midnight, eating milk and cookies as a serious-sounding voiceover says, "…Linda had always told her friends and family that she feared one day Frank would kill her." Continue reading Love In The Age Of The 24-Hour News Cycle