Sometimes it's hard to describe what exactly it is that wedding planners and coordinators do, because generally if they are doing their jobs well, you probably won't ever witness them pulling all the strings behind the scenes and making magic happen on your wedding day. Luckily, being an industry professional has given me a backstage pass to see all this hard work myself. And what I've learned is that the difference between a good planner and a, uh, not so great planner, is night and day. A good planner will listen to your ideas, give you educated feedback, and work with you to come up with a game plan for how to execute your wedding in a way that's going to keep everyone's stress levels down. A not so great planner is going to treat all their clients the same and make you do things you don't want to do because that's the way things are done.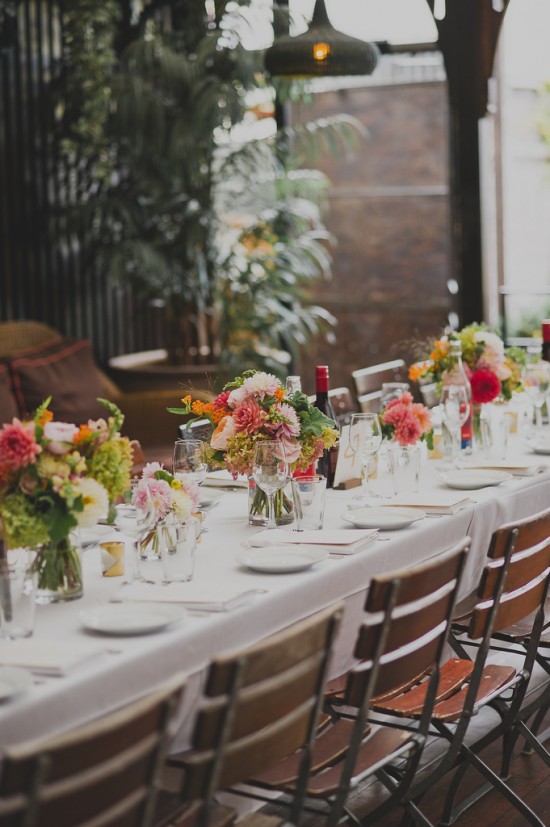 I have worked with both kinds of planners, but APW sponsors always (always) fall into the former category. And today I'm thrilled to add Dominique of Big Juicy Events in NYC to that list of good guys. First of all, Dominique is just kind of badass (check out her bio and tell me you don't want to be friends with that lady). I mean, first of all, she's a native New Yorker and you can't buy the kind of local expertise that native's possess. But perhaps just as important, you're going to get whiplash from nodding at everything she has to say about this industry and why she does what she does. So keep reading to find out why Big Juicy Events might be the best news you've heard all week (hint: it may come in the form of a discount that Big Juicy Events is offering just for APW readers! Trust me, it's a good one.)
Now, before we dive into the details of Big Juicy Events, I want to get right to the meat of what makes this lady special. Because when I asked Dominique about her business philosophy, I almost fell off my chair I was clapping so hard. Here's what she had to say:
I firmly believe that a wedding should be about the getting married part! I consistently notice that when I start working with clients, they have a fear of getting it "wrong". The mainstream wedding media is just relentless! So much of my job is helping clients de-program and get really clear on what they want vs what they have been told they want. I have always loved what I do and have always had a sense of the above philosophy, but it was when I was planning my own wedding in 2011 that I really got it. I was surprised to find that even I, knowing what I know, was having a lot of anxiety about the day. I knew I had entered crazy land when I was in the midst of a 15 email exchange with my cake baker trying to decide how large my cake would be and how many macaroons to have (Cake for 60 plus 100 macaroons? Cake for 70 and 75 macaroons?) Literally 15 emails. I had to talk myself down, remind myself that I have a Master's Degree and am a successful entrepreneur and that there was no wrong answer! It is my mission to save couples from that kind of crazy!
I mean. Just—yes.  So how does Big Juicy Events translate that philosophy into a business model? Well, Dominique believes that every couple deserves a beautiful wedding, regardless of budget, so her services vary far and wide to reflect that, from full-blown planning, to just a little help here and there. She explained to me, "I feel particularly committed to creating a beautiful day for every couple-instead of reserving a beautiful wedding just for those with a huge budget. For example, I have a couple right now who are both in rock bands. They aren't crazy for flowers and they are on a tight budget. So I am making all of their centerpieces—origami kusudama flowers out of sheet music. Pretty cool!" (Um, yes. Want.)
And the Big Juicy Events' pricing reflects that philosophy as well. Dominique says: