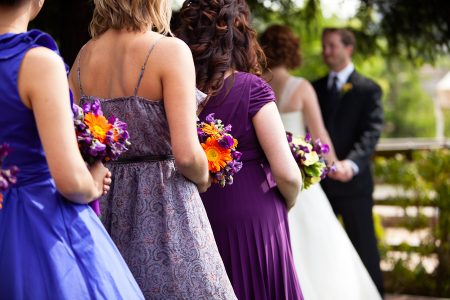 My maid of honor (MOH) and I have known each other for a number of years, as you'd probably assume.  And over the past few years, she has been dating Steve. Steve and I usually could get along fine, and we didn't have much trouble until a couple of years ago. My MOH and Steve moved in together with the MOH's son (her son has a different father and they share custody) around that time. Everything seemed fine at first until I started getting constant phone calls from my MOH. She'd be crying and telling me Steve was calling her and her son names, yelling and all around being nasty. As her friend, I'd try and give her advice and tell her to get out of the relationship and that she deserves better. She said she understood but didn't do anything about it. She was convinced she was obsessed with him, a few months later had a child with him and continued on the path she had been going since the beginning.  This was until she called me one day and asked me to help her get out of the relationship. After a long time spent convincing her, we decided to move her out of Steve's house. Police were involved as well as about five friends who shoved her things in boxes as quickly as possible to get her out. She moved into her mom's house and she still continued to talk to Steve. She tried to hide the fact she was dating Steve from me for a while and the cat eventually got out of the bag.
Now my question…  I know she'll want to bring Steve to my upcoming wedding. Steve has blamed the failure of the relationship partially on me and I'm sure he has a few nasty things he'd like to tell me. However, I don't believe this is going to deter him from coming to my wedding. The last time I saw him we were civil. But, his behavior at our wedding can either turn out alright or can turn out really badly. I have no idea. So, do I risk angering my friend (who will take offense to my request after she's spent a ton of time and money helping me with my wedding) and ask her to choose a different date? Or, do I risk it, make her happy upfront and see how it goes? I don't want him there. But, I also want my MOH at my wedding, and I'm afraid it would put a big dent in our friendship.
~J.
J., before I dive into your question, let me talk about bridal parties and dates. I'll meet you at the end of the post, okay?
If a member of your bridal party wants to bring date you don't like… well, there's not a lot you can do about it. Wanna know the best way to shatter a friendship and break up your bridal party? Tell one bridesmaid they can't bring a date and let another bring one. OR, you can let the bridesmaid bring a date, but just not the one she wants. If any of the bridal party gets a plus one, they all get a plus one. Yes, even your single bridesmaids. Trust your friends to not bring someone inappropriate or who hates you. You can let them in on how busy they'll be the day of the wedding and how you think their date will be bored, but in the end, short of flat-out banning their date and causing a ruckus, you'll just have to accept the situation and move on. Look, as much as I dislike the idea of a bridesmaid bringing a date who is not friends with the couple to a wedding, the "no ring, no bring" rule for the bridal party I've seen batted around wedding boards is worse. For those unfamiliar (I hope you all are blessedly unfamiliar), it's the idea that unless they are married or engaged, bridesmaids and groomsmen aren't allowed to bring a date. Unless the date is a terrible human being, you are not going to notice they are there.  (If they are a terrible human being, keep reading to J's advice.) If the idea of this date eating your canapés just tears you up inside, have a talk with your friend and explain to them why you'd rather them not be there. Just be prepared for the conversation to turn uncomfortable; you not wanting their date there is actually a judgement on their relationship, and that will be upsetting. Besides, isn't dictating their clothes, shoes, jewelry and hairstyle enough? (Kidding! Mostly.)
Now.  Back to J.: Continue reading Ask Team Practical: Bridal Party Dates