*Maureen, Archivist & Scott, Digital Collections Manager*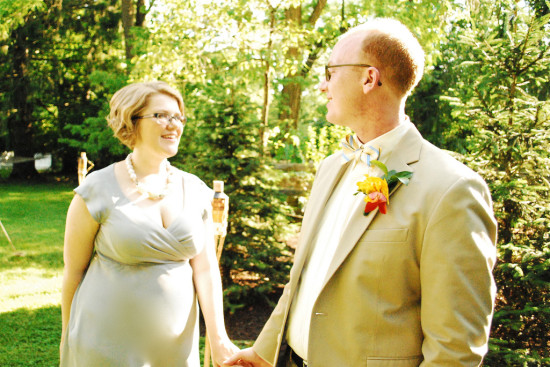 This week we wanted to talk about Curveballs, both in weddings and in married life. And yes, that means there is going to be some difficult but really important posts to read this week. So I thought we'd start it all off with a post that's just important. Important, and also really really fun (in a fist pumping way YES way) and smart in an "I'm not getting married right now but I wrote notes on a post-it" kind of way. Maureen's wedding graduate post is about what happens when deciding to get married in the first place is a curveball, and feminism. It's a read-it-if-you're-not-wedding-planning-too post.
Dear Future Maureen,
Do you remember how concerned you were at first about what feminist-group-house-living, queer, radical, 22-year-old Maureen would think of you (of us) when you decided to marry Scott? Do you remember how unsure you were of the very idea of marriage as an institution, how contractual it seemed, how antithetical to the idea of waking up everyday and choosing to be with your partner because you love him (or her), instead of being there because of some promise you made when you were a much younger and different person?
Now that I'm on the other side of this, I think that 22-year-old us would be very happy with the way we addressed these issues openly, ferociously, and with love and respect for those around us. And now that we've been through it—and you've been through many years of marriage—let's take a moment to remember together what we've learned about marriage and promises through the process of having a wedding.
Promises are important. They can bring freedom rather than bondage: Scott and I have been living together for years. We went through a devastating fire together. And I didn't really believe that I would feel differently after getting married—but strangely enough, I do.
Promises are a wonderful foundation on which to make plans, to think about the future, to go deeper with one another. There's something about the process of committing to each other in front of God and our families (and about them committing to seeing us as a team and supporting us) that has given me a feeling of peace that I didn't feel before.
Continue reading Wedding Graduates: Maureen & Scott