It seems like seconds ago that I was packing all of our earthly possessions from our two very separate apartments into a Ryder truck and driving them across the country to move them into one apartment. It was a life changer. The life changer, really, since our day-to-day life changed very little after getting married (transcendent spiritual moments aside). And it was expensive. We had zero jobs, and I had $2,000 in savings and an open unemployment claim with the state of New York. I don't say this for pity, because it was oddly exhilarating. However. Moving was expensive, and logistically hard, and we really needed curtains, and we got basically zero social and financial support. Fast forward two years, and we couldn't keep up with the number of plates coming in the door from our registry… and we already had plates. Today's post is about exactly that: the invisible wedding of moving in together over long-distance and our misallocated cultural capital in a changing world.
—Meg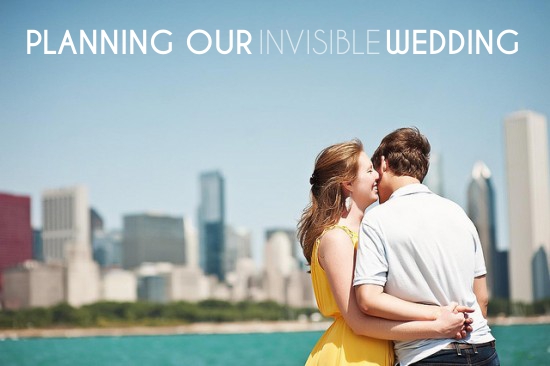 by Anna Wilhite
Right now my brother and his fiancé are planning their October wedding. I am planning to move cities in August to move in with my long-distance partner. For different reasons, my future sister-in-law and I both have ended up doing most of the heavy lifting in planning our respective events. We are both drowning in spreadsheets, budgets, and stress. We are both working full-time while trying to coordinate life-altering events involving massive amounts of money. We are both receiving well-meaning but unsolicited and irritating advice. We are both struggling to communicate with our partners, to merge finances, to find a place to live where we'll start our new lives, to learn how to protect our identities and independence even while we intertwine our lives closer and closer with another person's.
There are some big differences, though. One of us has a brigade of friends convened specifically for providing moral support throughout the planning process. One of us is given (right or wrong) a blank check on behavior due to stress levels. One of us is participating in a societally approved rite of passage that merits gifts and congratulations starting with our closest family right on down to workplace acquaintances.
Hint: It ain't me.
Though I think preparing for marriage and planning a wedding absolutely deserves the special attention and care it is given (my partner and I plan to marry at some point), it is more than a little frustrating that major life changes not related to marriage—or having children—are not given this kind of care. My mom brags on Facebook about the wedding, or about my other brother's children—and she should! Because oh my God they are cute. But she doesn't brag that I too am making a permanent, if not yet legal, commitment to my partner, or that we too are beginning to build a life together as a baby family. Similarly, I don't feel comfortable sharing with work associates that I'm moving in with my partner in the same way that I'd feel comfortable sharing that I was getting married. There isn't an entire industry churning out magazines and blogs about how to make this happen—actually, there is a terrible dearth of any kind of meaningful advice that digs deeper at what moving in together means. Mostly what I found was, "Make sure you really like this person;" "Don't move in together just to save on rent;" and—from a men's magazine—"Be ready to give up Monday Night Football for Say Yes to the Dress." Okay. Got it. (They're wrong about MNF, by the way. I'm a football fanatic.)
In fact, I found APW a few months ago by searching "moving in together for the first time" and found a whole series of very high-caliber posts (and comments) about moving in. Um, jackpot! I had found a safe haven where whip-smart, progressive women and men rally together to make sense of the very difficult task of growing up. Whenever anything is tagged with "The Hard Stuff" I almost always feel that I could Exactly! the whole post because I am experiencing the same things— just outside of the context of getting married. For example, while for some moving in together is as simple as renting a U-Haul, driving twenty minutes, and arguing about how to arrange the furniture, our journey to live-in bliss has been a tiny bit more difficult. Here's a taste:
I am leaving my hometown where I have lived all of my twenty-four years, where all of my family lives and almost all of my very close high school friends still live. I am moving about eighty miles away to a small city I don't like very much, where I know no one except my partner and his friends and family. We don't currently have a place to live. We'd been searching fruitlessly awhile when a great opportunity came up for us to rent the house owned (and lived in) by one of my partner's coworkers. We met with them, saw the house, verbally agreed to move forward. A huge burden was lifted from my back and we made all sorts of happy plans for the spaces and the lot. Wind chimes, a fire pit, a picture wall, a no-cats-allowed room dedicated to my partner's vinyl collection. But… you guessed it. They called us last week and said they'd changed their minds about moving and the house was no longer available to rent. So, we're back on the hunt, trying to find a place that will allow three cats and include all appliances including washer and dryer in a residential neighborhood for under $1000. (This is the part where you laugh and say, "Good luck, honey.") Continue reading Planning Our Invisible Wedding