Today APW is partnering up with Apartment Therapy's The Kitchn to talk a little about weddings and food. As someone who spent 50% of her wedding budget on food, very intentionally, this is right up my alley. Later today, I'll be over on The Kitchn, writing about Team Practical's collective wisdom about self-catering your wedding. This afternoon, Apartment Therapy Managing Editor Faith will be here, talking about sensible ways to build a cooking focused wedding registry. But to kick it all off, I wanted to start with Faith's wedding. Faith wrote about her wedding for APW two years ago, and it remains one of my all time favorite wedding graduate posts (no kidding). The way she discusses faith, hospitality, and food were so wise and so impact-full for me. So, as I said two years ago, I hope you like it a quarter as much as I do, because that would be very much indeed.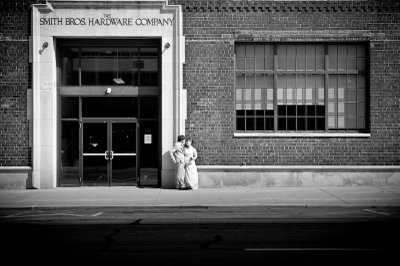 Mike and I were married last September in Columbus, Ohio. We really value our community of friends and family, and we wanted a celebration that would thank them for all their support in our journey, and acknowledge that marriage isn't just a joining of two people: it's more far-reaching than that.
I'm a food writer, so food and drink are crazy important to both of us. We lucked out big time with our caterer, Creative Cuisine. John, our contact there, is on the board of the Ohio organic and ecological farming association, and he was able to bring in some local ingredients. He was great to work with: I gave him my dream menu and he not only pulled it off but at a great price too.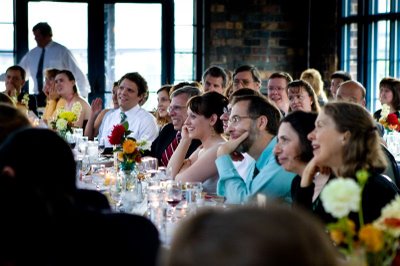 Important words: We pulled out a few words to keep us anchored and centered during the process. Hospitality was one. I read once that a wedding reception is a bride and bridegroom's first act of hospitality as a married couple. This drove a lot of the decisions we made: is this idea hospitable? Also, community. We have deep friendships with people all over the country, and we wanted to bring them together in a one-day reunion!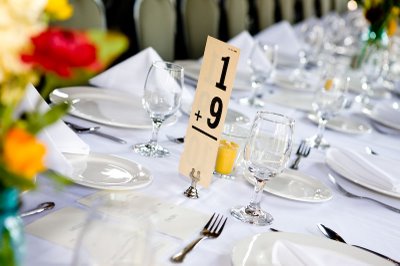 Being practical: A Practical Wedding was a big inspiration. I like the thought that being practical means doing what's right for YOU – not just what the wedding industry or indie crowd thinks is ideal. This post also made me crow! So true.
We paid a little more for our wedding than we planned, but it was a deliberate decision. We wanted to serve everyone an excellent meal with great wine, and this is where the majority of our money went. It was 110% worth it. We were very frugal in other areas, but we also tried to be sensible in balancing creativity and time vs. the convenience (and sanity) of paying others to do things. We had a short engagement of about 4 months, so this was important.
Also on practicality and frugality: we had the wedding on a Sunday afternoon, which saved us quite a bit on venue. We also decided to keep our wedding party intimate: just our siblings and one good friend as the flower girl. I felt strongly about paying for my bridal party's dresses – one thing that has always annoyed me about American weddings is the expectation for people to drop a ton of money on a dress they will of course, "wear again." Keeping the parties intimate kept costs down, but the real reason was just that we wanted to stick with people that we know will be in our lives forever. Continue reading Wedding Graduates: Faith & Mike