*Mandy, Graphic Designer & Luke, Mechanical Engineer*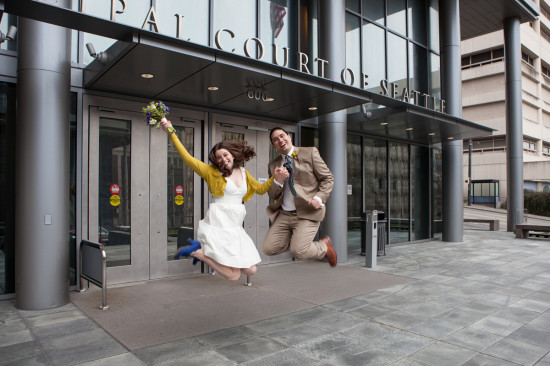 In the early days of APW, elopements were still taboo (even here). We talked about them. We debated them. And I hoped, one day, that going to the courthouse would become a less taboo and more viable option for more folks. And these days, things are changing. There are photographers who focus almost entirely on elopements. The New York Times is writing pieces about people (APW wedding grads!) who eloped and had a party afterwards. The conversations about the courthouse seem less fraught. And if anything can push the conversation forward on elopements, it's crazy-amazing weddings like Mandy and Luke's. (And, cough, not to be shallow and all, but can we talk about her SHOES? And her NECKLACE?) And with that, Mandy…
I'm pretty sure we did everything wrong* in planning our wedding, but in the end, everything turned out just right.
We planned our engagement. We shopped for a ring together and picked one out that was perfect. We ordered it and had it shipped to my work. It stared at me from my desk all day. I took it home, gave the box to Luke (to give to me), went to work out, and came home (sweaty) to become a fiancé. It wasn't a surprise, but it was incredibly romantic. This was a life changing decision that we were making. It wasn't the first, and certainly won't be the last, but it was one of the big ones. And we did it together.
We knew right away that we didn't want a wedding. We are so so so lucky to have oodles of supportive family and friends that we share our lives with, but when it comes to undying confessions of eternal love, we are intensely private. We opted for the courthouse in the spring with a delayed reception planned for the summer.
We told everyone our plans in an effort to head off any hurt feelings a surprise elopement might cause. In hindsight, it didn't matter how much notice we gave. Feelings were still a little hurt. Everyone says "it's your day," but we learned it's a day for everyone else, too. Ultimately, we decided to do what was right for us, and went full steam ahead with the courthouse. Continue reading Wedding Graduates: Mandy & Luke