When we re-launched the APW How-To series, I told y'all that my goal was to create a Lazy Girl's Guide To Making Sh*t. No overly intensive DIY tutorials here, just a simple over-view of the project, and common sense plan for getting it done, should you choose to attempt it. Well, I should have know that Lauren, she of Suburbalicious, and she of getting married the same day as we did, would create the best lazy girl's guide of all. Here is here tale of tackling decorations: first pick a place you don't need to decorate much, and second make paper flowers. Wheee! Also? Funny. Here we go: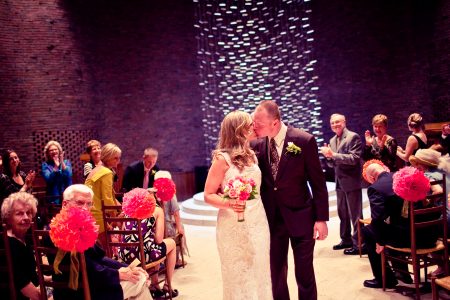 How to DIY your reception decorations. On the cheap.
Step 1. Pick a reception site that doesn't really need to be decorated.  This could be the first and last step if you find a great place.  We decided on a bar/restaurant in downtown Boston with floor-to-ceiling windows, red drapes, and couches and lounge chairs in the main space.  It was pretty, but I wanted something to distract from the ugly drop ceiling and the bizarre fish tank in the middle of the room.  I did not, however, want to spend any money on it.  Enter: paper flowers.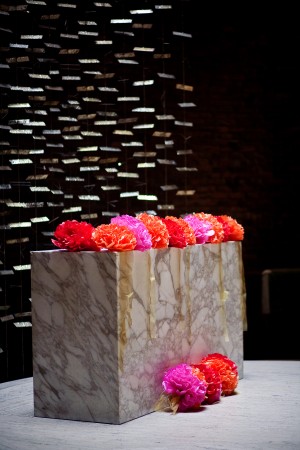 Step 2. Email the delightful Kimi for directions on how to make the gorgeous paper flowers that she had at every place setting at her wedding.  Attempt to make equally pretty ones and fail.  Miserably.
Step 3. Look up incredibly simple Mexican paper flower instructions online.  Remember that when you were little and would go to Disney World, you always wanted to buy a giant paper flower that they sold outside of Pirates of the Caribbean.  Your mother, every time, waved her had dismissively and said "No way. We could make that ourselves."  But she never did.  Decide that making hundreds of paper flowers for your wedding is the perfect payback for this. Continue reading How To: DIY Your Wedding Decorations