Being a wedding industry professional can be both a blessing and a curse. There's so much more that I know about weddings now than I did four years ago, and it can be really hard not to play the what-if game. (Can you believe I thought a backyard wedding wouldn't be good enough? Ugh. Ugh. Ugh.) But one thing that helps is knowing that my wedding was not the last chance I'll have for things like wearing tulle or dancing until midnight or drinking mimosas on the beach. So today I'm thrilled to bring you Hazel, who is so much wiser than I was.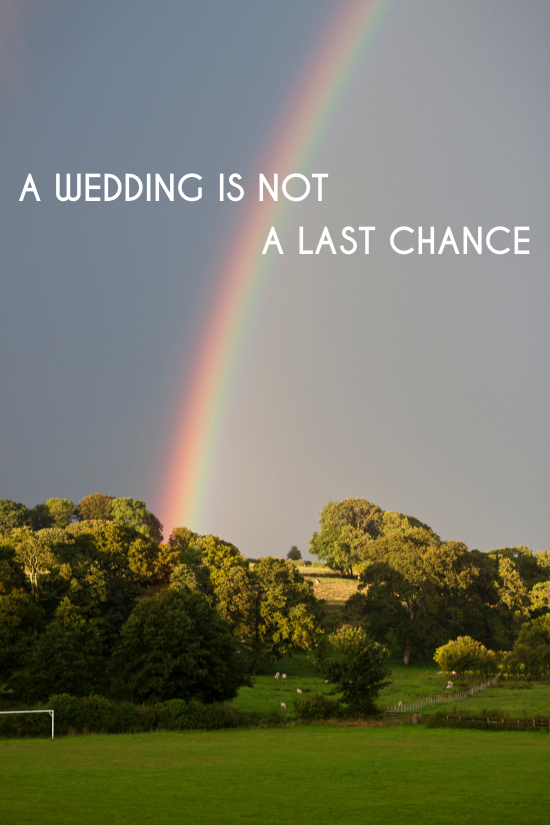 I was smiling at the joy and beauty in a Wordless Wedding post when the thought crept into my head: "That's what I wanted my wedding to be like." I've noticed this more and more as time stretches away from our wedding day. Seeing other people's outfits and ceremonies and yes, even flower arrangements on Pinterest, makes me wonder if I should have done something differently. They had the sunshine I wanted—why did it have to rain in August on my day? (Potentially something to do with getting married in the Lake District in England.) That is just the sort of venue I had in mind, before reality set in and we booked the village hall. That hen party looks so fun, I wish I had organised that!
Scrutinising these feelings has made me realise that this is the fantasy I had unconsciously embraced about weddings: that your wedding day is your only chance. The worry I had about getting the right pictures that looked amazing was only partly to do with the fact that I wanted nice pictures, and mainly because I felt this was my only chance to get those lovely pictures. It didn't actually bother me that we used the village hall as our venue, except for the feeling that I'd missed my chance to spend a day in a stately home or gorgeous forest clearing. And the hen party—well, that was me thinking I'd missed my chance to feel certain feelings, as if it was the one evening when I could feel loved and supported by my friends.
But of course, having a wedding where we actually get married is far more important than organising the ultimate wish fulfilment parade. The reason we didn't exchange vows on a mountain top and serve individual hand crafted pavlovas and give out handmade favours and personalise absolutely everything was because, frankly, we wanted to get married, and we didn't want to wait a hundred years until the stars aligned and we had an astronomical bank balance to spend on all these things at once. (Note: If you are able to do this, that is awesome, so please go ahead and then post some pictures!) We also wanted our family and friends, including elderly people and those with health problems, to be able to attend and enjoy themselves. Continue reading This Isn't Your Last Chance