* Lori, Special Ed Teacher & Raj, Doctor *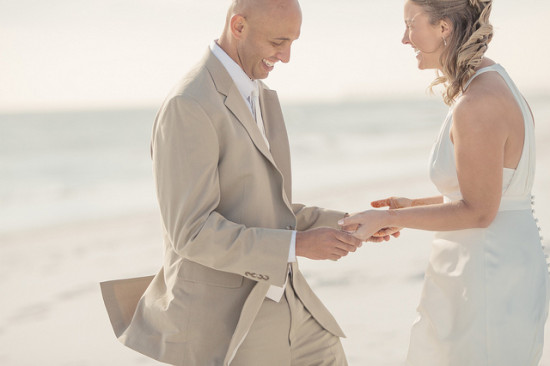 The cake was pink. Hand to God, I didn't notice until the next morning at brunch when I asked someone when the cake turned pink. "It was always pink. We thought that must have meant something to you guys." So I guess there's an argument for having lots of personal touches at your wedding: if something goes wrong, people might think it was intentional.
Our wedding day turned out to be the coldest day of the year in Pensacola. I wish I could tell you I didn't notice that, but to be quite honest, my internal monologue for the first minute of our wedding was, "Don't shiver, don't shiver, this is on video." The temperature in December had, for the most part, been in the 70s. Right around the time people started coming into town, it got cold and rainy, though the sun did come out on our wedding day. So except for the winter coats during dinner, you can't tell from the photos that it was below freezing.
Our programs only got handed out because as guests were arriving, my sister-in-law Dawn asked me if there were any, then went and passed them out herself. We left the sparklers for our exit at home. Of 150 people on our guest list, fewer than fifty came; some of the no replies really stung. And it was a lonely several months leading up to the wedding, living in a new place far from all of my friends while Raj did training there, doing most of the wedding stuff on my own. Plenty of times, particularly in the last few weeks, I wondered whether a wedding was really worth all of the work and stress.
I am here to tell you that, for us, it absolutely was. Every bit of it. Because of the people who did come.
Hands down, the best decision we made was to rent a huge beach house. We wanted a laid-back wedding, and our top priority was to be able to spend as much time as possible with our guests, who are scattered around the country and beyond. The house ate up a third of our budget, but served as our venue for the rehearsal dinner, wedding reception, and post-wedding brunch, as well as housing our families and most of the wedding party. It was the turn-around for our wedding morning 5K and the site of an epic game of Scattergories with fifteen of our closest friends. It gave us the gift of time with our loved ones outside the official events and the fun of watching them get to know one another. Continue reading Wedding Graduate: Lori & Raj's Rented Beach House Wedding