* Laura, Administrator at a Higher Education Institution & Alexander, Finance *
One of the things I dislike most about the wedding industry is the way that it can create divides where there normally are none, pitting us against each other almost altogether unnecessarily. Elaborate weddings vs. simple weddings. Modern weddings vs. vintage weddings. And on and on. And the reality is, I don't think most of us are trying to make a political statement with our weddings. Like Laura & Alexander, I think most of the time we're just trying to do what feels right and most authentic to ourselves. And if you ask me, I think they nailed it.
—Maddie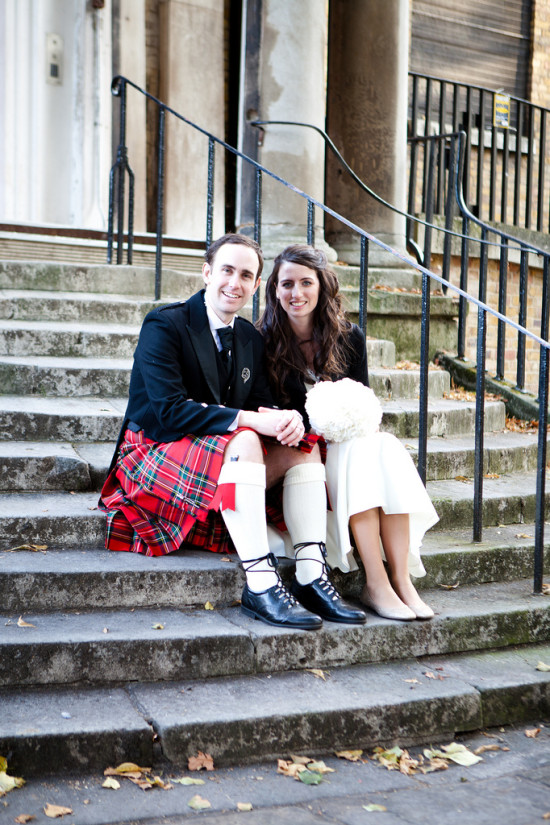 Easy, plain, and simple are not the words most people start with when trying to plan a wedding, but from the moment Alex and I met I never doubted our love and wanted our wedding to reflect that carefree attitude we bring to our everyday life together.
It was not supposed to be easy to plan a wedding in the UK with all our family and friends living in Canada, South Africa, America, and Australia, so from the start of our planning we made a pact to choose the easiest option for everything. We wanted everyone to feel invited to our wedding and unfortunately had to accept that time, travel, and cost would prohibit many from coming on such short notice. Instead of worrying about renting hotels and block booking flights we accepted that whoever ended up coming was meant to be and would be a valuable part of our day. Looking back this was one of the best decisions as we were so touched and honoured to see all of our fifty-three guests and enjoyed spending the week of the wedding with them. I couldn't imagine any other guest list than the one we ended up with.
Plain is not a theme you see a lot on the wedding blogs. Colours, themes, sparkles, and poofs are always encouraged. We didn't have a huge budget for our wedding and since we were getting married in London, one of the loveliest cities in the world, we figured why obstruct it. My dress, shoes and blazer were all bought online at bargain prices and of course my husband, his brother, and father wore their family tartan and looked more handsome than ever. The bridesmaids were flying over from Canada, so they chose their own simple nude dresses off the high street. Bouquets and centrepieces were simple hydrangeas bought in bulk from the Covent Garden Flower Market and arranged the day before the wedding. Our reception was held at a local pub in a beautiful blue dining room with food taking centre stage.
Simple was hard. I was surprised how easy it was to start with a simple idea and get carried into complexity. Looking back though, on the day it was the simple moments that I valued most. The cake our friend made for us, the walk from the church to the pub, the Vicar's smile as he cracked jokes during our ceremony, and the bottles of pretty-cheap champagne everyone enjoyed in the church garden after the ceremony. Even our simple tissue paper pom-poms, that bridesmaids helped make, created a beautiful atmosphere in the reception and became great props for the late night dance party. Continue reading Wedding Graduate: Laura & Alexander's Simple London Wedding