We haven't had a serious how-to post in a long time, so I'm delighted to introduce Christina (you remember her wedding graduate posts) writing about canning jam for her wedding. I can personally vouch for this jam, as she sent you some as a thank you, and I've been thoroughly enjoying it at breakfast. I used to make jam with my grandmother when I was small, and this post has me dying to try it again (and I'm usually a lazy girl). So here are some lessons in (not so lazy-girl) canning. Enjoy.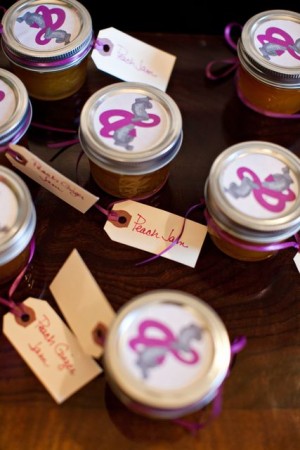 Canning is not necessarily cheaper than buying your own favors and it's certainly more time intensive, but it is unique and awesome. It keeps for a long time, so you can do the majority of the work for the favors well before the wedding. Also, who doesn't like jam? No one, that's who.
Supplies:
Canning jars with lids and rings
Fruit
Sugar
Pectin (optional)
Fruit Fresh (optional)
Lemon juice
Canning pot
Jar lifter
Supplies for tags (sticker paper, merchandise tags, etc…)
Step One: Pick Your Fruit
Decide what kind of preserves you want to make. Are you apple people? Peach? Strawberry? Raspberry? Or are pickles something that call to your soul? When selecting your fruit, you have to consider price, growing schedules and your preparation needs. Raspberries are delicious, but they're $5 a pound at my local pick-your-own and start to mold in the blink of an eye. Cherries are OMG so addictive, but do you want to pit enough cherries to make jam for eighty people? It takes me twenty minutes to get enough to make a cobbler. Apples, peaches and pears are good, durable fruits with a lot of possible recipes you can try. Yes, you have to peel, chop and core them, but all in all, the prep work is not that bad.
Step 2: Do the Math
Once you pick your fruit, you have to go and… pick your fruit. Well, you don't have to, but the prices at a pick-your-own are far better than the farmer's market and the fruit is usually riper, fresher and more flavorful than what you would get at Costco or the supermarket. It's also more environmentally friendly and a ton of fun (and addictive. Join us.). Pickyourown is a great website to find a farm near you. Continue reading How To: Make Homemade Jam Favors