*Jamie, Literacy Clinic Coordinator/Grad Student & Max, Software Trainer*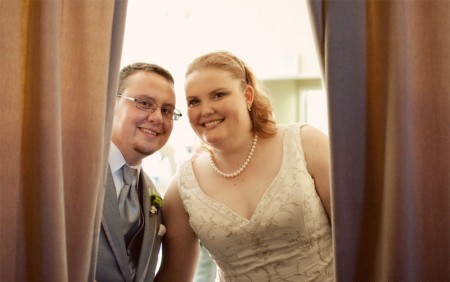 I'm thrilled and honored to get to share Jamie's Wedding Graduates Return post today. Long time readers will remember Jamie & Max's queer wedding with squirrel invitations. Today Jamie is back to discuss why they have ambivalence about marriage (given its troubled history) and why their wedding didn't change everything, but did change small things. She talks about where they've been and where they are going.
Max and I have officially been married for one year and twenty-three days. I intended to sit down and write about the year after our wedding on our anniversary, but I didn't make it. I don't remember why I didn't write it that day—maybe it was the dogs or being busy at work or a headache. Sometimes life gets in the way of the best intentions. The first year of our marriage has been like that, busy and imperfect, but also productive. Our life together has grown in mundane ways that come together to be something bigger than the sum of all of the daily tasks we complete (or don't complete, for that matter).
In my Wedding Graduate post, I mentioned that Max and I were initially ambivalent about marriage. This ambivalence is primarily borne out of distrust for the social institution of marriage and its troubled history. We love our marriage, but we reject the idea that our wedding (or any piece of paper) makes our relationship more important and legitimate than the relationships of our friends who cannot or do not want to get married. To be honest, though, I was also ambivalent about marriage for a less altruistic reason: I didn't want our relationship to change. There were so many times before and during our engagement when I heard people say, "Marriage changes everything," but I didn't want everything about our already solid relationship to change.
A year into marriage, I'm happy to report that everything hasn't changed. Sure, some things are different. We've grown as individuals and as a couple in the ways that only time and experiences can bring. We have a lot of great pictures and memories from a wedding that we loved despite its imperfections. Putting a little time between our wedding day and today has helped me to forget the feelings of being disappointed about certain party planning decisions that I wasn't happy with one year ago. I cried as I read my original Wedding Graduate post today because I remember how full of love I felt that day. Sometimes people now refer to Max as my husband—a term that makes the queer little hairs on the back of my neck bristle since I prefer gender neutral terms like partner or spouse or beloved or really anything other than husband. We've both gone from people who never wear rings to people who always wear them. But the real substance of our relationship hasn't changed all that much.