Body image posts are hard. They're hard for people to read and hard for people to discuss, even on APW. This makes me sad. It makes me sad because I feel like Western Women have been fed a poison pill about our bodies, and instead of valuing them for what amazing tools they are, we spend our lives beating our bodies up, and then trying to come to some sort of reluctant truce with them. This leaves us unable to converse with other women in supportive ways, because different perspectives might harm our tentative peace we've struck with ourselves. But. What APW Editor Maddie had to say about putting on fifty pounds after getting married, grappling with that emotionally, and still loving the shit out of herself, was so important that we had to publish it. So please don't read Maddie's experience as filling in for your own. Instead, let it stand as one super smart woman's experience, and let it guide a conversation about your own thoughts. (Fingers crossed!)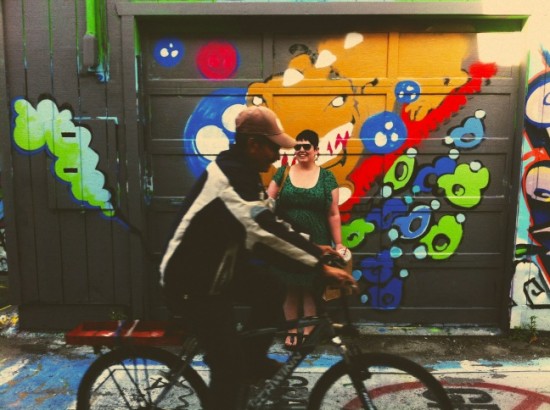 A few weeks ago, a tweet came through my Twitter feed that went something like this:
I've gained ten pounds since my wedding. I feel like such a failure.
No stranger to the post-wedding weight gain myself, it was the last part that stopped me cold. Failure. At first I was so angry I couldn't see straight. FAILURE?! Really?! How are we allowing a society to exist in which a ten-pound weight gain amounts to failure? I wanted to reach through the computer and shake the person on the other end and say, "You aren't failing! The world is failing you!"
But then I was mostly sad. Because I remember that feeling. It happened to me when I looked in the mirror, not more than two years after my own wedding; I noticed the stretch marks that had settled on my body after a particularly grueling start to married life left me with fifty pounds of excess body mass and a chubbiness that had begun to show in my face.
For me, the change wasn't gradual. I instantly gained back the twenty pounds I'd lost before the wedding when I decided to throw away our pots and pans mid-move in anticipation of getting a new set as a registry gift. Well, the wedding came and went. And the move came and went. And we didn't get our pots and pans. So after we got married, we ate frozen pizza for three months until we could afford a new set and in the meantime basked in the glow of being newlyweds in a shiny new apartment with a newfound freedom and DVR'd episodes of Glee to catch up on.
Then we got our dog. Saddled with sleepless nights and too much overtime, our routine—which was once made up of bonding over home-cooked dinners—quickly turned to running down the street for—ready for it—fresh pizza and scarfing it down before one of us passed out on the couch from sheer exhaustion. My Christmas present that year was our one-year-later honeymoon to Mexico and an extra thirty pounds of midsection. Gee, thanks, you shouldn't have.
But it doesn't matter how I gained the weight or even how much I gained. What matters is how I felt afterwards. I'd lost and gained weight before, mostly the same twenty pounds in college, usually because I couldn't keep my hands away from the cafeteria cookies and because I didn't understand that one cookie is a serving, not seven (which is bullshit, if you ask me). But this time it was different. Continue reading Reclaiming Wife: The Weight of the World