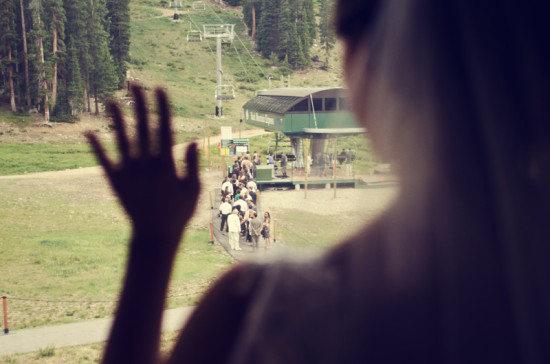 I was hoping maybe one of these days you would address the topic of losing friends after a wedding. I know I'm not the only one who's had this experience and I'm trying to make sense of how getting married suddenly means that your friends go away. This has happened to both me and my husband. At least half the members of our wedding party no longer speak to us, and not over a particular event or falling out, more just out of mutual losing touch. Perhaps this is partially related to just dealing with adult relationships, but I think that marriage is intimately tied to this.
—Anonymous
Dear Anonymous,
I wish I could give you a hug. This is definitely the not-so-fun part of my job. (Meg didn't warn me I'd have to give out bad news! She just said I could spout opinions and boss people around!) But, the sad truth is sometimes, it just happens. Friendships shift and change, and folks outgrow one another and slip away. I think there's a point where that's less a result of marriage, and more a result of adulthood. Think about it. When you're younger, most of your friends are friends just by nature of proximity. This guy sits next to me in pre-calc, that girl shares a waitressing shift with me. You become friends with the people around you, and usually by default, they're in the same "life stage" as you. You're both college freshmen! You have so much in common!
As you get older, that life stage stuff becomes more complicated and more pronounced. Sure you're all adults now, but who's married and who's working on a PhD, who's having kids and who's traveling abroad become bigger pieces of where you are and what you're doing, to the point where maybe you don't have as much in common with that guy you sat next to in pre-calc any more. Even though you care about each other, even though you have fond memories, maybe there's not as much shared experience and common ground. But more than proximity, more even than shared experiences, friendship really comes down to who shares those core commonalities with you—interests, ideals, and that intangible "click." Sometimes, the diverging paths of adulthood simply lay bare the lack of real commonality at the core. When we no longer have classes and favorite bands in common, do we have anything to talk about? Do we care about the same stuff? Sometimes, painfully, the answer is no… or even, "meh."
That's kind of sucky stuff to lay on you; don't let it overwhelm you. The happy thing is the reverse. Sometimes, the changes in life only emphasize for you who your true friends are—those pals who call no matter how far you've moved, who remember your birthday even when you haven't spoken in months, and who still have tons to talk about when you both are on crazy different paths.
Before you give up hope, let's look at a few things you can do about it. Continue reading Ask Team Practical: Losing Friends