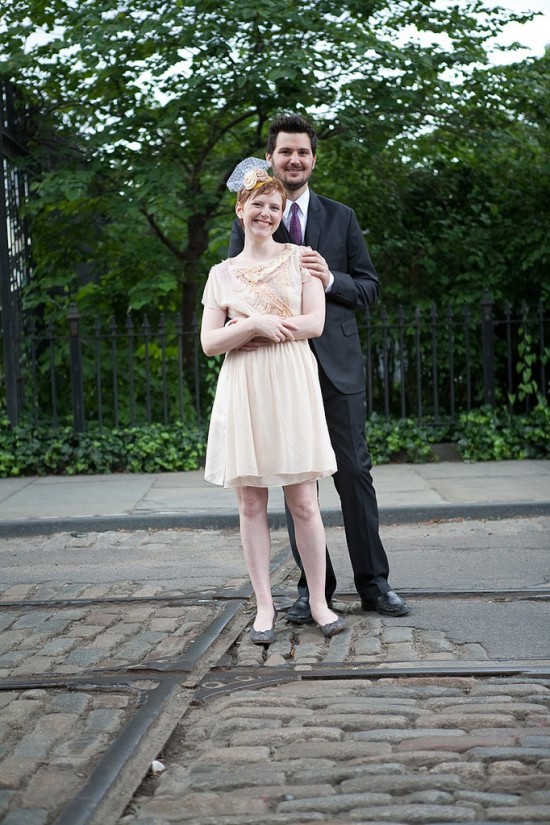 What about the dress? Don't get me wrong, I'm not implying that I didn't spend weeks scouring the internet for inspiration. Or hours wondering what the appropriate hemline was for a dress code we were pitching somewhere along the "casual—awesome" continuum. Or vital minutes on the day of our dinner celebration snapping pictures of my butt in different light, to make sure my panties didn't show through. (Yes, at least one butt close-up made it into the photomontage that my mother shared with family and friends. Thanks Mum.)
I thought and I thought and I thought about it. But I didn't really want to talk about it. Because really, what is there to say? "What about the dress?" was a question put to me at roughly five-minute intervals throughout the wedding preparation. "It's, uh, short? Pink?" OMG, pink? "Well no, not pink. Peach? Sort of…translucent?" OMG, it's see-through? "Well no, not see-through. Just, sort of papery. But with sequins." For a long time, a number of people believed I would be wearing some sort of ice-dancing costume to my reception.
I almost envied women who'd taken the more traditional route and kept the dress hush-hush before rocking up at the door of the Church, to widespread gasps of amazement and admiration. Sure, as Meg points out in her book, they can't pee alone. But then, I was wearing double Spanx. Peeing was no picnic for me either. And at least they could deflect questions beforehand on grounds that their particular version of the usual white dress would be a huge surprise. Continue reading Madeline: What about the Dress?