So, as you know, we have a lazy-girl's How-To series here on APW, to facilitate the creation of not-too-difficult things for your wedding. But the thing is, this post is not lazy in the slightest—it's about building a table-top letterpress, and then hand letterpressing your invitations yourself (I know…) but the thing is? I love this post. Because A) it's totally fascinating to see how it all works, and because B) I love how planning a wedding sometimes turns us on to a passion that we didn't know we had. So here is Jenn of A Misallocation of Resources, Sisterhood of the Traveling Dress recipient, and APW-er extraordinaire, explaining how she built her own letterpress and how she might better make a little business out of it one day.
Of all the things I have obsessed over during this wedding planning process so far, the invitations have been the worst.  The week after I got engaged I started designing and rejecting invitations, partly because I knew I could save money doing them myself, and partly because I discovered I really like designing invitations.
However, I became increasing frustrated with the paper used by the companies who could do the printing for me, or the paper I could buy from online sources that would actually run through a printer.  And eventually, I came to this conclusion:  I needed, for my personal satisfaction, heavy 100% cotton paper (which I was told wouldn't fit through my printer – lies!), and I wanted, more than anything else, beautiful crisp letter-pressed invitations.  Mine may not be as crisp as I wanted, but I love them, and it was worth it.
So here is how I did it, step by step, on my homemade DIT letterpress.
As a sidenote:  I am a pretty crafty, hands-on kind of girl.  But I have never printed anything before in my life, not even a carved-potato block print in middle school art class.  So don't despair if you've never done this before!  The internet is also full of people sharing their printing knowledge.
1. Build the letterpress.  Or in this case, ask your dad to build you the press for Christmas. We used this plan.  That guy really knows his stuff.  We built it exactly as he lays it out – email me at jenn.heller7 at gmail dot com if you have questions.  We bought all the materials that we needed at the Home Depot, except the tire jack which we ordered from Amazon.  Total material cost for the press was $80.
2. Buy the rest of your supplies. I bought my paper and envelopes from letterpresspaper.com. (I used 100% cotton Crane Lettra 300gsm paper and envelopes, in Pearl.  It is just barely ivory.  If I could do it again, I would have bought the 600gsm just for the main invite, to allow for more paper thickness and a deeper impression). Then I bought my ink and the brayer (ink roller) online from Dick Blick – I used the Caligo Safe Wash ink, and it worked great, with easy cleanup.  I went with Prussian Blue so I didn't have to mix colours.  I used a Speedball soft rubber brayer.  If possible, buy a brayer wide enough to easily cover the width of your plate in one roll – otherwise, there is the possibility your roller will dip into the recess area of the plate.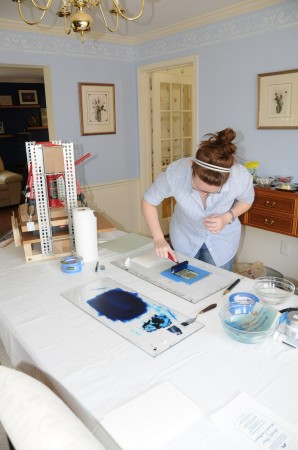 3. Oh yeah, design your invites (or buy a design from one of APW's great sponsors.)*  I produced mine using a combo of AutoCAD for the drawing and template making, and Illustrator for the text and refinement.  You could easily use Photoshop as long as you rasterize all your text layers.  My invites are inspired by the architectural details of the Carnegie Institution of Washington, where we are having the wedding, because I think it is just an amazing and intricate building.  I am obsessed with the lantern hanging in the portico, as well as the grate in the transom above the main door:  thus the design for both the save the date and invitation, plus thank you notes. Continue reading How To: Build And Use Your Own Letterpress