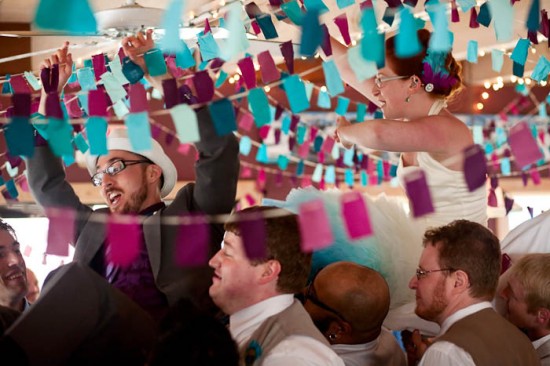 Am I required to be a "good sport" at my wedding? I have a big, loud, mostly happy family whose affections are of the teasing, joking, dish-it-out-and-take-it self-deprecating variety, never in mean spirits but occasionally to excess, at least from my perspective as the baby sister. Usually I am pretty good natured about it, but I'm having a really (expectedly) hard time with the idea of being the center of attention at the upcoming wedding event, and my sense of humor has been temporarily re-calibrated. I don't want the added discomfort of wondering which of my siblings might bring up which stupid thing from my childhood that I might not have the emotional bandwidth to laugh off.
I want a fun, light-hearted party, but I don't want it to end up feeling like a roast. Do I say something, or just assume that good sense shall prevail? We're planning toasts and speechifying by invitation only, and the rehearsal dinner will just be our wedding party, so it's not like we are opening the floor to embarrass the bride and groom, but I know about the best laid plans and all. And even though I hope this is all much ado, I'd still love to hear Team Practical's take on it.
-Sarah
Sarah,
Keep those people away from a microphone. Seriously. They're not invited to do the toasts? Fabulous. Still—enlist some of your awesome bridal party to keep a watchful eye on that mic and your family, and if dear old dad starts clearing his throat, have them redirect him to the bar.
But you're not just writing in to ask how to avoid a bit of teasing, are you? The thing about weddings is that they can often shine a glaring light on the things we wish we could change—about ourselves, our relationships, and even (embarrassing to admit, isn't it?) the people we love. Meg has written about it a bunch in the book. That's what we're really being sold in those glossy WIC magazine photos. It's not the rows of matching burgundy bridesmaids dresses that we want, it's the even line of eager and smiling friends who all get along together so perfectly. If we're honest, it's also what we're being sold in the dreamy holga blog photos of indie weddings. It's not just a cute rustic potluck, but a community of people who are all too eager to set up a folding chair and bring a vat of chili while they're at it.
I'm going to let you in on a little secret—Everyone's Family is Embarrassing. Continue reading Ask Team Practical: Family Teasing