Today is our last day at APW before the holidays, and as the year closes, my feelings are all over the place: I'm excited to go home and see my family, baffled that the year is up, and maybe still a tiny bit exhausted (though that could be because I forgot to have coffee today). But really, I think this morning's post from Christine does a better job of explaining the buzz around me than I can. She wrote this twelve days before her wedding (she's married now, so let's give her a hearty congrats, eh?) and while it's a short piece, she nails Every. Last. Word.
—Maddie for Maternity Leave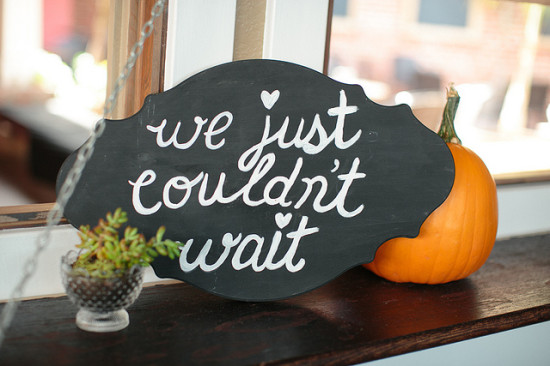 That's how many days until our wedding. Twelve. Is there still a long list of things that need to be finished (or, let's face it, started)? Of course. Are we fielding emails from friends and family, coordinating airport pick-up times and planning a post-wedding brunch? Yes. Have I spent hours cutting out tiny lavender hearts, tying ribbons on things, and wandering the aisles of craft stores in a daze? How did you know?
And yet, when I think about our wedding, I don't worry about the long to-do list. I don't think about the unfinished projects littering my desk and taking over our guest room. I don't think about the spreadsheet which keeps track of all the little ways we've gone over budget. I don't feel calm, exactly, but I'm not panicked, either. I feel like there is a tiny alarm clock just beneath my skin, counting down the minutes until the day we'll spend with everyone we love, until we're celebrating and getting wine-drunk and crying happy tears, until that magical moment when our marriage begins. Continue reading Twelve Days to Go