Well guys, it's here. It's the second week of December. I'm not sure when that happened, or how it happened so quickly, but it feels like the year flew by (I know, everyone says that every year, but 2012 went like it had rocket boosters attached to its back). Next week is going to be a shortened week at APW as the staff takes some time off to spend the holidays with family (cross your fingers for me. Michael and I will be on a redeye when Armageddon happens) so this week we're going to take some time to explore endings and beginnings (and we promise not to use the word "resolution" if you don't).
To kick things off we have the second of our year-end intern Reclaiming Wife posts, this time from Zen (who, by the way, also writes a personal blog over here if you'd like to continue following her writing). What Zen has to say about life after a wedding is so much of how I felt after Michael and I got married, but couldn't articulate at the time. We've spent a decent amount of time on APW talking about how nothing changes or lots of things change after you get married, but what Zen articulates so well is that often it's a little of both. Sometimes thing are exactly as they were, but still a shift is felt.
—Maddie for Maternity Leave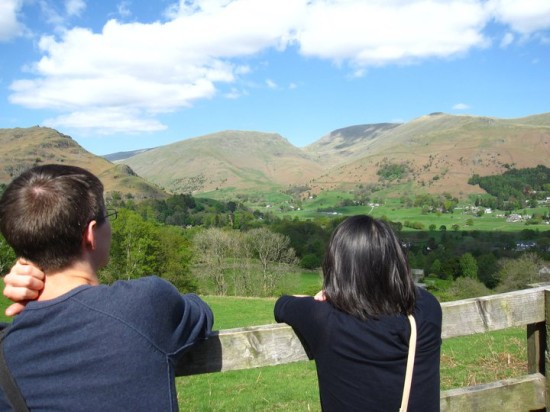 I'd kind of thought things would calm down after the wedding. No more last-minute guest list upheavals. No need to worry about hauling things, and people, around. (You might think a wedding is all lace and flowers and smooches and cupcakes, but actually it's mostly hauling. I would say at least 85%.) No more planning!
I hadn't pictured what married life was going to be like in too much detail, but I figured it would be pretty much the same as life had been before I got engaged. Quieter. I figured I'd have more time to focus on my stories and try new recipes and meet up with my friends.
Except now I have a to-do list as long as my arm, at least as long as the list I had before the weddings: give notice of marriage at the Malaysian High Commission, consider impact of marriage on visa status, amend workplace benefits so Cephas can benefit from them, figure out what to do about finances…
And what I hadn't quite clocked was that marriage is a start, not just in the sense that it is the "beginning of the rest of your life" (a phrase that has always puzzled me: surely every day is the beginning of the rest of your life), but in that it's a jolt to the system. Things are different now—outside me, but also inside me.
The first week I was back at work after the wedding, an email went round my office seeking to gauge interest in an opportunity to work abroad for an undefined period of time.
Me! I wanted to go! It was the kind of work I was interested in, in a geographical region I passionately want to return to, and I was at about the level of seniority (well, juniority) they were looking for. Pre-wedding me would've drafted the email and only held off on hitting "send" to check that Cephas didn't mind too much. (Probably by text: "Hey, gonna sign up for international secondment, k? See you on Sat!") Continue reading Zen: Go Big and Go Home