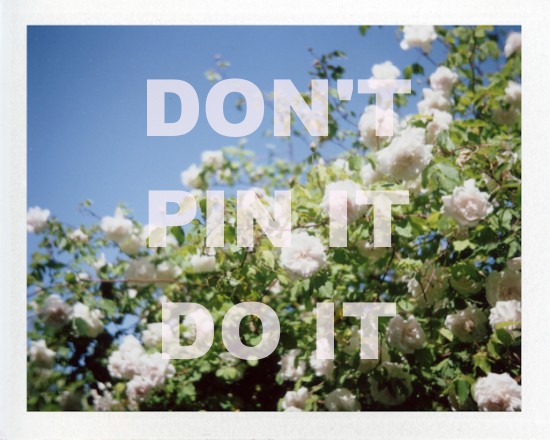 By Meg Keene
I want you. I need you. Oh baby, oh baby.
We've always had rules in our household about technology use. Bedrooms are technology free zones. No checking email from bed, no watching TV when you go to sleep. The table is the same way. Meals are unfettered by technology, please and thank you. But the truth is, we have a problem. More specifically, I have a problem.
The problem is that the lure of connectedness is following me wherever I go, and not allowing technology at the dinner table isn't helping the situation. Not anymore.
The problem, of course, is dopamine. A recent Life Hacker article on why technology is so addictive explains, "We can develop a dopamine release from many kinds of addictive behavior. Checking email is one in particular. You may not like spending long amounts of time in your inbox, but you probably think about checking it pretty often. When you hear that ding (or vibrate), you know there's something waiting for you." An article from The New York Times series Your Brain on Computers explained it this way: "The lower-brain functions alert humans to danger, like a nearby lion, overriding goals like building a hut. In the modern world, the chime of incoming email can override the goal of writing a business plan or playing catch with the children." In short, I'm increasingly feeling like I'm missing parts of my day-to-day life because I can't hear it over the hum of technology addiction.
I've had something of a slow slide into technology use. I grew up without a single screen in my house, which is a fancy way of saying we didn't have a TV (personal computers were years away). We weren't a Waldorf family, we were just something of a lazy, slightly hippy family. My parents didn't want to have to bother monitoring our TV intake, so they didn't get a TV. We got a (actually kind of usable) personal computer somewhere around 1994, along with dial up internet. In 1996, I moved beyond AOL chat rooms, to the beginnings of my more modern relationship with internet, in the form of Ani DiFranco fan sites. (The internet has always functioned a bit as portable counterculture for me). My graduation gift in 1998 was my own (huge) computer to take to college, which I mostly used to write my papers, and check email once or twice a day. And then, in about 2003, I got a laptop. That, of course, was the beginning of the end. With a laptop, I checked my email…whenever I was home. I resisted iPhones for quite awhile (much to David's dismay). I'd tell him, "The last thing I need is more internet. Internet on the bus? No thank you." But in 2010, I gave in. Since then, things have moved pretty quickly downhill.
My parents, of course, were right. The problem with technology is that when you have it, you have to limit it. And limiting it is really really hard.
Last month I was in the car, listening to an NPR story about the national day of unplugging, digital shabbat, and the slow tech movement.  I kept thinking that I really needed a space for a tech Shabbat in my life, but was unsure if we could pull off unplugging for a day. That, frankly, was embarrassing.
But that isn't what made me snap. A few weeks later, I was downstairs in our garden on a mid-day break, and had that feeling of seeing double that too much screen time brings. I looked around and had the crushing realization that I had what I wanted, and I was missing it. I had the superficial wish listy things that I'd wanted since I was a little girl: wood floors, vegetable garden, and one recently acquired hammock. But beyond those physical things, I had an awesome partner, a job I loved, a great community of friends, and one hilarious and amazing tiny baby. It had been a long road, and life was still glorious in its imperfections, but I had so much goodness around me.
And I was still pinning things to my Pinterest boards.
Pining and Pinning
I have a great Pinterest board for our garden. It has hammocks and Adirondack chairs and bougainvillea on it. I also now have hammocks and Adirondack chairs and bougainvillea in our garden. But instead of being out there every single sunny moment that we could, far too often I was inside, pinning new ideas. When I was playing with the baby, I was also instagramming with my phone. (He's really cute, you guys. Such things must be documented.) I was missing out, and I was increasingly aware of it.
The problem, of course, is that so much of our lives are now tied to the computer. There is the mundane stuff: looking up where a restaurant is, emailing for an appointment, shopping for…hammocks. But there is the good stuff too. As I sit and write this, I'm looking at a screen, doing a job I love. My life is filled with real-life friends I've made through the internet. The blog-o-sphere has enriched my life for a decade, and I'm so honored to get to give back to it. Tamera of Verhext has called the internet "The fog layer on the real world," and that's it. The internet can be an amazing place, but it's not, in fact, the real 3D physical world. Continue reading Don't Pin It—Do It