Oh hey did you just realize you need a wedding checklist? Because after the initial "HEY HEY WE'RE GETTING ENGAGED" period, there's generally a pretty rough comedown when you realize that oh, now you have to plan your wedding. Apparently, Pinterest/David Tutera isn't going to swoop in and plan it for you. Or you've realized that planning a big event while holding down a full-time job may not actually be in your wheelhouse. In any case, the day comes when you have to step away from the "my crazy amazing wedding ideas" Pinterest board and figure out what you're actually doing. Which is why we've partnered with the online wedding registry and free wedding planning app Zola to provide you with a foolproof step-by-step wedding planning checklist. You know, one with some measure of sanity and helpfulness.
What Kind Of Planner Are You?
I planned my wedding budget on a post-it that I kept on my desk with a rough outline of a budget on it. While you should definitely not follow my lead (we have really solid wedding budgeting tips), suffice to say I was not a super type-A organized planner. A wedding checklist with a hundred steps would have just stressed me out. (In fact, I signed up for one, blacked out when I looked at it, and never checked it again.) If you're like me and can't handle a million part checklist, Brooklyn-based professional wedding designer, Michelle Edgemont, recommends breaking your wedding checklist into more manageable big picture chunks before you get into the details of your to-do list. She says:
As much you might be trying to be a chill engaged person, you are still putting together a party for what could be over 100 people. This party, aka your wedding, has a lot of moving parts—like the ceremony, food, drinks, entertainment, fashion, etc. The best way to keep it organized is with a big checklist of todos. To start, I like to write down all the big things that need to happen:

Location
Food and drink
Fashion
Decor
Whatever else makes sense with your own wedding

Then I break down each category into smaller steps, because "book a venue" feels like a daunting task without smaller tasks to make it manageable. Like this:

Research venues
Make appointments for walkthroughs
Go on walkthroughs
Ask for contract
Review contract
Send deposit and signed contract

Whatever type or size of wedding you are planning, break down your wedding planning checklist into smaller actionable steps. It'll make it easier to get through and easier to delegate to your partner, friends, or family. Because you can't do everything yourself, no matter how bad you want to.
One way to figure out what should end up in that big picture bullet point list is to start with what you don't want in your wedding and then build your checklist from there. We've got a handy copy of the getting started worksheets from my book, the A Practical Wedding Planner, right here, that can help you narrow down what should end up on your final wedding planning checklist. Here's an excerpt from the planner on how to use it:
Instead of giving you a to-do list, I'm giving you a "pick what you really care about" list that spans from the useful to the possibly absurd.  You and your partner should each grab a different colored pen and run through this list, crossing out things you could seriously  care less  about, circling  things that matter  to you (double circling  and starring things that you really value is encouraged), and scribbling in items you don't see listed. Once you've narrowed down All the Wedding Things to a smaller collection of items you actually care about, you can each fill out the list of your top three wedding planning priorities and then try to create a joint list. You can think of this exercise as a way to figure out what makes a wedding feel like a wedding to each of you.
The Lowest Key Wedding Checklist
We've also created a simple wedding planning checklist—or, really, flowchart—to help you figure out the big picture timeline of your wedding. This will help keep your priorities straight when you're tempted to, say, spend $500 on decor before you've got your venue locked down. Pin it to your Pinterest board, or put it on your fridge and just follow the general big picture steps.
BUT. It's quite possible that what makes you feel calm is a nice long checklist, with lots of things to check off, and a specific order for doing things, just to make sure you don't miss anything. (Funny story about how I forgot that I had to pay for postage on our wedding invitations, hahahaha sob.) So finally we've created a free printable full wedding checklist for you, with all the things you (might) need.
We've structured this checklist around a twelve-month planning process. However, you might be planning over two years, or two months. That's fine! There is nothing particularly magical about a twelve-month planning period. Feel free to adjust this timeline—stretch it out and do it leisurely, or cut all the stuff you can't be bothered with and do it in a few months. Likewise, remember that just because something is on the list, it does not mean that you have to do it. In fact, let's discuss:
How To Use This wedding planning Checklist
First, get a red pen and cross out everything on the wedding checklist you don't care about. Seriously. Go crazy. If you're getting married in your backyard, cross out all the stuff about finding a venue. If you really don't care about flowers, cross out all the stuff about finding a florist.
Then feel free to reorder things. We're wedding experts, but we're not experts on your wedding, so if you want to do things in a different order, girlfriend, you do you. (Though seriously, don't get your dress till you know where you're getting married. Many a giant ball gown has been returned when the drive-through chapel in Vegas was picked as the venue…) So start here, and make it you. At every point along the way, we've linked to more detailed articles to give you all the guidance you need. (Oh right, and the #APWPlanner has a lot more detail on this whole planning thing, so probably pick that up.) And if you want to print it out, well lookit! We made you a free printable wedding checklist with boxes you can check off and everything. Just find the download at the bottom of this post and it's all yours.
And if you want to plan on the go, our printable checklist integrates perfectly with the free, customizable checklist on the Zola Weddings app, so you can access and update your list anytime and anywhere. Add the tasks you want, delete ones you don't need, then Zola will help remind you to get it done. (They will even personalize your checklist to your religion or culture and then autofill your to-do list accordingly.) Combine that information with ours, and you'll have everything you need to cross tasks off your list in style.
Wedding Checklist

When You're Newly Engaged
You're engaged!—have some bubbly, bliss out
Tell people the big news
Avoid jumping right into planning if you can possibly avoid it; chill out and enjoy
Pick up a copy of the APW Book and the APW Planner (but don't start reading the planner till you're ready to really get planning)
Sit down and figure out what your wedding priorities are
Come up with a wedding mission statement
Sign up for APW's wedding planning email list so you have a built in wedding BFF
Have an engagement party or a super casual engagement toast
Decide if you want to elope and ditch the rest of this list
12 MONTHS BEFORE YOUR WEDDING

11 months before your wedding
10 months before your wedding
9 months before your wedding
8 months before your wedding
7 months before your wedding
6 months before your wedding
Start to plan any extra events associated with the wedding (after party, brunch, welcome party)
Finalize your guest list (we've got spreadsheets for that which you can then upload into your Zola app. You can even collect guest addresses that you don't already have directly in the app too.)
Set up a meeting with your officiant to discuss the ceremony and start marital counseling (if relevant)
Start thinking about your wedding vows and ceremony plan
If you're having a friend officiate your wedding, now is a good time to ask them about doing so
If you're not having a friend officiate your wedding, make sure you've booked someone (or the church/shul/mosque/temple)
Set up your wedding registry. Our partner Zola lets you build the registry you actually want, with a selection of over 50,000 gifts, experiences and subscriptions (plus cash options and more.)
Have a meeting with everyone who is helping (or start sharing those Google Docs!) and make sure they all understand what is expected
Find a baker for your wedding cake, and if you can schedule cake tastings, do so
If someone is throwing you a bridal shower, send that person these tips
5 months before your wedding
Book that honeymoon!
If someone in your wedding is wearing suits, start figuring out if you want to rent or buy
Check out wedding rings and decide what you want
Decide if you need party rentals, and figure out what you need; put together an order (Adjustments can be made later, so book now!)
If you need a wedding tent, research and reserve one
Schedule your hair and makeup trials, if you're hiring a stylist (also make sure you coordinate with your wedding party or friends)
Make wedding night reservations as needed
4 months before your wedding
Finalize rehearsal dinner, and book anything you might need to book
Buy your wedding rings
Make sure your passport is up to date, if you're leaving the country for your honeymoon
Book wedding transportation
Create a spreadsheet for RSVPs and guest list addresses. If you've signed up with Zola above, you can gather addresses multiple ways (including by uploading our spreadsheet directly) and manage your list from your desktop or straight from your phone.
Talk to whoever is planning your bachelorette party, and hook them up with this checklist (same goes for any wedding showers)
3 months before your wedding
Address and mail your wedding invitations (double check the postage!)
Think about what ceremony extras you might need (chuppah, aisle runners, etc.), and buy or rent them
Start planning out your wedding ceremony script
If you're DIYing anything for your wedding, start now or cross it off your list
Schedule dress fittings, as needed
Research your local marriage license, civil union, and domestic partnership rules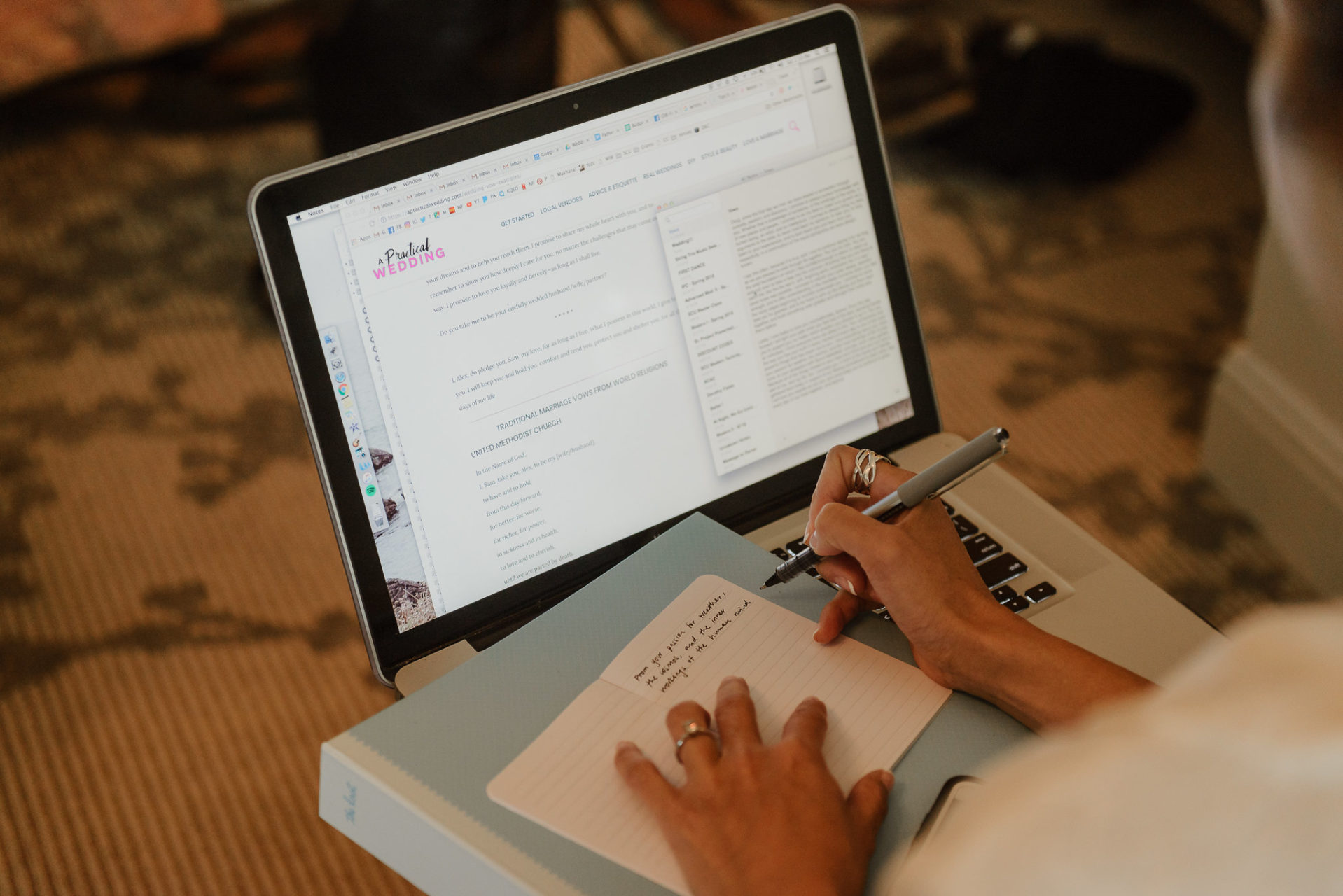 2 months before your wedding
Begin working on your wedding vows in earnest
Make sure everyone in your wedding party has bought what they're wearing
Figure out what you're wearing to your rehearsal dinner
Put together a list of what you want to pack for your honeymoon, if you're having one
6 weeks before your wedding
Start wearing your wedding shoes around the house, as needed
Make sure you're updating your gift registry and spreadsheets as gifts arrive; send thank you notes now if you can
Confirm that out-of-town guests are set up at hotels and lodging
Figure out if you want a guest book, and make one happen if so (also, test your pens!)
Write thank you notes for your shower gifts.  If you registered with Zola, you can easily export a list of who got you what and when, so then all you have to do is put pen to paper. And then do the same again with wedding gifts down the road.
Make sure your wedding outfits are still on point
Finalize your menu with your caterer
1 month before your wedding
Create your escort cards
Finalize your ceremony outline
Make any necessary nail and spa appointments
Confirm all vendor payments (and tip amounts)
Create your wedding playlist, if you're doing the DIY DJ route
Make sure your wedding party knows any critical information as it pertains to the rehearsal dinner or wedding day
Schedule a final dress fitting
Print wedding programs, if you're having them
Confirm all rentals (and adjust your rental order, as needed)
Sit down with your wedding stage manager or day-of coordinator and walk through all the details for your wedding day
Get your marriage license
And finally, for fun, if you haven't picked a wedding hashtag, get moving on that
two weeks before your wedding
Check in with guests who haven't RSVP. If you've got your guest list loaded up into the Zola App, their guest list manager lets you track RSVPs in real-time and communicate directly with your guests to see who's coming.
Confirm head counts, menus, and delivery with your caterers and bakers (also confirm vendor meal requests)
Confirm your photo requests, required family, and timeline with your photographer
Make sure that everyone who is delivering something to the wedding (rentals, flowers, etc.) has a confirmed, final timeline
Send a transportation schedule to transport providers
Make sure any clothing you want cleaned or pressed is taken care of
Ensure that there is a plan for wedding venue setup and breakdown
one week before your wedding
Pack an overnight bag and include your toothbrush, birth control/condoms, something to sleep in, an outfit for the next day, honeymoon luggage, and your passport
Get your wedding manicure and pedicure (if it's happening at all)
Make sure a copy of your honeymoon plans is left with family and friends
Put your final payments and tips for vendors in labeled envelopes, and give this to another person to manage
Get your wedding day "oh shit kit" put together (you'll want aspirin, makeup, safety pins, mints, snacks, etc.)
Pick up your dress (if it wasn't delivered to you)
Try on your entire wedding ensemble
Give all of your vendors an emergency number to call, just in case (note: not yours!)
Assign a family member to be the photographer's point of contact
Hand over all of your planning docs to your wedding stage manager (including a copy of the vendor delivery schedule, set up times, and phone numbers) or DOC and take a step back to enjoy this thing!
1 day before your wedding
Confirm your honeymoon transportation, airport drop-off, etc.
Set your alarm (and a backup)
Print out your vows (or memorize them)
Drop off favors, menus, table plans, and place cards with your caterer or venue
last-minute things you might forget
(AKA, rip this list out and stick it to your front door)
Rings
Vows
Marriage license
Dresses
Suits
Drivers license
Wallet
Cash
Passport/ID
Socks, underwear, bra
Accessories
Comfortable shoes
Tips for vendors
Wedding playlist
Umbrella
Snacks and water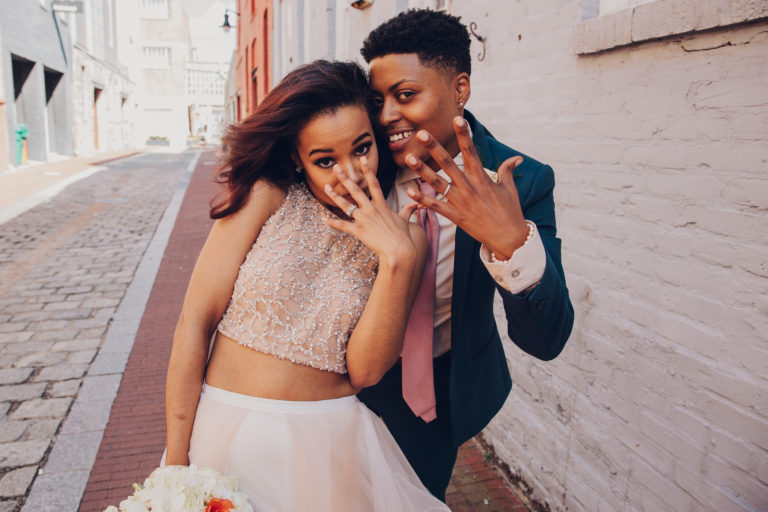 on your wedding day
Make sure you pause and appreciate your family, friends, and each other
Take a few minutes every so often to breathe and focus; smile at your friends, give hugs, be in the moment
GET MARRIED
After the wedding
Send out your thank you notes (to people who helped with the wedding AND for gifts)
Make sure your vendors have been paid in full
Follow up and make sure you know when you'll get your wedding photos back
Ensure that rentals, clothing, and accessories have been returned (as needed)
Toast your marriage! You did it! Now the good stuff starts for real
Pretty amazing list, huh? We even made you a snazzy FREE printable Wedding Checklist version— Click here to download.
This post was sponsored by Zola. With Zola, you can build the registry you actually want; add items from a selection of over 50,000 gifts (plus add from any store) or if physical objects aren't your style, register for experiences and subscriptions—heck, with Zola you can even register for your wedding album. And with Zola Weddings, now you can manage your wedding checklist and your guest list too. Other perks include group gifting, shipping control (aka you tell your registry when you want to receive stuff), and the lowest credit card processing fee in the industry for cash gifts, if you choose to add a cash registry option. Click here for a full list of Zola's features and sign up for Zola today!