Photo by Jenna Saint Martin, Cake by Rosycakes via Ruffled
If you're on the prowl for brilliant wedding cake ideas, I've got you covered. As a longtime wedding photographer and also as a human being, I like any wedding cake you throw at me, as long as I can eat it. In fact, I have always thought that no wedding cakes are too pretty to eat. Or, well, that was my rule until I started researching wedding cake ideas, and quickly realized that there are some edible works of art out there that I might be scared to eat. But, you know, I'm never one to shy away from a challenge.
But before we fall down the rabbit hole of wedding cake ideas together, let me reassure you: just because the Internet is filled with examples of incredible wedding cakes doesn't mean your wedding cake has to be fancy. Quite the opposite. We're big fans of turning grocery store sheet cakes into your wedding cakes, and have great tips if you want to bake your own wedding cake. But hell, you also don't even have to have cake. Favorite alternatives include pie and cupcakes, and I think you'd be hard-pressed to find someone who would say no to an ice cream bar.
That said, perhaps you're just here for the fabulous wedding cake ideas and dreaming of eating them. Or maybe you want information about what a wedding cake costs, and how to pick a baker you like. Either way, we gotcha.
CLASSIC WEDDING CAKE Ideas
If I walked into a cake shop and said, "I would like a classic wedding cake at my wedding," I'm 95 percent sure the baker would know exactly what I mean—more simple than not, lightly adorned, and wrapped in white buttercream frosting or fondant (don't worry, we're going to discuss that divide in just a sec). Whichever way you go, trust this: just as there will always be droves of people who want to don a big white gown on their wedding day, there will always be a large crowd of admirers of the classic wedding cake. Sometimes bakers mix it up by adding a leaf or ribbon (or both), but there's a reason these cakes became timelessness—they're just that good.
Photo by Jemma Keech, Cake by The Cake & I
Photo by Jemma Keech, Cake by The Cake and I
Photo by Peaches and Mint Photography, Cake by Lily Cupcake via Brides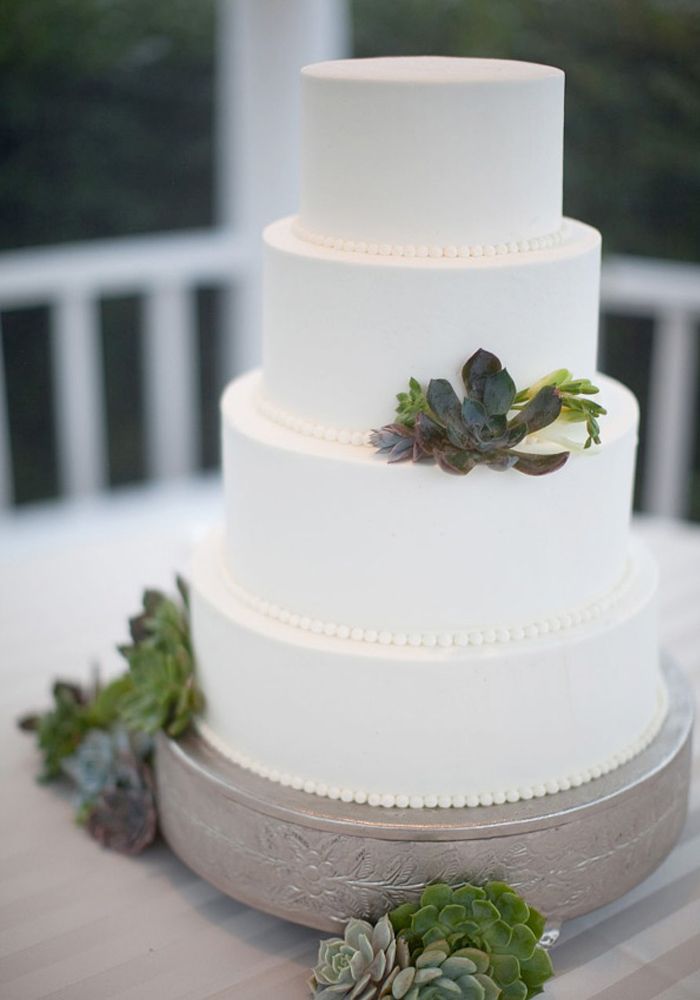 Photo by Cunningham Photo Artists, Cake by Joann Hallmark via Style Me Pretty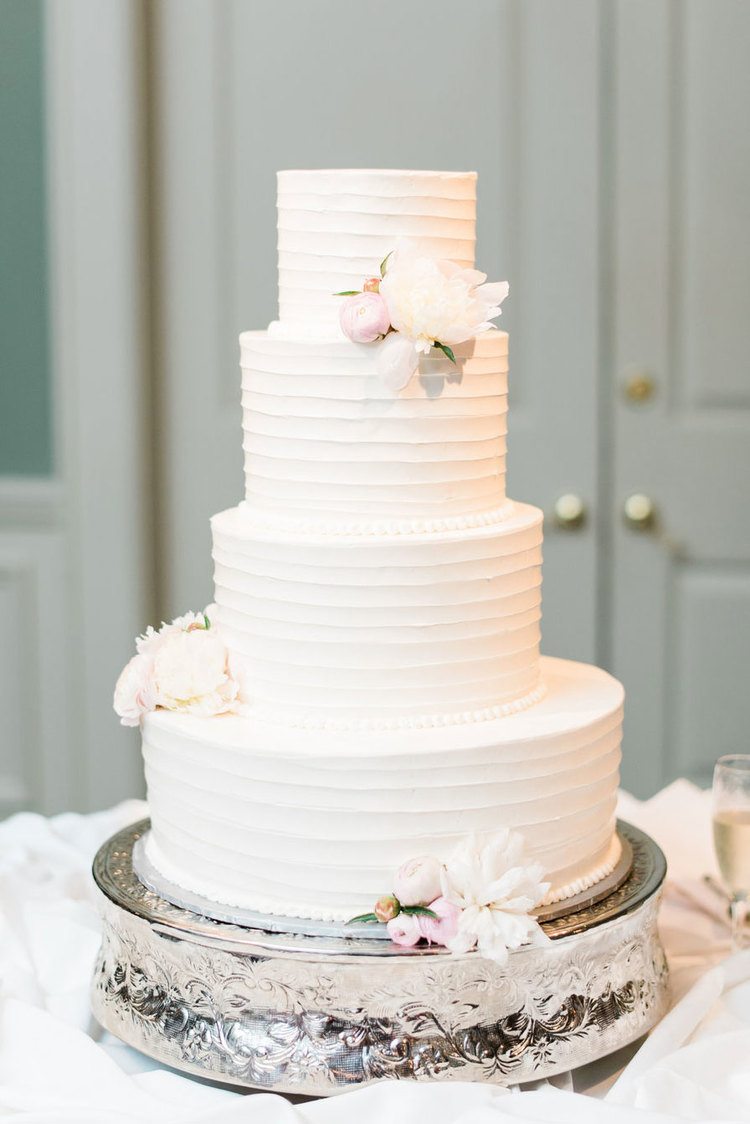 Photo by AJ Dunlap, Cake by Suarez Bakery
TRENDY WEDDING CAKE Ideas
Wedding cake trends are quite possible my favorite of all wedding trends. Just when I'm convinced that there's no other way to make wedding cakes even more spectacular, someone comes along and hand paints flowers onto a cake. Or covers it in geodes, or appears to have dipped the entire creation in gray magic and made one of the cooler ombre wedding cakes I've seen. Also cool? The rise of the metallic wedding cake. (Truly, of all the wedding cake ideas here, I think metallic is my fave.)
Of course, a lot (maybe all) of these weddings wouldn't be possible without wrapping the cakes in fondant first—which brings us to our buttercream versus fondant debate. In the world of wedding cakes, fondant is a loaded term. But you know what? If you see a cake on TV, it's probably got fondant on it. Most of the #flawless wedding cakes you see on Instagram? They're wrapped in it. In fact, most of the cakes you'll see below are wrapped in it.
So what's the big deal? Fondant is more expensive than buttercream, and it has a texture unto itself (it's a little like marshmallows). But if you want your cake to be smooth and polished, fondant is the ticket. Good fondant can be pretty tasty, but even if it's not, ain't nobody got time for people who complain about free cake. You do you. In the mean time, look at these:
Photo by Jenna Saint Martin, Cake by Rosycakes via Ruffled
Photo by Anne Paar Photography, Cake by Sweet Deer Hand Painted Cakes via The Bohemian Wedding
Cake by Palmero's Bakery, Floral Design by Magnolia via Style Me Pretty
Photo by Stacy Anderson Photography, Cake by Shazdeh Cakes via Strictly Weddings
Photo by Clary Pfeiffer, Cake by Gingersnap Sweets & Such via Style Me Pretty
FLORAL WEDDING CAKE ideas
Flowers have long been a go-to for easy wedding cake decoration, because it's hard to beat nature's beauty. Whether you go subtle and light (think pastels) or bold and dramatic (hello, tropical inspiration!), flowers are an affordable and beautiful way to fancy up your wedding cake.
Cake by Wildflower Cakes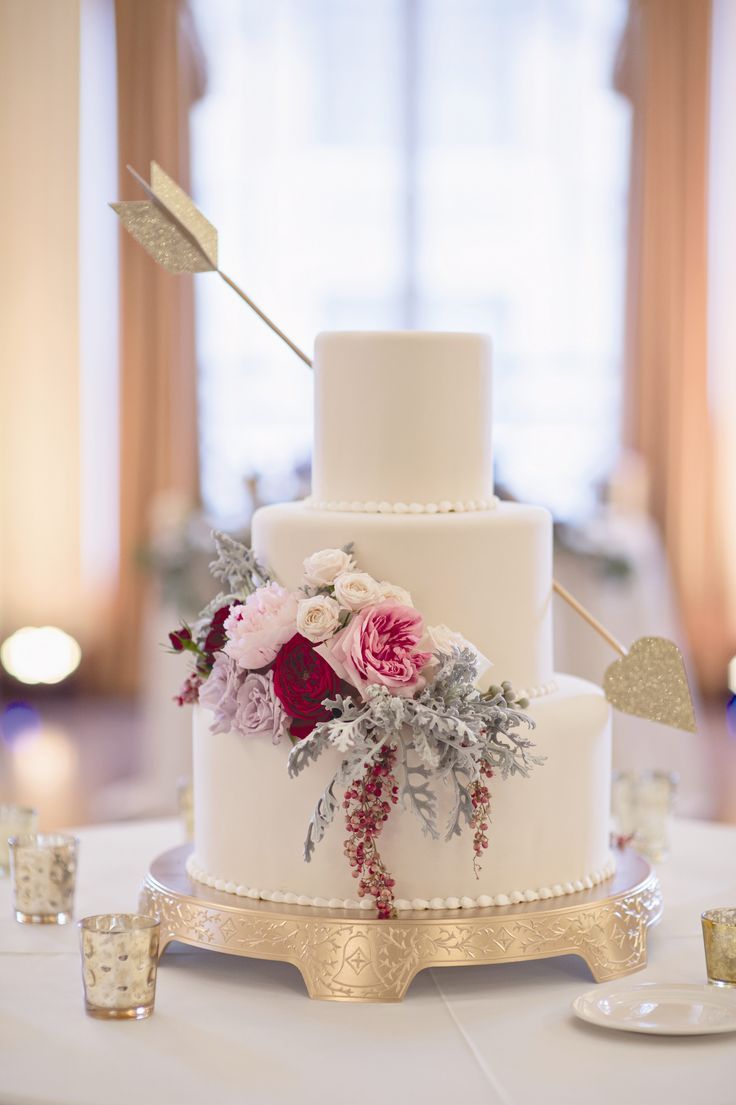 Photo by Heather Saunders Photography via The Knot
Photo by Rachel Havel, Cake by d'Elissious via Style Me Pretty
Cake by The Cake Plate via Green Wedding Shoes
Photo by Shea Christine Photography, Cake by Earth and Sugar via Brides
UNIQUE WEDDING CAKE Ideas
"Unique" can be a loaded word—if everything is unique is anything actually unique?—but sometimes, it's the only word you can use. I mean, how else are you going to describe a wedding cake that hangs upside down?
Photo by YouAreRaven, Cake by Vintage Soul Cakes
Photography by Beth Olson Creative, Cake by Rosycakes
Cake by Suarez Bakery
Photography by Tausendschon Photographie via Burnett's Boards
Cake by Charm City Cakes via Mod Wedding
chocolate wedding cake Ideas
Listen, people, just because wedding cake is oftentimes white doesn't mean that it can't also be chocolate. I, for one, am all in for chocolate wedding cake, and if someone figures out how to make a wedding cake that tastes like that sea salt and caramel dark chocolate bar from Trader Joe's, I'll get married all over again.
Photo by MorningWild Photography, Cake by Jonathan Caleb via Green Wedding Shoes
Cake by Marks and Spencer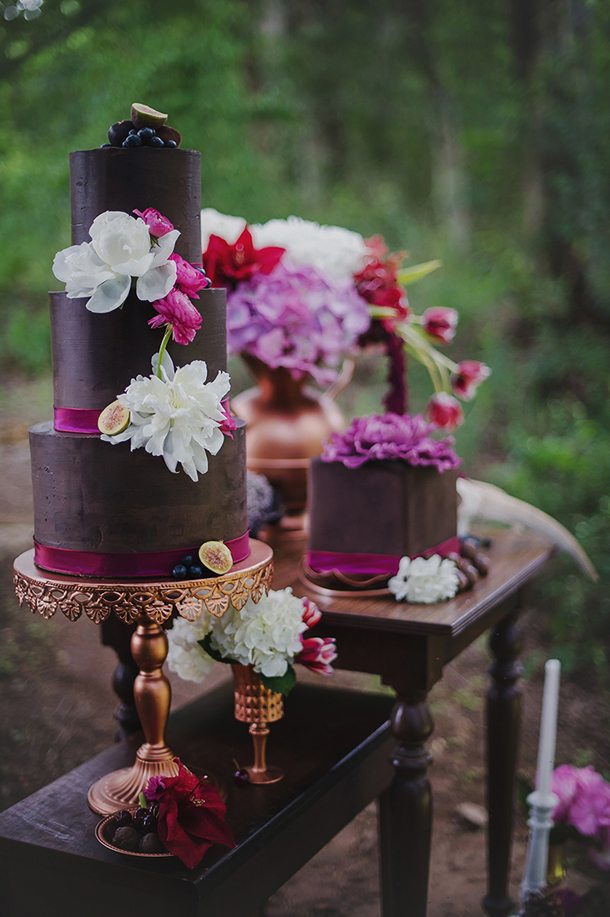 Photo by Gingerale Photography, Cake by Pippa and Polly Cakery via Southbound Bride
Cake by Faux Martha
Photography by Monique Serra, Cake by The Sassy Cupcake via Inspired by This
What wedding cake ideas are striking your fancy, I mean sweet tooth, I mean fancy? If you're already married share a picture of your wedding cake, ideas on how you picked it, and all your best advice.