I'm going to let you in on a little secret that I learned early on in my career as an event planner—you can control a great number of things, but the weather will never be one of them. I know, I know. This isn't want you want to hear. No one wants to rent a wedding tent. They can be expensive, and daunting to think about, and the sky is just so lovely this time of year. But if you have to rent a wedding tent (and don't kid yourself: outdoor venue, no back up plan, high chance of rain? You may have to), then you're going to want to make sure you price that in your "affordable and easy" outdoor venue cost early on, and then keep reading. Because there is actually (surprisingly) kind of a lot you need to know: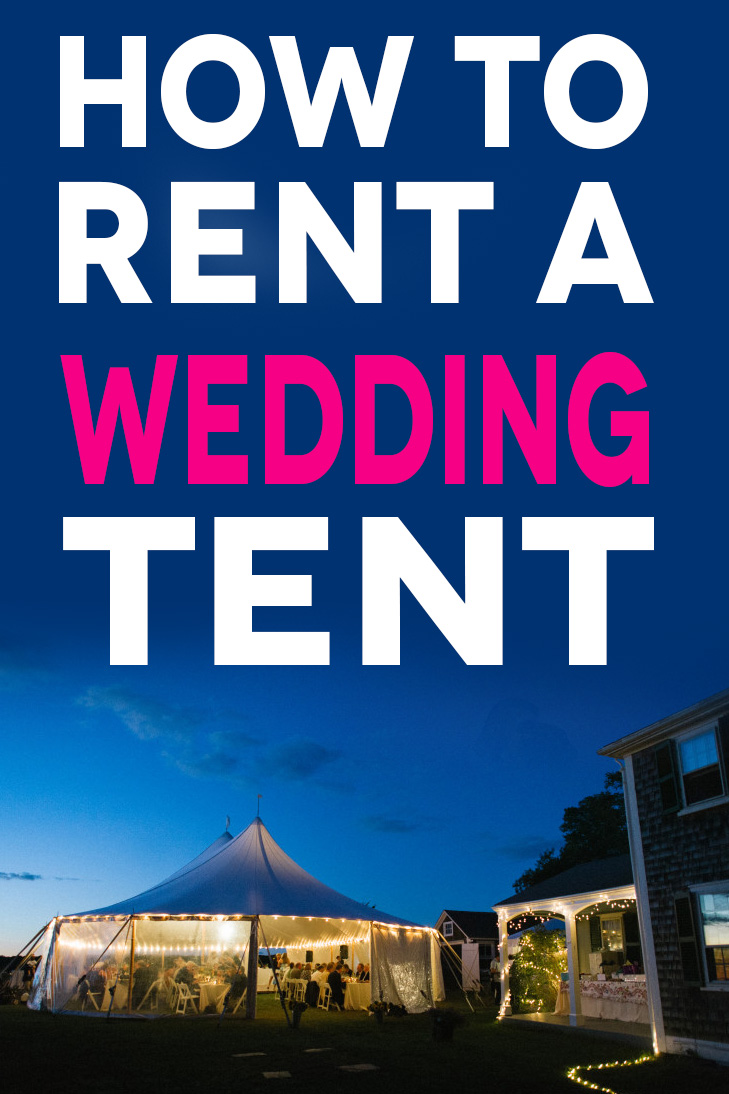 WHEN TO RENT A Wedding TENT
It's important to factor in whether you will need to rent a wedding tent early on in the planning process. When you're looking at venues, you'll want to factor the pricing of the tent into any venue that doesn't have indoor options. Essentially, if you're considering outdoor venues and there is more than a remote chance of inclement weather on your wedding date (I think pretty much the entire Eastern Seaboard?), renting a tent should be lumped into the "book your venue" task on your to-do list. Tents can sometimes be expensive (depending on a number of factors we'll talk about below), so you'll want to factor it into the budget before you fall in love with your dream venue.
Okay, so now what?
FIGURE OUT ROUGHLY WHAT SIZE Wedding TENT YOU'LL NEED
If you're early in your planning process, you may not have exact numbers yet, and you may not have determined what style of party you plan on hosting (sit-down, buffet, cocktail, punch and pie, etc.). However, you'll want a rough estimate at this point to get a price quote. This spreadsheet will give you a basic rundown of how much square footage is needed for various types of events.
DOWNLOAD THE APW TENT SIZE GUIDELINE SPREADSHEET
As a general rule, you'll want to choose the squarest tent your site will allow. A squarer tent will have a taller ceiling, which in addition to looking better will also keep the tent cooler. Also, it's much easier to make sure that all of your guests feel included when you're seated in a squarer shaped tent.
Hooray. Step one is done!
DETERMINE WHAT TYPE OF TENT YOU WANT.
There are several styles of tents available for rent—but the most popular are frame tents and pole tents. There are three main considerations to take into account when it comes to which type of tent you rent: space logistics, aesthetics, and (of course) budget.
Pole Wedding Tent Pros and Cons
PRO: Pole tents tend to be the more aesthetically pleasing option; they're the ones with the swooping roof
PRO: Pole tents are less expensive
CON: Pole tents will have center poles/obstructions
PRO: No frame to cover up—does not need liner
PRO: Pole tents require shorter setup time
CON: Must be staked into the ground
CON: A pole tent requires clearance on all sides for stakes and anchor ropes (on average five to eight feet on each side)
Frame Wedding Tent Pros and Cons
PRO: Can be erected on any surface (such as asphalt, rooftops, etc.)
PRO: Can be attached together—you have more options when it comes to shape/configuration and you could have multiple spaces connected, such as a walkway from ceremony to party
PRO: Does not have any center poles or obstructions
CON: Almost always pricier than pole tents
CON: Frame is visible from the inside—many people don't like the look of the frame, and the solution is an expensive liner to cover it up
CON: Requires longer setup time
PRO(ISH): Can be left up for a long time (you know, in case you want to live at your wedding for awhile)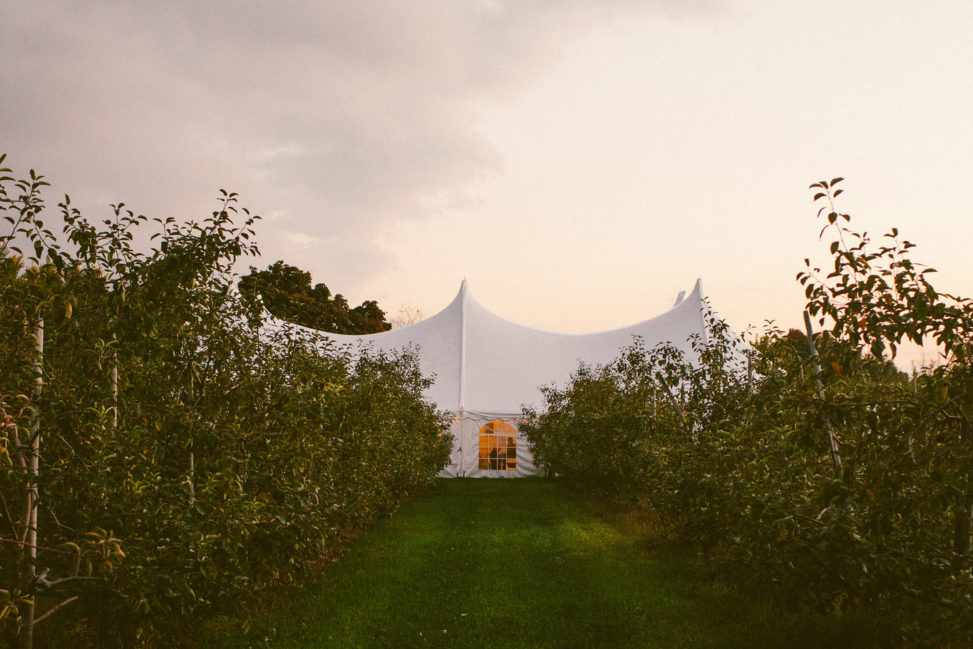 THINK ABOUT Wedding Tent EXTRAS…
If you have a pretty good idea of the size and type of tent that you want, before getting a price quote it's important to think about all of the extras that you might need or want. These extras can cause your price quote to vary greatly.
Clear top tents are a very popular alternative to white tents and generally don't cost much more. However, keep in mind that if any portion of your event is taking place during the daytime, the sun can turn your clear top tent into a giant, sweaty greenhouse.
Liner—All that gathered, silky looking fabric that you see inside tents in the movies or magazines… it's a liner. It's expensive and not at all necessary, especially if you opt for a pole tent. If you really have to have a liner, be forewarned, they can cost up to three times the cost of the tent! And if you want a colored liner, well, you'll be paying even more. (Hint: you can do the same with lighting for a lot less.)
Walls—The main types of walls are solid, clear, cathedral (with windows), and fabric. Whether you need walls depends on the average temperature. If you're getting married in a warmer climate, skip the walls. If it's a cooler climate, walls are probably a good idea. If downpours are common, walls will help keep everything dry. (Fabric walls will not help you in cold or rain—they are really just for looks.)
Flooring—The options when it comes to flooring are plain old ground with or without a dance floor, or a full floor under the tent. Obviously the ground is the least expensive option, but there are a few drawbacks. If there's rain in the days leading up to your wedding, the ground can get soggy. Also, plain ground can be difficult for guests to walk/dance on in heels (which is why it's super important to inform your guests that they would be best served by outdoor-appropriate footwear). If you're putting the tent on land that's sloped or otherwise uneven, you may want to consider flooring in order to level things out. Flooring can run anywhere from $1-4 per square foot, which doesn't sound like much until you do the math! If you can't afford full flooring, consider just adding a dance floor (which will be far, far less expensive).
Lighting—If your wedding is at night, unless you want to give your guests the sensory experience of dining and dancing in the dark, you'll need some lighting inside the tent. There are tons of lighting options available—everything from bistro lights strung across the ceiling to lanterns to twinkle lights to can lights mounted on the ceiling or theatrical style stage lights with gels. You can also get lighting placed on a dimmer to allow for more mood lighting during dancing. Sometimes couples choose to DIY their lighting—just be advised that the tent company won't hang them up for you and will require you to remove them before the tent is scheduled to be broken down. Another important thing to consider when you're mulling over your lighting options is power—if your site does not provide power, you'll need to rent a generator.
Heating and cooling—If the weather is going to be warm, you'll want to invest in some cooling equipment. Fans tend to be the best option, as tents are notoriously expensive to air condition. Since tents are neither sealed nor insulated, they require a huge amount of power to keep cool with AC—like industrial generator huge. Fans work great to circulate the air and large ones are generally economical to rent. If you're getting married at a cooler time of year, you can rent a tent furnace with a thermostat to warm up the tent. I've had couples inquire about renting patio heaters to place inside the tent, but that makes me super nervous as they can be fire hazards, plus they take up space, whereas a furnace is usually placed outside the tent where no drunk people can knock it over.
Catering Tent—Your caterer may require what is commonly referred to as a Catering or Cook Tent. This is a smaller tent, typically adjacent to the larger tent where the food is prepared & plated as well as where things like dirty dishes & trash cans are placed out of sight of your guests. Basically, it's a little kitchen. If you're having a food truck wedding or drop-off buffet catering, or if you have some other covered space for the food prep, you may not need a secondary tent. Check with the people providing food and/or staffing to confirm what they need. Keep in mind, your catering tent will need lighting (it can be industrial/utilitarian) and electricity. Also, confirm with those who will be using the tent whether they will need cooling (i.e. fans) or heating depending on the time of year and weather.
GET QUOTES!
Now that you have a pretty decent idea of what you're looking for, you can reach out to rental companies for quotes, but where do you find them? Ask around—your caterer and venue should be able to provide you with some reputable options. Otherwise, a google search for "event rentals + your location" should yield a ton of results—just check out online reviews for an idea of who provides quality service.
When you reach out to companies for quotes, you'll want to make sure the following items are covered in the proposal:
Delivery Fees
Labor/Setup of the tent PLUS the accessories
Fire/Zoning permits (if required)
Breakdown
Also, make sure that you're okay with the change/cancellation policy. There are so many variables that can change between booking and the wedding, you'll want the option to change the size of the tent or possibly cancel it if the weather looks like it's going to be totally amazing. Make sure that those points are covered in writing before handing over any money!
When getting a quote ask how long the setup time will take. On average a 40 x 80 foot pole tent takes approximately four and a half hours to set up. If it's a possibility at your venue, you may want to have the tent onsite and ready to go a few days prior to the wedding—this way you'll have time to decorate and play around with the floor plan.
Find out if the company will come out to survey the land prior to the event. Some companies charge a nominal fee to do so (which is usually counted towards your rental fee if you sign a contract), but you might find the peace of mind worth it!
Make sure that the vendor knows the tent is for a wedding (and that you're expecting wedding quality as opposed to a county fair tent—unless that's your thing).
And finally, if possible, rent from a company that does more than just tent rentals. Many rental companies are full service offering everything from the tent to the glassware. If you rent the majority of your items from one place there will be one delivery charge, one vendor to wrangle, and from a timing perspective, everything will arrive all at once. Here are a few actual quotes my clients have received in the past few years:

Sample Wedding Tent Prices
250 People, Seated Dinner and Dancing with a Band, Hamptons: Pole Wedding Tent $12,600
57′ x 96′ Sailcloth Pole Tent  $5,500
Clear Sidewalls $675
24′ x 28′ Dance Floor $1,200
12′ x 20′ Stage (for eight-piece band) $675
Bistro Lights $3,100
20′ x 30′ Caterer Frame Tent with Sidewalls $700
Caterer Tent Lighting $250
Marquee Connecting Catering to Main Tent $500
200 People, Cocktail Party, Long Island: Pole Wedding Tent $16,492 (photo above)
44′ x 83′ Sailcloth Pole Tent  $3,652
Clear Sidewalls $540
Perimeter Lighting (on dimmers) $500
Full Subfloor (plywood) $7,200
Carpet Installed Over Subfloor $4,600
125 People, Outdoor Ceremony, Brooklyn: Frame Wedding Tent $2,000
20′ x 70′ White Frame Tent  $2,000
No Lighting
100 People, Buffet Dinner and Dance, Southeastern Pennsylvania: Pole Wedding Tent $1,810 (photo above)
40′ x 60′ Century Pole Tent  $1,390
15′ x 16′ Oak Parquet Dance Floor $420
175 People, Buffet Dinner and Dance, Upstate New York: Pole Wedding Tent $3,355
60′ x 70′ Century Pole Tent  $1,875
20′ x 20′ Century Pole Tent (caterer with three sides) $255
Perimeter Lighting  $260
Lighting (caterer) $130
Window Side Wall  $260
20′ x 20′ Dance Floor $575
145 People, Buffet Dinner and Dance, Upstate New York: Pole Wedding Tent $2,575 (photo above)
60′ x 70′ Century Pole Tent $1,350
20′ x 20′ Century Pole Tent (caterer with three sides) $255
Perimeter Lighting $240
Lighting (caterer) $30
Window Side Wall $240
16′ x 20′ Dance Floor $460
75 People, Ceremony and Partial Cocktails, New York City Rooftop: Frame Wedding Tent $1,575
20′ x 40′ Frame White Tent Top $600
Tent Lighting Side Pole Mount Par 38 $120
6 Tent Side Wall Clear (20′ x 40′ and 8′ x 20′) $120
Dimmer Kit $25
Safety Kit (2 Fire/2 Exit) $90
12 Sand Bags for Side Walls $60
4 Tent Weights Stacks $60
Rooftop Installation $500
70 People, Welcome Dinner Buffet (no dance floor), Upstate New York: Pole Wedding Tent $1,175 (photo above)
30′ x 30′ Century Tent $500
Event Deck Flooring $675
100 People Ceremony and Cocktails, Upstate New York: Round Pole Wedding Tent $2,982
46′ Round Sperry Tent $2,077
Sperry Side Wall, Clear $400
Perimeter String Lights, 46′ Round $225
2 Single Dimmer Switches $120
2 Pole Lights $160
100 People Ceremony and Cocktails, Upstate New York: Pole Tent $1,255
30′ x 60′ Pole Tent $675
Perimeter Lighting $220
Side Walls $360
REVIEW YOUR QUOTES AND BOOK A TENT COMPANY!
Keep in mind if you get a quote that seems "too good to be true" compared to the other quotes that you receive, odds are it is. Most rental companies will come in around the same price. Your decision should really boil down to who has the most aesthetically pleasing choices, and who was the easiest to deal with (because that will seriously come in handy later).
This post was previously published in February of 2015