Staff
Editorial Staff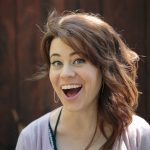 Meg Keene – Publisher & Executive Editor
Meg started out in the world knowing that she wanted to make things and boss people around (in a nice way). When she was nine, she had her mom order her a set of business cards that said "Aspiring Artist." This is not a joke. She's always had a fondness for business stationery. She attended NYU's Tisch School of The Arts where she earned her BFA in experimental theatre. She is probably better at postmodern nudity than you are, or at least more qualified. After graduation she founded and managed a small theatre company, and worked in on and off Broadway in theater management. Once Peter Yarrow sang "Blowing In The Wind" in his living room to raise $1,000 for a show she produced. That was a good day. When she got tired of theatre, she moved to San Francisco where she worked in the research department of an investment bank. That is a long story. Also a long story, shortened is this: Meg founded APW in 2008, wrote a best selling wedding book, and no longer has to deal with professional nudity, postmodern or otherwise. Plus, she took the "Aspiring" off her business cards. Meg's professional bio is right over here.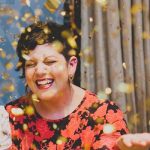 Maddie Eisenhart – Managing Editor & Corporate Partnerships Manager
Maddie graduated from NYU with intentions of becoming Tina Fey, but quickly realized that she looks terrible in glasses. Although she once got to bring Montel Williams his coffee, Maddie soon realized that the entertainment industry was no place for someone who smiles 90% of the day. With that in mind (along with encouragement from Meg and the fine example of some other APW staffers—cough, Emily, cough), she became a wedding photographer instead. Now, as Managing Editor at APW, she gets to be snarky, eat cheese and smile 90% of the day. Just. Like. Tina. In her spare time, Maddie likes to spoon her dog and enjoys comparing her dreamy husband to the young Paul Newman. Also, she never says no to Karaoke, and yes that is totally a challenge.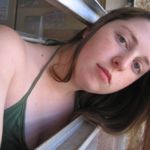 Emily Threlkeld – Associate Editor
Emily is a fifth-generation Texan who was born and raised in Houston. She started writing poems and stories when she was in the third grade and never really stopped. She earned her BFA in Creative Writing from St. Andrews University, where she had the good fortune to fall in love with a man with a much more practical degree. Technically, her first marriage was to her stuffed raccoon Ringo (named for the Beatle). She wore her yellow Easter dress to the ceremony, and her mother officiated. She didn't think about weddings again until almost twenty years later, when her elopement was (un)planned in the comments of APW. In her spare time, she likes to cook, watch movies made before 1970, cross-stitch, travel, and take photographs. She also compulsively makes seasonal wreaths for her front door, much to her husband's chagrin. They live in North Carolina (for now) with their cats Scout and Beyonce.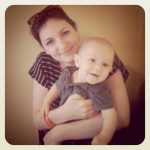 Liz Moorhead –  Ask Team Practical
Liz grew up knowing that being an artist was not a sensible career choice. So, she tried everything from waitressing to telemarketing to teaching, and she completed three degrees including a Master's of Education. Then, her son was born and she realized art was one of the few things she could do from home. While wearing sweatpants. Now, she paints custom stationery, screenprints tea towels, designs logos and websites, and blogs about the whole shebang. She somehow finds time in her day to type up impassioned opinions about weddings, etiquette and feminism, usually while shaking a fist and mumbling expletives around mouthfuls of cheese fries. Whatever other spare time Liz has, she spends sipping bourbon with her husband and playing Don't Throw That in the Toilet with her son.
Kate Bolen – Copy Editor
Kate's English BA from the University of San Francisco solidified her love of words, grammar, punctuation, and all things lit nerd. She resides in sometimes-sunny San Francisco with her cuddly husband Kevin and her supportive cat Nori. Privileged to be APW's first reader, Kate had long dreamed of copy editing Meg's work before it became a reality, and she is constantly in awe of and grateful for the amazing community that is APW. This crafty world-traveling native-Texan foodie anglophile Netflix-addict has more interests than she has time, so when not editing or creating, she contents herself to defend The Earth with her amazing powers of recycling and composting. She thinks bow ties are cool.
Advertising Staff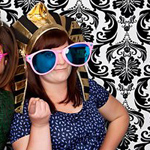 Emily Gutman – Advertising Manager
When her career in homeopathic drug mulery didn't pan out (turns out there wasn't much of a demand for it), Emily, a longtime reader of APW, started shooting weddings. Then with a gentle push from Meg (okay, it was a swift kick in the pants) she started Emily Takes Photos. Now, in addition to photography, she works with other sane wedding vendors to build thriving and practical businesses. Her likes include gypsy jazz, ranunculus, gouda, and lists. Her dislikes include eggs and coke at the same meal.
Writing Interns—2013 
Elisabeth Snell – Writing Intern
Elisabeth is a newly minted MPH working in public health in New York City.  Her old okcupid profile said she's really good at: fixing socially awkward situations at parties, return trips to Ikea, whipping up excellent mac and cheese on camping trips, leaping into the ocean, being chronically late, and having Friday night adventures all over Brooklyn. It must have worked, because she's planning a September wedding to her introverted, punctual K.
Rachel Wilkerson – Writing Intern
After doing improv theater and stand-up comedy for much of her life, Rachel headed to Michigan State University, where she got into blogging, earned her BA in Journalism, and drank a lot of tequila. She then moved to NYC where she worked at ELLE Magazine for a brief period until she realized that she was living the dream…just not her own. Not long after that, she was pursuing new media and writing opportunities from her mother's basement in Michigan when, with the help of a friend and video chat, she met Eric, the only person she'd ever met who could talk as much as she could. After flying to Houston for their first date, she decided to go ahead and move to Texas, um…three weeks later. For most of her life, Rachel has loved the sound of her own voice, and now she's found a way to make money off of that as a writer, blogger, community manager, and social media marketer. By day, she's working at a start-up; by early morning and late night, she's writing… and writing and writing. When she's not writing, she's reading, doing yoga (she still refuses to call it "practicing"), hanging out with her dogs, and talking Eric's ear off. She really loves Halloween and stationery.
Business Interns—2013
Lucy Bennett – Business Intern
Lucy is an Atlanta native who sometimes has a Southern accent, but can never remember where she left it last. She has a BFA in Graphic Design and is currently completing a self-appointed Masters degree in Hey That Looks Like Fun Let Me Try. While all her job titles say she is a designer, she spends a considerable amount of time dabbling in fiction writing and working on various unfinished novels. When not making lists or coming up with weird self-challenges, Lucy can typically be found marathoning TV shows, singing to her two cats, or playing board games with friends. She takes herself very seriously.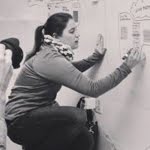 Joanna Kirtley - Business Intern
Joanna grew up in Boston, but traded in her Bean Boots for Rainbows when she went out West for college. She studied Product Design at Stanford, which required her to spend most of her waking hours scheming, sketching, and tinkering—not a lot has changed, actually. Today, Joanna resides amongst the politicos in Washington, DC and works at a design innovation firm helping companies come up with new products, services, and experiences that improve people's lives. In her spare time, she enjoys cooking, crafting, spending time on the water, and hiking local trails with her husband Tyler and golden retriever Hinckley.