The Site and our mobile application may contain links to affiliate websites, and we receive an affiliate commission for any purchases made by you on the affiliate website using such links. We are also a participant in the Amazon Services LLC Associates Program, an affiliate advertising program designed to provide a means for us to earn advertising fees by linking to Amazon.com and affiliated websites.
---
As a Jewish person in a (secularly) Christian world, I have mixed feelings about the season we call "The Holidays." Because the truth is, the season is a Western one. Hanukkah is a minor Jewish holiday that we amp up a little to let our kids feel less left out at Christmas time. Our holiday season is in the early fall, and it has come and gone.
BUT. I do not have mixed feelings about holiday CARDS. They are, in fact, my reason for the season. We generally do New Years cards, because they're fun and glittery, and you have a little more time to send them out. But I put both time and money into them, because I LOVE them. It's a way to reach out to friends and loved ones, and show them in pictures what we've been up to this year. Plus nice paper, foil, envelope liners, pretty stamps, and other details. (I mean I'm not in the wedding business for nothin'.)
Holiday Cards, With a twist
Friends. Though. 2020. Never have I felt more at a loss as to what to do with my holiday cards. What photos should I use (or take). What note should I strike. (And I am NOT making the mistake I made in 2016 and planning my cards before the election, and then realizing that all of those "celebrate good times come on" vibes were all wrong.
The funny thing though, is since the beginning of the pandemic, I have thought over and over about family cards that I have from World War II. They say things like "Wishing you love during this wartime Christmas," and they have continuously reminded me that bad things can last a long time, and we can still survive them.
So are we sending out holiday cards? You can bet your bottom we are. But am I glad that designers are getting creative this year? 100% yes. With that in mind, we've rounded up some of the best holiday cards we could find for 2020, with hope that it helps you bring joy to those you love, during what will undoubtedly be a dark winter.
Photo Holiday Cards
Letters and Words Hanukkah Card via Minted
Oh, I love this design approach on a modern Hanukkah card!
With Gratitude Holiday Photo Card via Minted
Okay, maybe this year IS the year the more folks start embracing non traditional color palettes. TBH, we're not mad at it.
Quarantine Searches Holiday Card via Paper Culture
We're not the only ones that have been googling our way through the pandemic. Who else can relate?
Lens Holiday Photo Card via Minted
The Lens design is the perfect card if you're not trying to scream holiday vibes.
On the other hand, this one is colorful AND festive and we're here for it.
Recipe for Happiness Card via Paper Culture
Send your (secret) recipe to family and friends near and far with this recipe card from Paper Culture. Bonus points for sharing your recipe with us too 😉.
What a Year Card by Rosemary Lines via Esty
Because this year we've all had to roll with the punches.
Modern Menorah Hanukkah Card via Paper Culture
A modern AND classic design? Sign us up!
Gingerbread Edge Photo Card via The Paper Source
Hot Pink and Red are one of my favorite color combos. Traditional, no, but chic AF? Yasssss.
Rating 2020 New Year Card via Minted
Feels fitting for 2020 holiday cards, no?
Home Travels Card via Paper Culture
Maybe you don't want to stick your own face on this year's card. That's fine, substitute your furry friends in!
Modern Abstract Joy Card by Coffee + Paper Co. via Zazzle
Spread the joy (and the love) with this unique holiday card.
Well Wishes Holiday Card via Artifact Uprising
Sometimes simple and sweet are the perfect touch. Like this cute card from Artifact Uprising!
Winter Floral Photo Card via The Paper Source
If you're looking for something classical that never goes out of style these winter botanicals are for you my friend.
This simple and pretty card with gold foil is getting saved to my designs ASAP.
Holiday Card Box sets
Murakami Christmas Flowers Holiday Card (Set of 12) via MoMa Design Store
Art Lovers, this one is for you!
Twelve Tribes Boxed Set of 8 Cards by Rifle Paper Co.
This is legitimately the prettiest Hanukkah card I've ever seen.
6 Assorted Christmas Cards by Alice Olivia Designs via Etsy
Raise your hand if this is what the holidays look like around your house.
Social Distancing Series by Side Dimes via Society6
Not exactly a holiday card, but pretty much sums it up. It might make the perfect card for your End of Year update!
Feliz Navidad (Set of 6) by Moglea
When I mentioned fancy envelopes this is what I was talking about!
Mele Kalikimaka Guitar Cards via Papier
For when you want to send big island love and festive cheer!
Paul Outerbridge, Jr.: Christmas Gifts Holiday Cards via LACMA Store 
This may be the time for 2020 holiday cards but why not take a trip back to 1936 via this artist's classic Christmas gifts photo?
Stocking Bouquet Cards by Chayan Lewis Events via Society6
May everyone's stockings this year be filled with fresh flowers!
Home for the Holidays Greeting Cards, Set of 20 via Anthropolgie
Sometimes you just want a variety of pretty designs to send out. This set is sure to brighten up your friend's mailboxes in no time.
Color Wheel Holiday Card (Set of 8) by Seltzer
These are so good I had to pick some up for myself last holiday season.
Miracles and Blessings Card by Asja Boros via Society6
Thinking of sending far out cards like this one? Hop to it!
Christmas Mask Cards (Set of 8) by La Familia Green via Etsy
This is the most appropriate of 2020 holiday cards. When in doubt, mask it out!
Surprise Holiday Card Pack of 20 via Poketo
Feeling adventurous? Even though this is a surprise pack no need to fret, Poketo's designs are what all your modern stationery dreams are made of.
That's The Spirit Card by Tyler Varsell via Society6
This feels like a nostalgic throwback that is also coincidentally so fitting for 2020.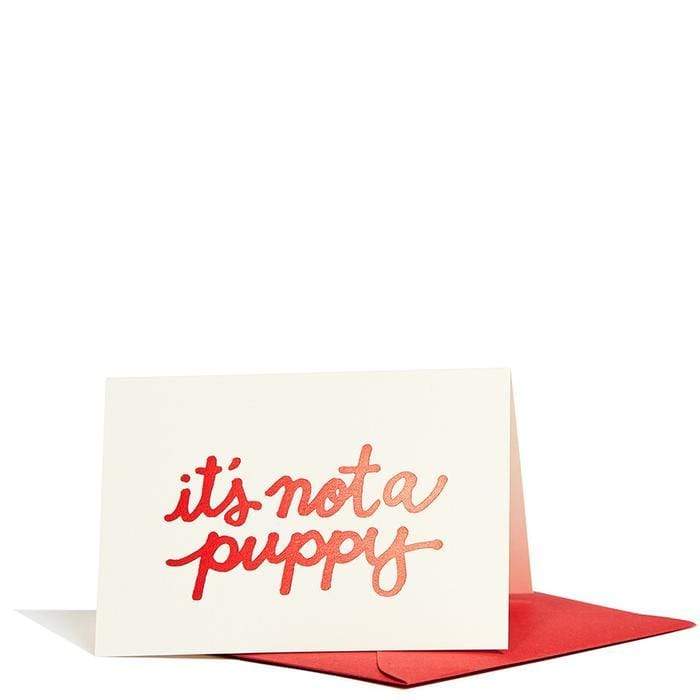 It's Not A Puppy Enclosure Card by Paper Luxe
And this sassy card, just in case you needed a disclaimer.
In a year where everything has gone digital we can't wait to get our hands on IRL notes and updates from our closest folx. We want to know how you're navigating Holiday correspondence this year. Are you going all out or scaling back a little? We're all ears. (And, if you still haven't found something you love, take a look at our 2020 Holiday Cards Pinterest board where we have a ton more options for you to choose from over there!)