SARAH HENNIGH-PALERMO, designer/developer/artist and Westley Hennigh-Palermo, developer
SUM-UP OF THE WEDDING VIBE: Cozy, low-key fall banquet, Brooklyn-style
Planned budget: $10,000
Actual budget: $15,445.57
Number of guests: 40
Where we allocated the most funds
The space, definitely. I know a lot of people use family land or backyards or travel to the country to keep costs down, but I couldn't imagine getting married anywhere but Brooklyn. I have been in love with New York since I moved here, and it was important to me to do city and subway pictures and that our guests not have to worry about renting cars and driving themselves home. We chose a restaurant space because we didn't want to coordinate rentals and a wedding planner was just too expensive on top of everything else we wanted to spend; though after having planned a wedding, now, I can totally understand why!
We also spent a good amount on booze and cake because I am a firm believer that if you ask people to fly across the country and give you their Saturday night, you owe them some drunken cake-eating.
Where we allocated the least funds
DJ / band / dancing—we didn't bother. Neither of us is a big dancer and by not needing to allot space for getting down, we were able to afford to hold the wedding where we wanted. The space had a projector, so we did open speeches and encouraged people to make slideshows to go along with them. Between the speeches, the animal-shaped puzzle favors, and the great conversation, I don't think anyone missed "Bust a Move" too much.
We also saved a little by moving the party to the dive bar around the corner after the minimum rental time. This way, people who were tired had a good time to go home, and we could save the additional hourly costs.
Finally, Wes's father made the rings. He is a geologist and jeweler who made his own wedding bands, plus Wes's sister's bands, so not only did we not spend money on them, but they are a big sign of welcome into the family. Wes's band in particular is very unique: it is half silver and half gold, so he can have whichever side he prefers facing out. The silver side is decorated with a rose. Apparently soldering the two together is really difficult and there was a little worry in the days leading up that it wasn't going to happen.
What was totally worth it
Taking the subway to the ceremony—even though the women at the dress shop were scandalized. I love the subway so much I joked we should get married at the transit museum, and we chose Konrad as much for his subway pictures as for his other (many!) pros. And some of my favorite pictures are from the ride over. I also really enjoyed the fact that ninety-five percent of the people on the train and on the street don't even care that you are the weirdo in your fluffy white dress.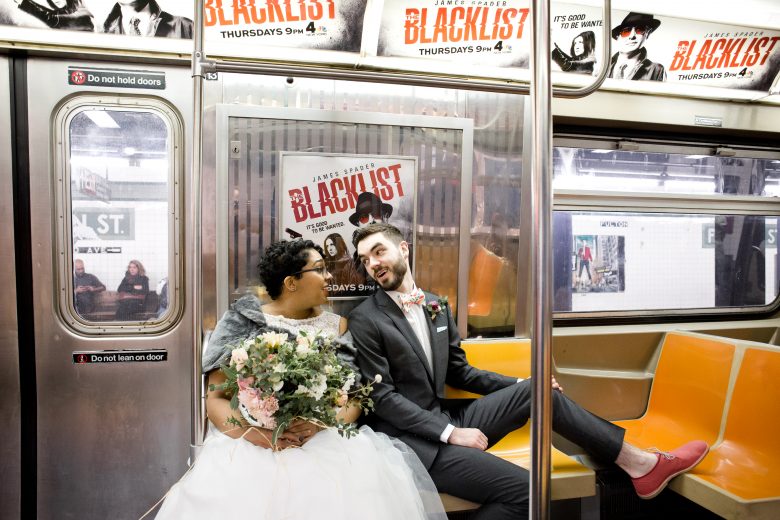 A few things that helped us along the way
When you are planning a wedding that is larger than a trip to city hall and dinner after (a totally legit and beautiful choice btw!), you enter into the zone of money versus effort. Anything you want to do is going to cost some combination of those two elements.
Because many of our guests came from far away, including our families, we decided early on that in the vast majority of cases, it made more sense to throw money at problems instead of effort. So we spent hundreds of dollars on flowers rather than trying to manage homemade bouquets when we'd rather just hang out with our moms. And in cases where it was just too much—like decorations—we went with inexpensive, low-effort options, like balloons and tassels.
I also kept myself sane by remembering I loved my friends and groom before this happened, and I had to trust them to be themselves and do things their way. So I may be a planner who wanted to have everything lined up as soon the engagement ring hit my finger, but it was even more important to me that Wes be involved in the planning of the wedding, which meant his tasks were going to be on his time. Likewise my best friend and maid of honor is not a wedding person—I actually told her I made her maid of honor to torture her—so I wasn't going to expect all the squeeing. She tolerated my nattering, foresaw some difficult problems, came dress shopping with me, and planned a chill bachelorette spa trip, and I appreciated every second of it because I know it is not what she wanted to be doing at all, especially since she was in the middle of a renovation too.
My best practical advice for my planning self
1.

Having a wedding while you are in graduate school and working part time is *not* easy—even if you plan most of it the summer before.

2.

Just take the week beforehand off work, even if you don't think you'll need to.

3.

Short engagements are great. They really help anxious planners avoid too much wheel spinning and prevent the design-brain from demanding everything be the Best Ever.

4.

Definitely marry the kind of groom engaged and capable enough to save your mutual butts when you ignore points 1 and 2.
Favorite thing about the wedding
I am a total coal-hearted cynic who usually rolls my eyes at words like community, but seeing all of our friends and family get together and find kindred spirits across miles and generations was so much better than I could have ever imagined.
Wes's family is in Colorado and mine is in Southern California. I went to undergrad in Providence, Wes in Seattle. We met in San Francisco, but I had lived in New York before, and then we returned here. All of which is to say we had a lot of people coming to see from a lot of places and moments in our lives.
Seeing Wes's little brother and our officiant—who I was on swim team with—nerd out about physics; finding all the sailing people talking boats in one corner; one of my newest friends creating mutant favor-animals with my first boyfriend: these moments were so fantastic. In some ways, the best wedding present was a better understanding of how we came to be ourselves.

Anything else
We planned our wedding pretty quickly: five months from proposal to ceremony. This is mostly because we wanted to do it in the fall and didn't want to wait nearly eighteen months, but also because we just didn't want to wait. Cue gross love-y faces. But this was the best of all choices for us, I think. It gave enough runway that people could make plans to come out and we could find vendors who weren't totally booked, but not so much that I spent a year obsessing over every detail. Like my mom says, "The more time you have, the more you'll convince yourself you'll need."
So we did a buffet banquet in the upstairs event space at 61 Local in Brooklyn. Photos were on our building's roof deck and in the streets and subway. Having a buffet instead of a seated dinner saved a little money and encouraged people to move around and chat—and to get seconds.
I was so happy with how the entertainment via presentation speeches turned out. Our friends and family are clever and hilarious. Wes's father's speech was like ten minutes of baby photos and I loved it. My maid of honor, Anna, did Sarah: A History and our friend Leslie, who knew us both did a more recent retrospective. Even my mom, who hates public speaking, spoke. I cried like four times.
I was worried about being fat for my wedding—I'm definitely the heaviest I've been and I can't pretend like it doesn't smart sometimes—but I decided that I was just going to pick a good dress (David's for the win) and a good photographer and have a great time and hope that came through in the photos. I really think it does. And besides if Wes can love me like I am, certainly I can do him the credit of not contradicting him.