Last week, a photo popped up on my phone reminding me that it was exactly one year ago today when we first stepped foot inside the Lace & Liberty showroom in San Francisco, to start scheming and planning for what would eventually become our plus size wedding dress collection. At first, I was like… no, that's not right. We've only been working on this collection for a minute! Maybe six months? Tops. And now I have a lot more respect for Project Runway contestants. Because damn. Making a collection takes time.
For as long as we can both remember, Meg and I have dreamed of designing a wedding dress line. So when the opportunity presented itself to create a plus size wedding dress collection, it seemed so obvious to us that this was the perfect opportunity for APW to get into fashion. Because as we all know, plus size brides are wildly underrepresented in this industry. And there is nothing that Meg and I love more than a good business opportunity that also challenges the status quo.
So for the last year, we've been working side-by-side with the brilliant ladies at Lace & Liberty, bringing our collection to life. So without further ado, here is the collection so far, along with some behind the scenes insight on how it's come together and what we've learned in the process.
Lesson One: Design Happens At The Factory
When we first began designing what would eventually become our collection, Meg and I had a lot of thoughts and opinions on what would make for good plus size wedding dress design. We had several meetings with the Lace & Liberty team to talk about what is working in plus size wedding fashion and what's not, and did several rounds of feedback on designs. We wanted sleeves, and a cape, and pants, and lots of high fashion design details. Our only focus was on making the best collection we could dream up.
Then we sent those designs to the factory. Since we were working from sketches, I assumed we would simply send a design and the factory would magically translate it into exactly what we'd envisioned. And it turns out, sometimes they do, and sometimes they don't. For example, we really wanted a pair of pants in our initial collection (because fuck yeah, pants!). But the factory Lace & Liberty works with specializes in gowns. They don't… make pants. So we had to iterate, and those pants became this sexy sheath dress.
On the other hand, sometimes designs can look lackluster in a sketch and gangbusters on the body. This dress, for example, was super basic on paper. Even after Meg and I asked to make it out of the super expensive fancy lace, we weren't sure it was worth keeping in the collection. But then our model Megan put it on her body and suddenly we were all Damn, Gina! Which basically was a very roundabout way of teaching us that what happens on paper and what happens in the factory and what happens on an actual human body can make or break a design.
Lesson Two: Lace is Expensive
Our goal when we created this collection was to offer a middle of the road dress line in terms of price. David's Bridal already has the market cornered on super affordable and/or more traditional plus size wedding gowns. And with their economy of scale, nobody is ever going to make a run at them in affordability. But there is basically nothing in the vein of BHLDN for plus size brides (aka slightly more bohemian, in the $1,200 to $2,500 range). So we set our sights on unique lace, with lots of interesting details. And it turns out, we have expensive tastes. Whoops. Right now, our collection retails between $1,900 and $2,750. We are working on making some design changes to lower those prices, because it turns out all-over lace is just expensive.
Here is what I learned for real though. When we started this project, for some reason I didn't think it would cost more to make a plus size wedding dress than a standard wedding dress. Because it shouldn't, right? And I was filled with righteous indignation at the fact that it often does. But then the Lace & Liberty ladies gave me a cost breakdown on what it takes to make our dresses, and it's basically double what it takes to make a straight size dress. Why? Yardage, and math. The kind of lace used in wedding dresses often costs $100 per yard. And if a size 0 dress takes 4 yards of lace, a size 28 dress takes more yards of lace, which costs more dollars.
Which means that while standard dresses can make a profit without insanely high prices, at the same price point, plus size dresses are basically break even. Which is probably why they only get made by mega giants like David's Bridal, and why no boutique salons carry plus size samples in store. In short, the fashion industry may focus on size zero because making those dresses is much cheaper, and also it's easier. Not only does it take very little fabric, but if you don't have boobs and hips and curves to deal with, you also don't have to provide structure and support for your dresses. Meaning, they're more of a living sketch. An idea of a dress, more than a functional dress.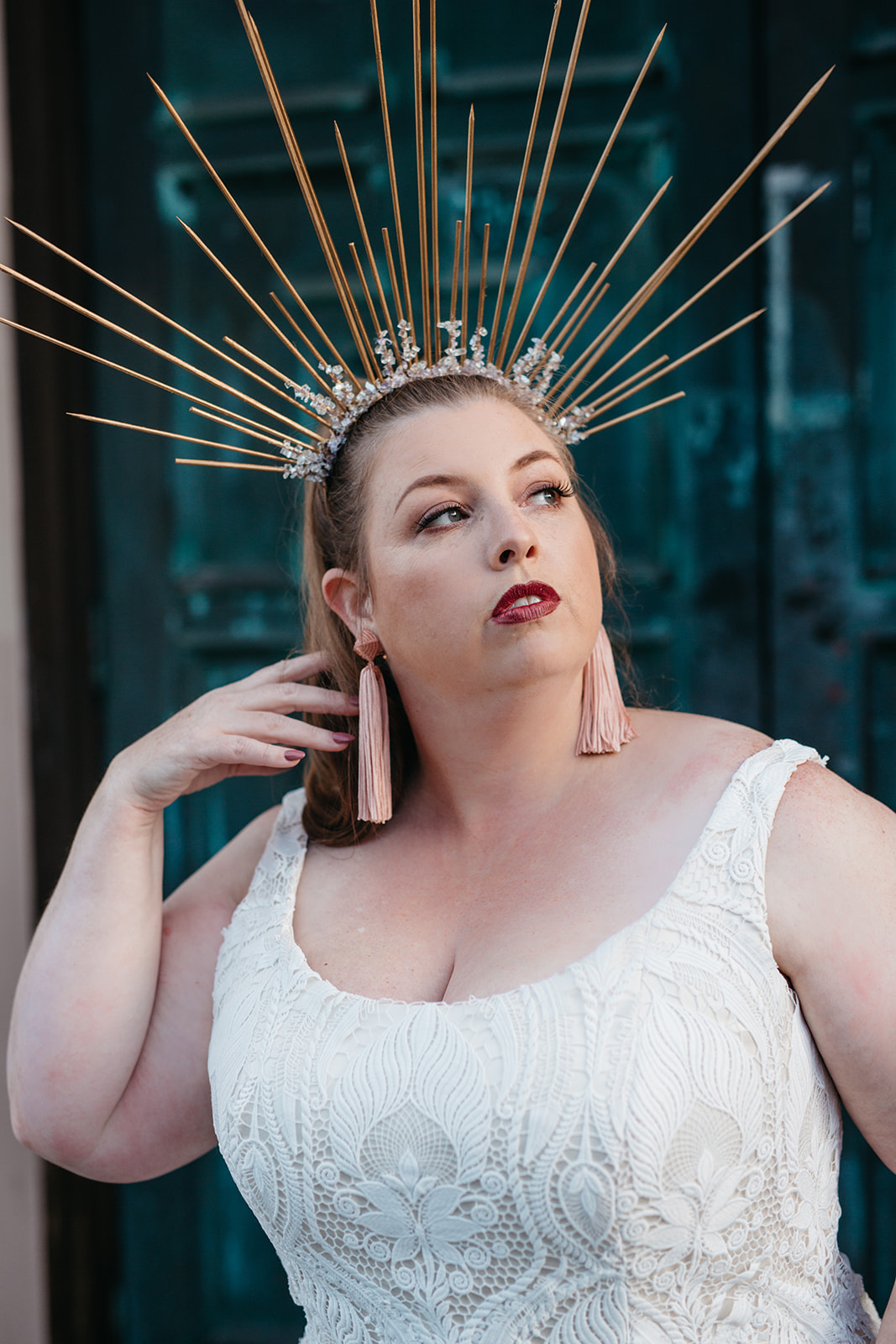 So right now we're working on that problem. We really want to find a way to make our dresses more affordable, without compromising on design and quality, while also being able to make our line a viable business model. (While never having to up-charge for larger sizes.) We don't have a solution yet, but stay tuned for some dresses with quality stretch sateen, and less all over lace.
Lesson Three: Y'all Still Love a Strapless
One of the more radical moves we tried to make with this collection was to eliminate all strapless dresses. We figured that there are enough strapless plus size wedding gowns out in the world, and we didn't need to add anymore. But Lace & Liberty's designer, Annie, assured us that we needed at least one strapless gown… and then she went and designed a really pretty one we couldn't say no to. And, guys? Every event we've hosted so far, people flock to that damn strapless dress like a moth to a flame. Women love it, and they look good in it.
Which is a lesson to Meg and me: while we might love the fashion-forward boundary-pushing wedding dress designs (and still think it's really important to include those in the collection), we also have to acknowledge where the wedding industry is currently at, if we're going to sell anything. And that means people still buy strapless dresses. And illusion necklines. And ball gowns.
But damn it, we're still going to get a center slit in a dress one of these days, because that shit is flattering and fashion forward, and women of every size deserve it.
Lesson Four: We have deeply fucked up beliefs about plus size women
While we haven't officially launched our collection yet, we have been giving teasers here and there, on our site and on our Instagram. And it's fascinating and infuriating to see how polarizing plus size fashion is. On the one hand, we have basically never gotten more likes on anything on our Instagram ever. But we've also never gotten comments this angry (and surprising) in our ten years of business.
During our look book shoot, we happened to stumble upon an ice cream cart while we were grabbing some shots by a black brick wall. Obviously, we are not ones to turn down ice cream, and Lace & Liberty's owner, Danielle, offered to buy everyone on set a treat. These turned into some of our favorite images of the whole shoot; they were natural and fun and unscripted and felt unexpected for bridal. We posted those images first, because they were among our favorites. And the response was really interesting. Some folks asked us to refrain from showing plus size women eating food (particularly ice cream), as it would perpetuate stereotypes about their bodies. And then other women were delighted that we would show self-identified fat women just living life.
And having been on set for that one, I'm voting for the latter. Because as complicated as the politics are behind how we represent marginalized groups, also… can a girl live? And have an ice cream when she wants one? It was such a pure, unscripted moment of joy, and I hate that it can't just be that.
Lesson Four: Structure is everything
When we first started working on the designs for our collaboration, we did a ton of research about what kinds of plus size wedding dresses look good, and which ones disappoint. And the overwhelming result was that structure is everything. The more you've got built into your gown, the more flattering it will be. So the ladies at Lace & Liberty set to work creating an inner structure for our gowns that would allow for more flowy designs (like my favorite dress), while still giving our clients all the support they need. And they succeeded with flying colors. As someone who has never been able to get away with going bra-less, I was able to try on our dresses more or less commando. (And so did our size 36J model.) And even though I'm really proud of the designs, I think this interior structure is the winning piece of the collection.
Lesson FIVE: Always Work With Women
Going into this collaboration, I had nearly forgotten what it feels like to work on a group project. And y'all, it wasn't easy in college, and it's not easy now—for no other reason than it is hard work to put yourself on the line, to develop new trust relationships, to ask people to take you at your word, and to lean on a team you didn't put together yourself. But a few weeks ago, as I was on the phone with Lace & Liberty's owner, Danielle, I suddenly realized that this was the least dramatic group project I'd ever worked on. While there have obviously been hard conversations to be had about managing expectations (we are a mix of optimists and overachievers, so… moving goal posts is a thing), there has been a refreshing lack of ego. And I'm not saying women aren't capable of having egos. But what I'm saying is, if you're going to volunteer to help lead a group project, a team of all women is never a bad idea.
Lesson Six: It is worth it
There is still a lot that needs to be done with our collection. First of all, designing and manufacturing is only half the process. Next up, we need to figure out how to get the collection into women's hands, in a way that doesn't involve a massive amount of capital. (Or at least not a massive amount of capital raised from men, because see above.)
But one thing I know is this: This collection is needed, and it's worth it. Every time we post an image of one of our models in their dresses, we get half a dozen messages from APW readers thanking us for the collection and telling us how refreshing it is that we want to create something that plus size women can actually try on. And during our San Francisco pop up last month, we were overwhelmed as one of our potential clients tried on a dress and immediately started crying on the dressing room floor. She didn't think she was ever going to have the experience of walking into a wedding dress showroom and trying on a gown, and here she was, on dress number three. Now that our collection has become a reality for our clients, it has felt like more than just fashion. It's validation. It's the power of letting women be seen.
And while I'd like to figure out our profit margins, and make sure we get the right kind of press to sell dresses, that simple fact right there makes this whole project so far worth it.
Come see the collection for yourself
If you want to check out our plus size wedding dress collection for yourself and try it on before anyone else, there are currently three ways to do that:
 New York: Book an appointment for our NYC popup (December 14th and 15th)
Los Angeles: Book an appointment at the Lace & Liberty LA showroom
San Francisco: Book an appointment at the Lace & Liberty SF showroom
And as an added bonus, Meg and I will be headed to NYC in two weeks to host a sip-n-see at the Brideside showroom in Manhattan (RSVP for that here). We'd love if you'd join us—you don't have to be shopping for a wedding dress or even plus size. All APW friends and family are welcome. And in the meantime, we're eager to hear your thoughts on progress so far. So sound off in the comments, and we'll catch you in New York in a few short weeks.