Amy, vp of social media & Matt, lawyer
Sum-up of the wedding vibe: Vintage glam meets punk rock at a really fun dance party.
Planned budget: We had no idea where to start.
Actual budget: $40,000
Number of guests: 150
Where we allocated the most funds:
The venue: The Bell House was converted from a 1920s printing press and is now a gorgeous concert hall. The venue fee included all alcohol and bartenders, so we knew at least if no food or furniture rentals showed up at least we'd have a place, a killer sound system, and booze. Dance party guaranteed.
Where we allocated the least funds:
Decor: Decorations were mostly handmade by my mother and my best friend—thank goodness for extremely talented friends and family.
What was totally worth it:
Most of all, hiring a month-of coordinator. All of our vendors absolutely over delivered, but Kristy of Milestone Events by Kristy was a wedding ninja. I thought I would have trouble handing over control, especially after a year of planning, but when Matt and I first met her we trusted her completely to get every detail of the day down. I remember many, many people remarking on how calm I was in the weeks leading up to the wedding, and that's mostly credit to her for completely taking over so we could relax and get married.
Also totally worth it: having a private ceremony at City Hall two days before the wedding! It was a fun little secret that we shared and a very fun but private way to kick off the big wedding weekend full of family and friends.
What was totally not worth it:
Stressing out about the guest list and worrying if there were going to be enough seats for everyone. I lost a lot of sleep over this. Our original guest list was over 220, which was out of control. We didn't want a huge wedding, as we didn't have the funds, or frankly the desire to hold it in a huge ballroom type of venue that could accommodate that kind of party. So we had to make some really hard decisions. We ended up cutting all extended family and a few friends we would have otherwise liked to invite.
We invited 150 people thinking we'd get a drop-off (everyone tells you 10 to 20 percent won't come!) and we knew we could comfortably seat 130. Well that math certainly backfired—and in a true twist of irony, not only did we have a nearly 100 percent RSVP rate of yes, but several of our close friends and relatives brought plus ones! We stressed over having to cut people we wanted there, so we really didn't want people bringing guests we had never met.
After a lot of deliberation, we ended up saying yes to the plus one requests because we understood the reasoning behind them, and frankly we got sick of having so many awkward conversations. It ended up being easier, and it forced us to get creative with seating. We had to put some folks on bar stools near the DJ booth and we had to put a few tables on the stage, but it all looked beautiful and the unique seating arrangements added to the fairly non-traditional vibe we were going for.
A few things that helped us along the way:
Our crafty and talented friends, not to mention my parents. My dad is a musician and he played the guitar and sang the song for our first dance, "Catch the Wind" by Donovan. It was surreal dancing with my new groom while my dad was standing on the stage playing a song we loved. Then there's my mother—who my friend once referred to as "Mother Teresa meets Martha Stewart on speed." Every time I sent her something I was thinking about buying on Etsy, she insisted she could make it better herself, and she was right. Instead of buying a garland to serve as the backdrop of the party and as we walked down the aisle, she created a ten foot garland from scratch. She found table runners made of burlap and lace that went perfectly with the farm tables we rented. She baked 150 cookies, pressed the words "Amy + Matt, Shotime, 7.9.16" into them, and individually wrapped and sealed them so we could give them out as favors.
My best friend from nursery school created our "program" in Photoshop—it was vintage rock poster that listed our names, our parents' names, and the names of our bridal party. We had them printed and tacked them to the bulletin boards around the space. She also spent a day spray painting table numbers. I think I paid about $10 for some wooden table numbers I got on online and spraying them in gold paint made them look much more high quality than they were.
The ceremony was also custom created by us. We asked our good friend Zaki to officiate, and in the months leading up to the ceremony we had all these ideas of different customs we were going to incorporate. Then, as it came together, we ended up scrapping most of the ceremonies because what Zaki had done for us was the most authentic ceremony we could imagine. He emailed our friends and family in the months leading up to the wedding to ask them why they thought we were a great couple, and then presented the ceremony as if they were all officiating together, represented by him. He pulled together all the elements they had described, wove in a few quotes, and then read the vows we had written to each other. The only "custom" included in our ceremony was the breaking of the glass to conclude it.
Lastly, the cake. Our friend Ali, who owns Sweet Peace Bakery, is an artistic genius! I was the worst "customer" because I gave her zero direction. One day I sent her a gold metallic cake I liked. Another day I sent a cool looking sprinkle cake. Then I showed her a graffiti cake I saw in a magazine. Three things that do not go together but somehow, she combined all three of those into the most magnificent, most personalized wedding cake I've ever seen.
Not only was the entire wedding gorgeous, but as I looked around the room, every single detail was so personal to us, so customized, and handcrafted by the people we loved.
My best practical advice for my planning self:
I want to say don't stress because it will all come out perfectly, but honestly, it was our stress that inspired us to think of things that could go wrong and come up with preemptive solutions for them. For example, when we found out that our staffing company wasn't legally allowed to serve drinks from the bar to the guests at the tables, we feared an overly crowded bar where it would take forever to get a drink. The solution? The venue agreed to open a few bottles of wine and place them along each table. Not only did that provide booze for all guests without forcing them to get up and go to the bar, it actually added to the beauty of our table scape! So my advice? Stress but don't drive yourself crazy. Come up with solutions. Trust your instincts. Trust your vendors. Trust your partner. Have fun.
Favorite thing about the wedding:
The people who were there! Also, the fact that we pulled it off—seeing every little detail come together flawlessly was beyond amazing and we took so much pride in the type of wedding we threw.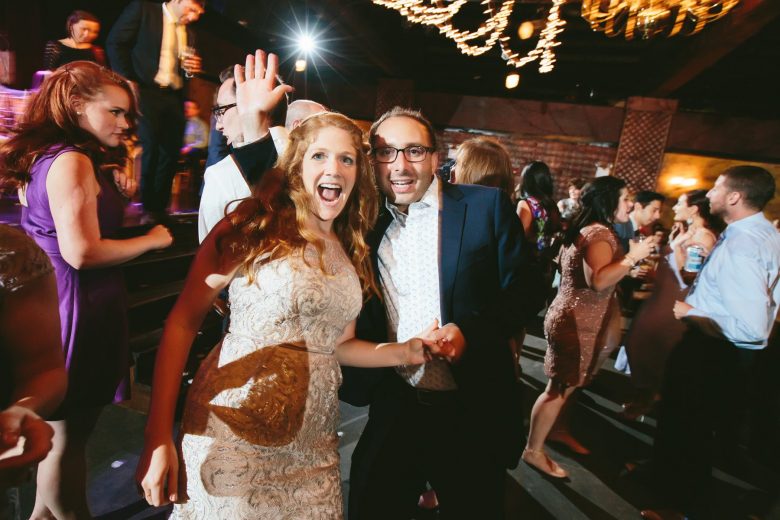 Anything else we should know:
When we began the whole wedding planning process everything was so overwhelming. We had never even attended a wedding like the one we wanted to have ourselves, and we had no idea where to start, what kind of budget to set (or if we could even afford it), how to even begin what seemed like an unattainable, near impossible task. When we found the Bell House and learned they provided all alcohol, and then Matt came home one day with the idea to cater via this famous New York Italian specialties store (Faicco's), we realized we could do something really, really special like nothing we had ever seen before. It took a lot of work (thank GOODNESS for APW Planning Spreadsheets!!) but it really all came together perfectly. Faicco's truly went above and beyond, and they ended up bringing us so much food that we stacked up takeout boxes of leftovers along the table near the exit and begged guests to take food home.