The Site and our mobile application may contain links to affiliate websites, and we receive an affiliate commission for any purchases made by you on the affiliate website using such links. We are also a participant in the Amazon Services LLC Associates Program, an affiliate advertising program designed to provide a means for us to earn advertising fees by linking to Amazon.com and affiliated websites.
---
I am always looking for the best gift baskets. And even as someone who moonlights as a professional shopper for the internet, a good gift basket can be really hard to find.
When I was a kid, my aunt and uncle always sent us a Harry & David gift basket for Christmas. I never quite understood why we got it, but the fancy gold wrapped fruit always looked so pretty under our tree (and made our holidays feel extra special). Now that I'm generally in charge of buying family presents for the holidays (not to mention buying thank you gifts, baby gifts, and all kinds of other gifts), I realize what a good gift basket is really for. It's a way to delight people, look like you really have your shit together… and make your life easy.
Gift baskets are the perfect thing for people in your life who are either hard to buy for or that you're buying for as a group. Let's put it this way. Do I know what my sister might want for the holidays? I mean, sort of. I can probably guess, at least. Do I know what my sister and her family might like for the holidays? Don't tell them, but I have no idea. My best guess is that they'd probably like some combo of high quality booze and food. But me collecting various treats, drinks, and trinkets… packaging it… and then trying to figure out how to mail it across state lines is too much work for a gift that should be relatively simple. (Trust me on this, because I've tried building my own gift basket multiple times, and I cried a lot during the process.) It turns out that what I need is the perfect gift basket that someone else has already created (and figured out how to ship).
So for your holiday enjoyment (and all those future baby, thank you, funeral, new house, birthday, and other gifting occasions), we researched the best gift baskets across the internet. Here are the perfect gifts for that hard-to-buy-for person (or persons) in your life. They're perfect enough that I'm about to buy a few of these gift baskets myself.
And keep in mind: most of these companies offer a variety of some of the best gift baskets, so if the price isn't quite right, click through to find the perfect gift basket collection.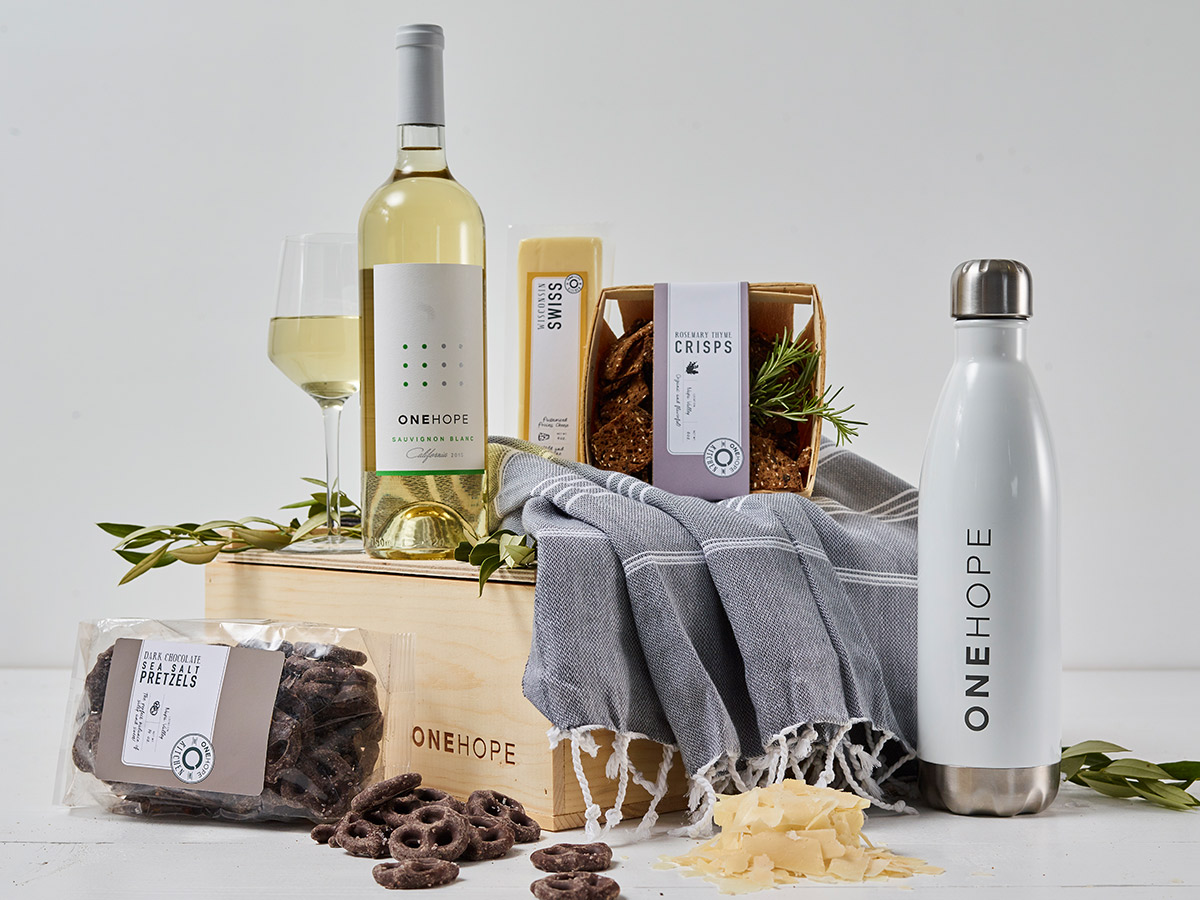 The Napa Picnic Crate from One Hope ($129)
For the wine country enthusiast: What do you do when your friend doesn't have the time to travel to Napa? Send Napa to them! Set them up with the all the goodies from Northern California, including a bottle of wine (Cabernet Sauvignon or Sauvignon Blanc), onion crisps, dark chocolate sea salt pretzels, Swiss cheese, a thermal water bottle, and a Turkish towel blanket. Better yet, One Hope makes donations to one of multiple causes when you make a purchase with them. A portion of the proceeds of this gift basket in particular goes toward global reforestation projects.
The Nightstand Box from Box Fox ($75)
For the person that needs a little me-time: Relaxation… ahhhhhhh. This self-care package is the one of the best gift baskets for people that need a friendly reminder to take some time for themselves. A gorgeous geode, relaxing candle, bedside self-care book, and healing hand cream, what more could one ask for? This has everything you need for a little rest and relaxation.
Spicy Box of Awesome from Fuego Box ($54.95)
For the high heat seeker: If you're looking to gift a selection of condiments—you know, of the spicy variety—look no further. Hot sauce lovers will go nuts for this spicy box of awesome! Jalapeno-garlic, spicy honey, salt, peach-habanero, AND ghost pepper. Soooooo spicy. You've been warned!
Onward and Upward Travel Gift Box from Knack ($114)
For the jetsetter: On-the-go life isn't always easy, but no one said that it couldn't be fashion forward. Update your friend's on-the-go style with these simple and beautiful travel essentials. Journals to archive their adventures, rose hibiscus facial spray to keep them fresh, a water bottle, and the ever-necessary passport holder.
The Starter Course from Cowgirl Creamery ($150)
For the cheesemonger: Cowgirl Creamery makes some of the best gift baskets around for cheese lovers. The Starter Course comes complete with four of their top cheeses (including my favorite, Mt. Tam), prosciutto, fruit preserves, almonds, olives, crisps, and crackers. This makes a great gift to send to a group. There's more than enough to go around!
Personalized Dr. Seuss Library Book Basket from Hayneedle ($68.99)
For the future bookworm: This might just be one of the best gift baskets for the next generation of bibliophiles in your life. This personalized Dr. Seuss–filled book basket is sure to entertain kids and give their parents happy flashes of their own childhood memories.
Holiday Founders' Favorites Gift Box from Harry & David ($89.99)
For the traditionalist: You know that part where I talked about gold-wrapped fruit? Well, this is what I was talking about. Keep it classic with this gift box from Harry & David. Harry & David has been in the game for a long time, and staying true to tradition, this box is filled with fruit, nuts, cheese, jams, and chocolate. There are multiple variations of this gift box, so click around their site to make sure you get the best of their selections!
Gardener's Gift Basket from Gardener's Supply Company ($149)
For the green thumb: It may be cold out now, but spring will be here before we know it! Get the green thumb in your life garden-ready with one of the best gift baskets for gardening. From the versatile steel basket that can be used as a flower basket, a market tote, or even a planter to the fertilizer, seeds, and twine, this is the perfect way to get prepared for the coming season.
She's the Boss Gift Box from Ames & Oates ($65)
For the boss lady: Work, work, work, work, work. Boss babes are so busy getting stuff done that sometimes it's nice to send them a little something that says I SEE YOU (and all that hard work you're doing). Keep them motivated and on track with the hidden agenda planner, a positive mantra pin, and pencils. The fancy chocolate is a sweet bonus!
New England Breakfast Basket from Stonewall Kitchen ($64.95)
For your friend that eats breakfast for dinner: Pancakes for dinner (or really anytime of the day)? Count this in as one of the best gift baskets to send to families. Gather around the table or spend some time with loved ones in the kitchen preparing delicious cinnamon buns and pancakes. Syrup, jams, and coffee included!
DIY Bitters Kit from Williams Sonoma ($49.95)
For the mixologist: Good cocktails are always made better with bitters (fact). Williams Sonoma's DIY Bitters Kit is a great gift for the at-home bartender looking to expand their palate and to create new flavor combinations that might not be available at the local grocery store. Spices, herbs, dried fruit peel, and bittering agents included.
Gourmand Box from Box Fox ($145)
For the at-home chef: Foodies, unite! Amp up cooking gadgets in the kitchen with these beautiful rose gold measuring cups, a marble cheeseboard and spice grinder, and Eat Beautiful cookbook in this beautiful gift box. New recipes will be hot and out of the oven in no time!
Weaving Kit for Beginners from Blanc Laine ($117.29)
For the crafter: You know those beautiful wall hangings you see all over the internet? Give the gift of weaving to your craftiest friend so they can make their own! This kit from Blanc Laine includes everything they need to get started to have the wall hanging of their dreams.
Empress Mimi Lingerie Gift Box (£119.95, $155. Subscriptions available.)
For your inner seductress: Okay, okay. This might not be a gift to get someone else (or maybe it is, just know your people), so maybe it's time to treat yourself with lingerie made by women for women. Empress Mimi offers gift boxes of all different variations that cater to the inner seductress in each of us. Choose a one-time order or make it a subscription service so you can wear the latest lingerie trends that are actually comfortable too!
Six One-Cup Sake Sampler Set from Umami Mart ($50)
For the sake lover: Sake doesn't seem to get enough love in the gift basket arena, but Oakland local Japanese gift shop, Umami Mart, puts it back in the spotlight with this Sake Sampler Set filled with six different one-cup sake tasters. If you're local, make sure to check out their vast selection of Japanese kitchenware and barware that you can use to assemble your own gift basket, too.
The Tasteful Gift Basket from Omaha Steaks ($70)
For the carnivore: Omaha Steaks are about as old school as it gets when it comes to food gift baskets. Send your carnivorous loved ones fillet mignon, top sirloin, pork chops, and potatoes au gratin, making their holiday supper one for the books. Dessert included!
Girls Night Out Gift Box from Ames & Oates ($100)
For ladies night out: Take the show on the road with all of the ladies night out essentials. Compact mirror, check. Little flask, check. And for when the party is over, a candle and some chocolate to unwind.
Russ & Daughters New York Brunch ($140)
For the New Yorker that misses home: Sometimes an authentic taste from home, or in this case legit lox and schmear from Russ & Daughters, is all you need to cure a case of the homesick blues. As if that wasn't enough, chocolate babka, coffee, and a ceramic tumbler make this one of the best gift baskets around to truly get a taste of home. If you've been bragging to your friends about REAL bagels, now is the time to share—this gift basket feeds six!
Mom-to-Be Gender Neutral Gift Box from Marigold and Grey ($109)
For the mom-to-be: Say congrats to the mamas out there with organic products like belly butter and baby soap, handmade moccasins, and a cloud print bib from Marigold and Grey. Sweet and simple, this gift will make the perfect memento for a special someone.
Coffee Essentials Kit from Blue Bottle Coffee ($59)
For the artisan coffee lover: Small batch coffee aficionados, rejoice! Blue Bottle Coffee ships out coffee beans to you less than twenty-four hours after they are roasted, and that extends to their gift sets too. Send you favorite neighbor a holiday blend with a coffee dripper and filters to start the season off right.
Relax & Renew Gift Box from Simone LeBlanc ($158)
For the ultimate staycation: Know someone who can't leave home but is dying for a getaway? Suggest a staycation and fill their time with everything the Relax & Renew gift box has to offer. A candle, tea, tea strainer, chocolate, honey, linens, and notecards give the perfect opportunity to disconnect and unwind in the comfort of home.