So you're starting to dream about your honeymoon, and looking for a comprehensive list of the best honeymoon destinations in the world? Well, you're in the right place. Plus, we've got some ways to travel affordably, and honeymoon ideas in the U.S., because we're always here for extra credit.
I'm a deep-down, die-hard fan of weddings (obviously). But there is nothing in this world I love more than a honeymoon. Maybe it's because my honeymoon was two of the best weeks of my life. Or maybe it's because I'm always looking for an excuse to dream about travel, or maybe it's because I love pushing people to book that plane ticket already and find an affordable way to see the world.
Most online lists of best honeymoon destinations seem to assume that if you're thinking of traveling for your honeymoon, you have some sort of money tree in your backyard. (One popular list of honeymoon ideas I found started by recommending a $900 night hotel room. When I got married, $900 was more than my share of our rent, so please.) But I've a firm believer in the fact that it is possible to have amazing travels without breaking the bank. If you're just starting to figure out your honeymoon, consider using some of these resources:
TripAdvisor gives you a great way to find the mostly highly reviewed hotels in an area. Skip past the ones that cost a zillion dollars, and try to focus in on well reviewed hotels in a price range that feels reasonable. I've used this strategy for traveling all over the world, and have experienced amazing customer service, great views, and not-super-fancy-but-totally-perfect-for-us hotel rooms in many countries.
Airbnb. If you're planning to stay in one place for more than a few days, Airbnb can be a great way to get an affordable apartment, or even a room share. That lets you cook some of your own food and just blend into the neighborhood a bit more like a native. Airbnb also has great collection of guidebooks compiled by hosts, which can be a great way to research how to explore a location like a local, and come up with perfect honeymoon ideas for your trip.
Chowhound. Digging around in Chowhound's boards can be time consuming, but if you're really into good food, it is the single best way to find off the beaten path recommendations. Some of the best food I've ever had in my life has come from a Chowhound recommendation, and a drive down a long dirt road to a secluded beach…. or a ferry ride to a less touristy location.
Frequent Flyer Miles. If we have a big trip that we're dreaming of, I'm not above putting a whole lot of expenses (wedding expenses anyone?) on a British Airways card, paying it off every month, and racking up the miles. We often wait till we're offered a free companion fare, and then build our trip around that.
Hostels can really vary in quality, so make sure you read reviews (nothing like settling in for a long night's sleep and realizing you crashed in a party hostel), but there are really amazing hostels out there that allow for experiences you'd never otherwise be able to have (sleep in a lighthouse!). You can find great hostels around the world on HI Hostels.
Now that we've gotten the practical details out of the way, let's get daydreaming about the best honeymoon destinations…
most romantic honeymoon destinations
Paris, France: There's a reason that Paris is celebrated as one of the most romantic cities on the planet, and always tops list of honeymoon ideas. Because, well, it's pretty perfect. One of our editors spent a week in a tiny studio on Airbnb ($50/night! Guys!), while getting around exclusively by bus and metro… and it was glorious. If you're looking for inexpensive ways to get by you can totally pull it off, and if money is no object (we can dream, right?), Paris is filled with options. And of course, if money is no object, Paris has you covered there too.
Santorini, Greece: If you're into sweeping views of the Caldera (the beautiful body of water formed by a sunken volcano), white buildings stacked into cliffs, sitting at the edge of the sea watching the sunset with new friends, and black sand beaches, Santorini might be the place for you. That said, its charms are not exactly a secret since it full qualifies for it's #2 spot on the best honeymoon destinations list. That means you'll fight cruise boat crowds in high season, and you'll join 1.5 million tourists visiting the tiny island every year. Consider staying in Fira or Firostefani for a less crowded and more affordable Caldera view. Perissa or Kamari are the more affordable options, and great for hitting the (black and red and white) sand volcanic beaches on the back of the island.
Venice, Italy: In a world where so many things are over hyped, Venice is one of those places that will always be under hyped, because until you get off at the train station and walk out to the grand canal, there is just no way to wrap your head about what Venice really… is… which is pure romantic magic. That said, the greatest hits, including, St. Mark's Square, everything around The Bridge of Sighs, and gondola rides tend to be mobbed with tourists, and overpriced. If you want to save some cash (or just don't like crowds), consider not staying on the Island of San Marco (the other islands feel similar, but with less crowds, and more empty winding streets to explore), and skip the gondolas for a pass on the Water Taxi. Also the Peggy Guggenheim Collection is to die for, so make time for it.
hakone, japan: Hakone is the home of Mount Fuji, and is about two hours from Tokyo. If mountain climbing isn't your thing, Hakone still offers a lot: hot springs (onsen), lush gardens, and maybe even a stay at Yama No Chaya, which we're currently obsessed with.
Edinburgh, Scotland: Do you like magical castles, a chill in the air you just can't shake, and whiskey? If so, Edinburgh might be your dream best honeymoon destination. J.K. Rowling wrote the first Harry Potter book in a cafe in Edinburgh with a huge window overlooking the castle, and once you arrive, it's hard to shake the fact that she just took the old town and put it on paper. Keep in mind that Edinburgh is basically always some level of cold, and that the summer substitutes slightly warmer rain for snow. So bring sweaters, and an abiding love of magic… and find yourself a whiskey bar with a castle view.
Bali, Indonesia: When people call it paradise, they aren't wrong. Inland toward Ubud you'll find infinity pools, water temples, and lush rice paddies, as well as jungle-side eating and a hot springs in a (non-active) volcanic mountain. Along the coast, there are hip surfer towns with cafes, black sand beaches, and dolphins. You can even hop a ferry to a surrounding island (Nusa Lembogan still feels slightly out of the reach of mass tourism) and spend a day snorkeling with Manta Rays.
best beach honeymoon ideas
Big Island, Hawaii: Hawaii and "beach" are two words that go inherently hand-in-hand, but for some reason, not everyone thinks of the Big Island when they think of surf and fun. It's a shame, because the Big Island is truly where it's at, and should make the short list when coming up with honeymoon ideas. Split into seven districts (Kona, Hilo, Kohala Coast, North Kohala, the Hamakua Coast, Puna, and Kau), there's something for everyone. Want to check out restaurants and tour a chocolate factory? Go to Kona. Looking for a little bit of a mountain escape? North Kohala is you dream! Hilo is perfect for anyone looking for a little bit of a low-key adventure, and the Puna district (south of Hilo) is extremely lush.
Florida Keys: The Keys are a chain of islands over a hundred miles long, so there's an awful lot to do on a honeymoon, no matter how long (or short) your stay is. You can take snorkel cruises (I know, right?), stroll around Mallory Square at sunset and enjoy artists and performers, and dig into all the nightlife the islands have to offer. Pro tip: rent bicycles!
watamu, kenya: Watamu is a village on the coast of Kenya that is surrounded by both tropical forests and beaches. AKA a pretty sweet spot to spend a week or two if you're into that kind of thing (*raises hand*). There are numerous lodging options, from hotels to full-scale resorts, and you can snorkel or just hang at Turtle Bay. You can also spend time at the Gede Ruins, an overgrown twelfth century Swahili village.
The Amalfi Coast, Italy: Amalfi is, without any doubt, one of the best honeymoon destinations in the whole world. It's is one of those rare places that will make you gasp when you first catch a glance of it. The cities are built into the cliffs, the Mediterranean Ocean just will not stop being blue, and you can bury your face in pasta every night of the week. Add in scooters racing around hairpin turns (or buses slowly lumbering around hairpin turns, for the more safety-minded among us), and you just can't get more romantic… or beachy. There are a million ways to vacation on the Amalfi coast. You can stay in a tiny B&B up a thousand stairs carved into the cliff (literally), rest your head on a trendy pillow at a hip hotel, or rent an Airbnb near a secluded beach. The good news is, there is basically no way to do it wrong. (And if you happen to have one of those yachts that anchor off the coast, give us a call, mkay?)
Aruba: Aruba has pretty much any kind of lodging experience you want. All-inclusive? They've got it. Standard hotel? Yep. Adult-only resorts? Of course. The island is known for being quite safe, and since it's only nineteen miles long, you can literally see it all.
boulders beach, south africa: Boulders Beach is known for its delightful beach-going companions: penguins! In case you're thinking this might be overhyped, it's not. I've seen the penguins and they are the cutest (and the beach is pretty nice too). The Boulders is just outside Cape Town, and you get to it through a delightful drive through South African wine country. That makes it a pretty easy trek for all who find TINY ADORABLE PENGUINS topping their list of honeymoon ideas. Bonus points: By visiting the beach, you'll be helping boost conservation efforts for the penguins.
Tulum, Mexico: If you've ever been stuck between wanting white sand and absurdly blue waters versus a wanting a wild jungle getaway (just me?), then Tulum is for you. A 1.5 to 2 hour drive from highly developed Cancun, Tulum is a whole other world. The beach portion of Tulum is a bike-able strip full of boutique eco-hotels with waterside beds and fancy cocktail bars. History buffs can visit the ancient Mayan ruins overlooking the water (or some in the jungle!), while others can jaunt up to Akumal to swim with sea turtles or venture to Cenote Dos Ojos for a tour of unbelievable underground caves. Foodies have to hit up Tulum town, where there's endless tacos (try breakfast at Taqueria Honorio), vegan food, and even a hidden pozoleria run by the sweetest older ladies. When it comes to the world's best honeymoon destinations, Tulum gets a prime spot on the list.
san juan del sur, Nicaragua: If you've been looking for an excuse to finally learn how to surf, take yourself and your partner to San Juan del Sur, Nicaragua. The beaches are gorgeous and the waves are not too scary for beginners. Treat yourself to a private tree house in Playa Maderas, and when you're all beached out, head to Granada for city exploring, dancing, and cheap beer.
affordable us honeymoon IDeas
Savannah, Georgia: If there is one U.S. city that is at (or very near) the top of every "affordable U.S. honeymoons" list, it's Savannah, Georgia. And guys, the reasons why are legit. Savannah is gorgeous. Overflowing with Spanish moss and soul food, exploding with art and craft beer, and adjacent to the Atlantic, the city is the perfect get-away for two who are looking to keep it light, romantic, and relatively inexpensive.
New Orleans, Louisiana: Do you need an excuse to go to NOLA? Never ever. Does it deserve a spot on every best honeymoon destination list ever? YES. Given that it combines all the best things in life—great food, great music, great people, and beautiful old world architecture—you can't go wrong. Actually, JK, you totally can. No matter what anyone tells you, Bourbon Street is not what dreams are made of (unless they are the dreams of puking frat boys). Try staying near Frenchmen Street if you're looking for good music and artistic crowds, or in the Garden District if you're looking for the picturesque south, or Magazine Street if you're wanting a more contemporary hip scene. Make sure you hit up Preservation Hall for the best music in the world, and Jacques Imo's for Creole Soul Food.
Catalina Island, California: If you're looking for a magical island honeymoon idea that's right within the old US of a, think of journeying to Catalina. You'll want to look for lodging in Avalon (the town on the asiland). That way you'll be near the water, and you'll likely have the option of checking out a rooftop deck (a la the Villa Portofino) or taking a beach chair out toward the water. Speaking of, if water sports are your thing, Catalina is a kayaker's dream (and rentals abound).
Nashville, Tennessee: Long ago, Nashville was a janglin' town filled with country music and honky-tonks. It's still got those, but the city has boomed (and boomed, and boomed) and is now one of the top affordable U.S. honeymoon destinations, period. Music fans can hit up tours galore (puh-leeeeze go check out the Ryman, home of the Grand Ole Opry and legends ten-fold).
Cocoa Beach, Florida: The question is not, "What can I do in Cocoa Beach?" The question is, "What can I not do in Cocoa Beach?" Because I'm pretty sure Cocoa Beach has it all if you are fond of water activities: kayaking, surfing, great food, mini golf (don't even play like it's not fabulous), affordable lodging (heyoooo), and, of course, the Atlantic Ocean. Bonus: If you're a space nerd, you can geek out hard at the Kennedy Space Center (and maybe even see a launch!).
affordable international honeymoon destinations
Panama: Everyone's always all about Costa Rica (for good reason), but Panama is equally fun and gorgeous. Sure, it can be tricky to navigate (fun fact: street addresses just don't exist), but the country is filled with lush jungles and unique urban cities, and is framed by both the Pacific and the Atlantic. In fact, you can drive from one ocean to the other in about 45 minutes. Definitely take the day trip to Isla Grande in Colon and spend the night if you have time.
Quebec, Canada: A lot of people love Quebec because visiting the city is like visiting Europe (but without crossing an ocean). And yes, cobblestone streets, historical and beautiful castle-esque architecture, and an abundance of art definitely lend the city a European air. Quebec is also filled with all kinds of delights, which make a unique and romantic experience.
Mexico City, Mexico: Mexico City is the hotbed of good food, music, and cultural experiences. The city's architecture is incredible and museums abound, including the Museo Frida Kahlo, for the indoors-only set. If you're looking to mix urban with sea, Acapulco is about a five-hour drive from the city. We also highly recommend reading up on eighteen unusual things you can do in Mexico City. Oh right. And eating, and eating, and eating forever. (The food, you guys.)
Peru: Peru is an amazing adventure, especially if you love living history. The Incan ruins are breathtaking, and each one has its own story (a good tour guide can really make your trip come alive). Machu Picchu is obviously not to be missed, but Pisac is equally enchanting. A word of caution: Peru can be a challenge if you have a fear of heights; all the good stuff is up windy scary roads. A hot tip: If you are looking for good weather, the best times to travel to Peru are in May through September (our winter is their rainy season).
Romania: Romania offers the experienced traveler the opportunity to mix adventure with romance and more or less do your trip the way you want to, full stop. If you're not afraid of snow or cold, the country is downright fascinating. Fly into Budapest (in Hungary—trains to Cluj are easy to come by) or Cluj, and spend your time seeing Transylvania, Brasov, and Sibui. If you're into skiing, head toward Poina Brosav. FYI: Much of Romania isn't for anyone looking for the same kind of experience that you might find in other European countries, but the experience will be unmatched. Also, you can totally go to Bran Castle, aka Dracula's Castle.
Marrakech, Morocco: Marrakech is a place where time doesn't exist. (Seriously. You can spend half a day waiting for food or a massage.) The colors are overwhelming. And you will not be able to stop shopping for carpets. And lamps. And wall hangings. And… okay, everything. Don't honeymoon in Morocco unless you're up for a serious dose of adventure and cultural overwhelm, but for the brave among you, it is truly unforgettable, and should top your list of honeymoon ideas. (And the food is just beyond.) You can see our full guide to a Marrakech honeymoon here.
wine tour honeymoon destinations
Napa Valley Wine Train, California: Napa's Wine Train tours let you choose from six tours in total, each of which will thrill just about every fan of wine. The train ride gives you the opportunity to try delicious meals, with the fun of hearkening back to a time when train was the dominant mode of travel for many.
March hare Bike and Pedal, New Zealand: If you fancy a trip to New Zealand (yes, please!), March Hare cycling offers self-guided tours in Wellington. You get a map and a bike, and you can choose to bike through toward your picnic destination, or to stop along the way and sample wines and local produce.
Cellar Tours, Italy: Cellar Tours is one company that offers wine tours in a variety of regions: Tuscany, Piedmont, Bellagio, Rome, etc. A tour is one of the best ways to dig into the rich history of wine in the country, and depending on what else you want to see, you can tailor your trip to a variety of other interests.
camping + road trip honeymoon ideas
Blue ridge parkway, USA: If you're feeling a little overwhelmed planning the journey, suggested itineraries are available for you. There are also a host of lodging options, be it via hotels, luxury cabins, or Airbnb, you can find something for every budget.
The trans-canada highway (newfoundland to british columbia): This roadway is one of the world's longest roads (8,030 km) and you'll traverse all ten Canadian provinces, touch ground at both the Atlantic and the Pacific, and cross four islands. Want more info? You've got it.
Yellowstone National Park, USA: Adventures in Yellowstone are true marvels. The national park holds treasures such as the Prismatic Springs, geysers, and America's largest buffalo herd. Yellowstone is a perfect honeymoon for those who treasure the mysteries of the earth and exploring the great outdoors.
Yosemite National Park, California: Yosemite is a national park with a plethora of outdoor adventures such as hiking, rock climbing, kayaking, and much more. Half Dome, Yosemite Falls, and El Capitan are just a few of the attractions that make Yosemite a unique experience. Lodging and camping make the trip extremely romantic and intimate for newlyweds with a bit of adventure.
best adventure honeymoon destinations
Istanbul, Turkey: Istanbul is easily one of the more sensual and romantic cities in the world, and also one that offers plenty for thrill seekers. While it may not top every list of best honeymoon destinations in the world, it probably should. Of all the places I've traveled, it is among my very favorite. Its combination of old and modern, east and west, make it unlike anywhere else on the globe. Plus the food is beyond.
Iceland: Iceland and its capital city of Reykjavik have been growing steadily as popular destinations for tourists and honeymooners, and it's easy to see why. The island is jam-packed with tons to do, especially if you've got a rental car and an adventurous spirit. Many attractions are free (or require a nominal fee), and as long as you don't mind a bit (okay, a lot) of chill, Iceland can be an incredibly romantic place to spend a week together. Plus, glass igloos, guys!
Arches National Park: If a desert getaway is your idea of a best honeymoon destination, look no further than Moab, Utah. Arches National Park offers up breathtaking blue skies, searing pink vistas, and remote arches that lend themselves to romance. Bonus: You can spend a night or two at Devil's Garden Campground, and watch the night sky set itself ablaze with stars.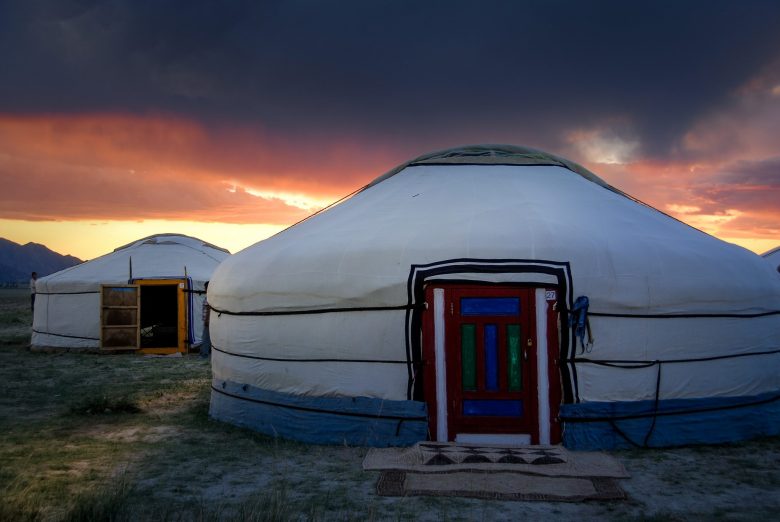 Mongolia: Mongolia is known for its varying (and sometimes extreme) weather conditions, but that shouldn't stop you from visiting one of the world's most naturally gorgeous countries. If you visit in July, make sure to check out the Nadaam Festival (which is kind of like the Mongolian Olympics). If you want to have a truly Mongolian experience, you can also rent a Ger in Hustai National Park (and hang with yaks and wild horses!). If city life is more your speed, Ulaanbaatar is the capital and offers rich cultural experiences, museums, and delicious food.
Queenstown, New Zealand: Queenstown is all about energy— so if bungee jumping and canyon swinging and ice climbing is what your honeymoon ideas are made of, this is for you. If the two of you are all about leaping from airplanes and buildings and hurtling toward the earth, Queenstown is your jam. If you're feeling water life, parasailing and whitewater rafting are also options.
eco-friendly honeymoon destinations
Ecuador: While much of the entire continent hosts eco-friendly lodging, when it comes to South America, it just depends on where you want to go, specifically. Mindo, Ecuador boasts El Septimo Parasio, a property that blends rustic with swank and is about 90 kilometers from Quito.
Goa, India: The Wildernest in Goa is surrounded by so much nature it'll make you cry (truly). It also offers nature walks and all eco-friendly and/or organic shampoos and soaps, has a ban on plastic, and all construction on-site is done with eco-friendly measures.
homer, alaska: The Ridgewood Wilderness Lodge in Homer, Alaska, boasts easy access to miles of beaches, salt water estuaries, and the Harding Ice Field. The lodge was designed and built by the owners, offers vegan and vegetarian meal options, uses biodegradable cleaning supplies, and sources food locally. They're also big fan of area wildlife conservation, in addition to water and heat conservation.
Where did you go for your honeymoon? What Do you think the Best honeymoon destinations are right now? When you start daydreaming of travel, what are your honeymoon ideas? What advice would you give a couple who is planning their own honeymoon right now?