Noelle, Speech-Language Pathologist & Eric, Accountant
sum-up of the wedding vibe: A forgo-traditions, sit-anywhere-you'd-like, dance-till-it's-late, laugh-till-it-hurts, full-of-love wedding.
Planned Budget: $20,000
Actual Budget: $23,000
Number of Guests: 70
Location:  SmogShoppe, Culver City, California
photographer: Evangeline Lane

Where we allocated the most funds:
We spent the most on our venue, photographer, and catering, but the catering included a lot: Bar service and all drinks, appetizers and side dishes, cocktail tables, plus servers and food runners. Catering did not include dinner, though—for that we got In-N-Out.
Where we allocated the least funds:
We went minimal because the venue is so beautiful as-is. I'm not a great DIY crafter, and besides, I didn't want the added hassle of setting up decorations, tearing them down, and then wondering what I'm going to do with a million tiny vases.
Dinner was a minimal expense as we went with the In-N-Out truck! Also, I did my own makeup. Not because I think I'm an expert, but because I think I'm just particular of how I like my makeup. So I practiced, watched a ton of YouTube videos, and treated myself to a few Sephora samples. Also important to note: We are blessed to have some of the best family and friends (who are like family) around. My parents gifted my wedding gown and our wedding cake. One of my best girlfriends gifted her lettering and design skills for our invitations, bar menu, and welcome sign. And one of our closest friends officiated an unforgettable ceremony.
What was totally worth it:
When Eric and I started planning our wedding, we wanted to invest our money into items that mattered most to us…and we wanted to be able to be present and actually enjoy the day with our guests! And our investment in our venue reaped great rewards. Our guests loved having the option of hanging out inside or outside (a plus for us Southern Californians who never know what kind of weather we'll get in June). SmogShoppe was decked out head to toe in luscious succulents, eclectic decor, and romantic string lights so all we had to add was some simple greenery and candles to the tables.
Also, even though we allocated a larger part of our budget to Huntington Catering, we were so glad we hired them because the one-stop-shop allowed us to coordinate the servers/runners, bar, signature drinks, coffee station, appetizers, side dishes, and extra cocktail tables in one fell swoop. They took care of everything! Finally, our photographer Evangeline Lane was worth every penny and more. All we have left of this beautiful day are her beautiful photos, and I'm so thankful for that.
What was totally not worth it:
Honestly, this is a tough one to answer! We had to be really thoughtful about our budget and ensure that our money was going toward items that mattered to us most. In the end, we were so happy with how it all turned out. I guess the only thing "not worth it" was some of the stress I put on myself regarding small details…because in the end, it didn't really matter or affect how much fun our guests had. Stressing over tiny details or spending too much time making decisions on unimportant items (never knew so many colors of napkins existed) was not worth the hassle.
A few things that helped us along the way:
I'm a classic Type-A planner, so when our wedding coordinator taught us to use Aisle Planner as a tool to keep track of the details, I was in organization heaven! We planned our wedding in five and a half months, which was a little wild at times, but open communication and a good organizational tool saved us a lot of time and potential tears. On that note, there's no way we could've enjoyed our evening as much as we did without our planner taking care of everything! Until I planned a wedding of my own, I never knew how many moving parts there were to pulling off an event, even a "simple" wedding like the one we envisioned. Our coordinator, Kim, helped us troubleshoot during the planning, organize the day's timeline, and orchestrate everything going on behind the scenes so that Eric and I could enjoy the evening with everyone.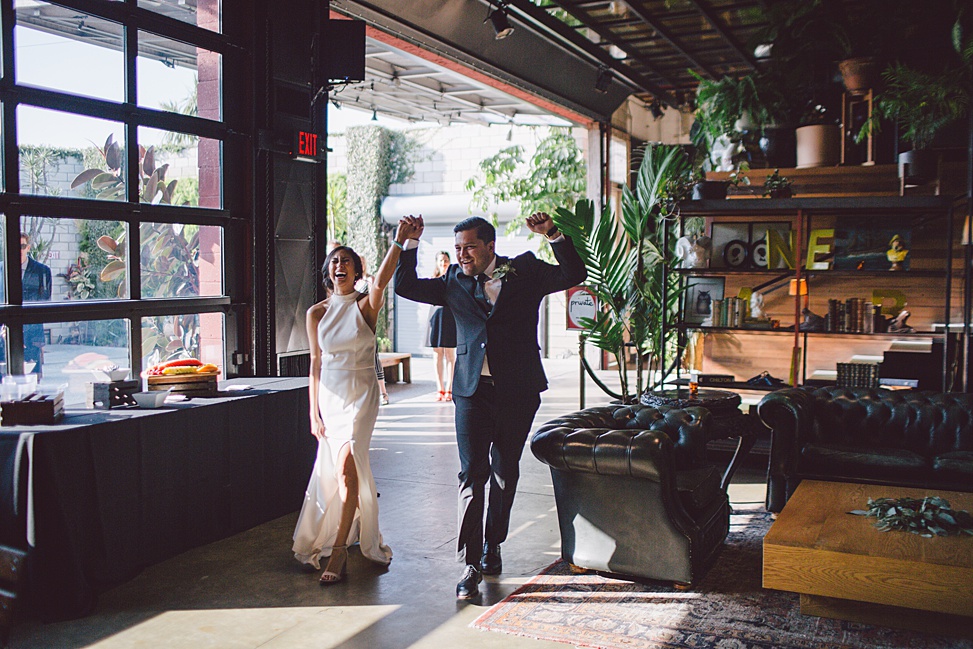 My best practical advice for my planning self:
Enjoy the present moment instead of focusing too much on the next step. All of the tiny details eventually work themselves out!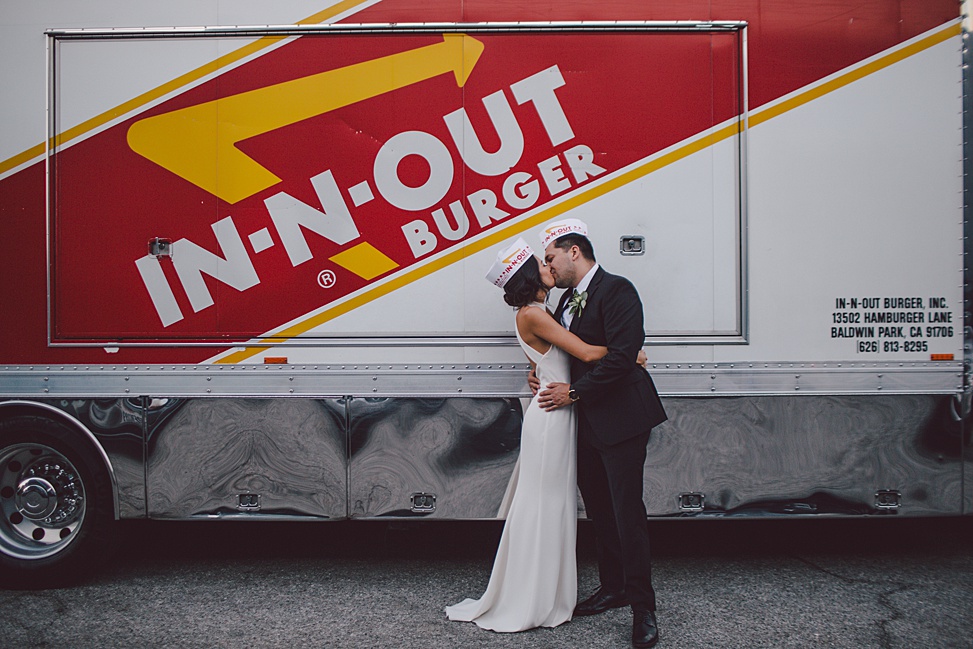 Favorite thing about the wedding:
Eric and I know that we wouldn't be where we are today without the love and support of our friends and family. So it was extra special to not only have all of them present, but play a role in our wedding. From helping us pick up the cake, to ordering extra alcohol (oops!), to my mom and best friend keeping me company in the bridal suite before guests arrived, to friends giving toasts and saying before-dinner prayers, and to the cheesy sorority dance traditions and all of Eric's childhood friends in a makeshift mosh pit… it was a night I could relive over and over again.
One of our best friends served as our officiant and delivered the funniest and most heartfelt wedding ceremony. Some of my favorite photos are of our guests laughing and crying in the background of the ceremony shots. Eric and I also decided to exchange personal vows in private, right after the ceremony. I was too nervous to say them in front of everyone! It ended up being a special moment that we could share together, just us.